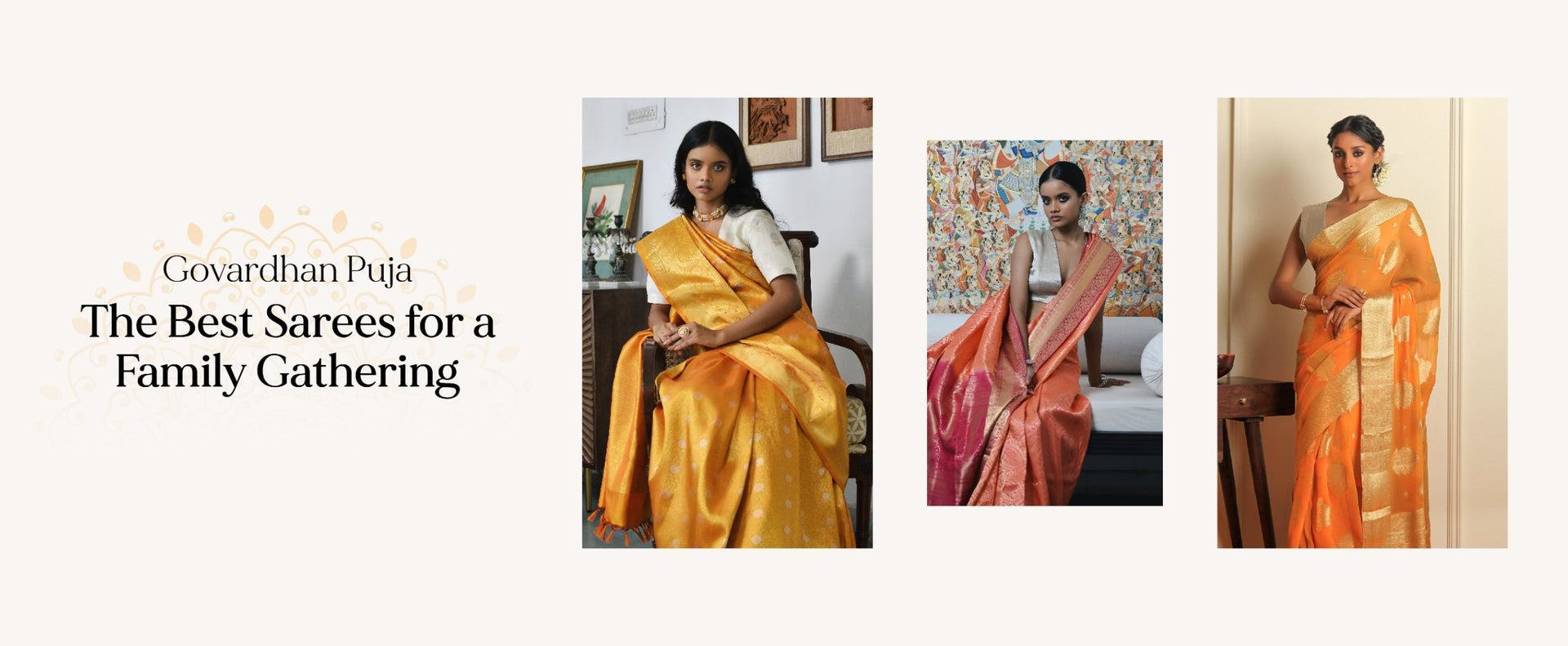 Govardhan Puja: The Best Sarees For Family Gatherings
Govardhan Puja, also known as Annakut, is a joyous Hindu festival celebrated on the fourth day of Diwali. During this auspicious occasion, devotees come together to worship Govardhan Hill and express their gratitude by offering a wide array of vegetarian delicacies to Lord Krishna. It's a time when Hindu families unite, preparing delicious feasts and engaging in heartfelt worship.
But amidst the festive fervour and togetherness, there's one aspect that should not be overlooked – the attire for family gatherings during Govardhan Puja. What could be more fitting than adorning a traditional saree, the epitome of ethnic wear, to celebrate this special occasion?
If you're on the hunt for that perfect Govardhan Puja saree, one that embodies the spirit of the day, you've come to the right place. Join us as we explore a plethora of family gathering outfit ideas for Govardhan Puja and guide you in selecting the ideal traditional festive sarees for this cherished celebration.
Why Are Traditional Sarees Considered As The Best Ethnic Wear For Govardhan Puja?
The allure of traditional sarees for family gatherings such as a georgette brocade saree, a tissue silk saree, banarasi saree, bandhani sarees, or a pure chiffon saree, during Govardhan Puja lies in their timeless elegance and cultural significance.
Sarees seamlessly blend tradition with style, making them the preferred choice for this auspicious occasion.

Their rich fabrics, intricate designs, and vibrant colours are a reflection of the devotion and enthusiasm that surrounds Govardhan Puja.

Sarees not only symbolise the deep-rooted customs of Hindu culture but also offer a sense of grace and charm, perfectly befitting the spirit of this celebratory event.
Which Colour To Wear On Govardhan Puja?
The choice of colours of your Govardhan Puja saree is deeply symbolic. Yellow and orange are the favoured hues for this auspicious occasion. Yellow represents the bountiful harvest and prosperity, reflecting the abundance of food offerings made to Lord Krishna. On the other hand, orange signifies the warmth of devotion and the divine aura that surrounds the festivities. Wearing a yellow saree or an orange saree colours not only pays homage to the traditional customs but also adds a vibrant and auspicious touch to your attire, enhancing the overall spirit of Govardhan Puja.
Tips To Consider While Choosing The Traditional Govardhan Puja Sarees For Family Gatherings
Selecting the perfect traditional Govardhan Puja Saree can be an exciting yet daunting task. To ensure you make the best choice, here are some valuable tips to consider:
Colour Significance

As we've mentioned, the colours yellow and orange hold special significance during Govardhan Puja. When choosing your saree, opt for shades of these colours to align with the festive spirit and cultural traditions.

Fabric Matters

Traditional sarees come in various fabrics, including silk, georgette, chiffon, and more. Select a fabric that not only suits your personal comfort but also aligns with the formality of the event.

Embroidery And Work

Consider the type of embroidery or work on the saree. Heavily embroidered sarees are perfect for grand celebrations, while lighter work or prints can be ideal for smaller family gatherings.

Design And Patterns

The design and patterns of the saree play a significant role in the overall look. Traditional motifs and patterns can add a touch of authenticity to your attire.
By keeping these tips in mind, you can make an informed and stylish choice when selecting the perfect traditional Govardhan Puja saree for family gatherings.
Radiant In Yellow- Traditional Sarees For Family Gathering During Govardhan Puja
Now that you're well-versed in the vibrant significance of yellow Indian attire for Govardhan Puja, it's time to explore some exquisite yellow-coloured traditional sarees perfect for family gatherings during this auspicious occasion.
1. Yellow Silk Tissue Saree

Our yellow silk tissue saree exudes timeless elegance with its rich mustard yellow hue and delicate buti prints. It's the epitome of class and sophistication, ideal for a refined and graceful appearance.

2. Yellow Taffeta Brocade Saree

Enveloped in the richness of taffeta brocade, this yellow taffeta brocade saree features a captivating floral jaal that adorns the entirety of the fabric. The geometrical floral-patterned border adds a touch of opulence, making it one of the best choices for traditional sarees for family gatherings during Govardhan Puja.

3. Yellow Satin Floral Jacquard Saree

Crafted from satin jacquard, this yellow floral jacquard saree is adorned with enchanting flower creepers that gracefully meander across the fabric. The lining's patterned border adds an extra layer of charm, making this one of the best festive sarees for women blending tradition and contemporary elegance.

4. Yellow Georgette Brocade Saree

For those who are looking for trendy sarees for family events, our yellow georgette brocade saree is a stellar choice. Featuring small floral buti motifs that adorn the entire saree, it exudes a sense of grace and simplicity. The Bel-patterned border adds a touch of sophistication that enhances the overall appeal.
Vibrant In Orange- Traditional Sarees For Family Gatherings During Govardhan Puja
In the realm of ethnic wear for Govardhan Puja, orange sarees stand out as a symbol of warmth, devotion, and style. Here, we present a selection of orange coloured stylish sarees for puja celebrations that are the epitome of grace and elegance
1. Orange Kanchipuram Silk Saree

Drape yourself in the resplendent charm of orange Kanchipuram silk! This saree radiates timeless beauty and sophistication, with intricate motifs and patterns that pay homage to tradition while making a fashion statement.

2. Orange Tissue Silk Saree

Elegance meets vibrancy in this exquisite orange tissue silk saree. Its delicate texture and rich hue make it the perfect choice for those who seek a combination of tradition and contemporary fashion.

3. Orange Georgette Brocade Saree

Our orange georgette brocade saree is a surefire way to turn heads at any family event during Govardhan Puja. The intricate brocade work adds a touch of opulence, ensuring you look your best for the festivities.

4. Orange Pure Chiffon Saree

Our orange pure chiffon saree, crafted from viscose chiffon, features a stunning floral motif that gracefully adorns the entire length of the fabric. The semi-geometrical border adds a unique twist to a classic design, making it the perfect saree for those who appreciate subtle sophistication.
Ending Note!
So, we hope that the traditional sarees we've showcased for Govardhan Puja have inspired you to make a stunning choice for your family gatherings during this festive occasion. Remember, your attire isn't just a piece of clothing; it's a reflection of your devotion, cultural respect, and personal style.
And with Binal Patel by your side, you will find the perfect saree to grace this beautiful celebration. Embrace the festive season with style and tradition.
Happy Govardhan Puja!