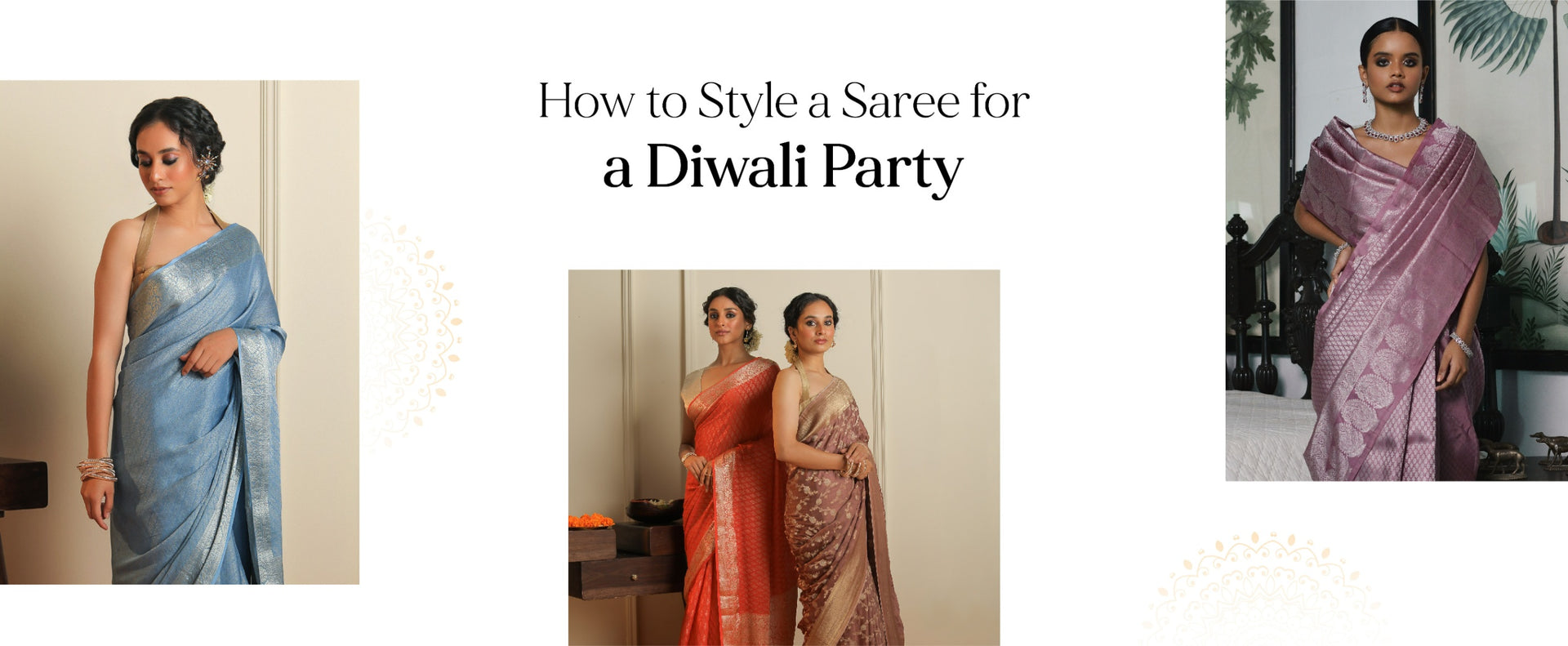 How To Style A Saree For A Diwali Party?
Are you ready to dazzle at this year's Diwali party? Wondering how to turn heads and make a statement with a stylish saree for party? Look no further, because the secrets to mastering the art of party-style sarees are about to unfold before your eyes!
With Diwali just around the corner, it's the perfect time to delve into the world of fashion and explore the many ways you can adorn a Diwali party wear saree that exudes elegance and charm. Whether you're a saree aficionado or a newbie looking to make a stunning impression, Binal Patel is here to guide you through the intricate and exciting journey of styling party wear sarees for a gorgeous look, different saree style for party, variety of saree draping style and much more.
So, let's embark on this sartorial adventure and get ready to steal the spotlight at your Diwali celebration!
Steal The Spotlight This Diwali With Binal Patel's Exquisite Party Wear Saree
As you prepare to light up your festive celebrations during Diwali, there's nothing quite like a stylish saree for a party to bring out your inner diva. This year, explore Binal Patel's enchanting Diwali party wear saree collection to achieve a perfect stylish saree look for party.
Let's take a closer look at our top selections:
1. Chiffon Saree

Mesmerise with our newly introduced Rubaroo collection- comprising a variety of stylish party-wear chiffon sarees! This lightweight and flowy fabric drapes beautifully, making it a superb choice for a Diwali party. The soft texture of chiffon creates a graceful silhouette and is ideal for those who prefer a blend of style and comfort. Adorned with intricate embroidery or embellishments, a chiffon saree can make you the star of the evening.

2. Organza Saree

If you're looking for a stylish saree for party that effortlessly combines tradition with a modern twist, consider an organza saree. The sheer and lustrous appearance of organza adds a touch of sophistication to your party wear, ensuring you radiate elegance at your Diwali celebration.

3. Satin Saree

For a luxurious and opulent look, a satin saree is the best choice for a party style saree. The smooth, glossy texture of satin fabric adds a royal touch to your attire, making it an excellent choice for grand Diwali parties. The natural shine of satin complements vibrant colours and intricate patterns, ensuring that you stand out in the crowd.

4. Pure Silk Saree

Nothing exudes timeless beauty quite like a pure silk saree. With their intricate zari work and wide range of designs, pure silk sarees offer a unique combination of tradition and sophistication, ensuring you look both classy and stylish at your Diwali party.
How To Style A Solid Plain Saree For Diwali Party?
When it comes to turning heads at a Diwali party, you don't need an extravagant saree to steal the spotlight. In fact, a solid plain saree can make a bold and elegant statement when styled right.
To create a modern saree style for the party, focus on the blouse you pair with it. A beautifully embellished or intricately designed blouse can add a touch of glamour to your ensemble.

Accessorise with statement jewellery, such as chunky earrings or a statement necklace, to elevate your look.

Don't forget to incorporate stylish hair accessories and a matching clutch to complete your Diwali party outfit.
How To Style A Silk Saree For Diwali Party?
Silk sarees have always been a classic choice for Diwali, and they exude timeless elegance.
To style a silk saree for a Diwali party, opt for a contrasting or intricately designed blouse to create a striking visual impact.

Traditional jewellery, such as gold or antique pieces, complements the richness of silk.

Pay attention to your hairstyle – a neatly tied bun or classic braid can accentuate the saree's grace.

To add a contemporary twist, carry a modern clutch and choose footwear that matches the occasion.
How To Style A Gorgeous Party Wear Organza Saree For Diwali?
Organza sarees have a unique charm, with their delicate and sheer appearance.
To style an organza saree for a Diwali party, choose a blouse that blends tradition with modernity. A beautifully embroidered or embellished blouse can provide the perfect contrast to the saree's transparency.

When it comes to jewellery, go for contemporary pieces that aren't too heavy, like statement earrings and an elegant bracelet.

Consider a chic updo or soft waves for your hair, and don't forget a stylish clutch to complete your party look.
How To Style A Chic Chiffon Saree For Diwali Party?
Chiffon sarees are known for their lightweight and flowy nature, making them a great choice for a Diwali party.
To style a chiffon saree, focus on the blouse – a well-designed, fashionable blouse can transform your look.

Opt for jewellery that strikes a balance between traditional and contemporary, such as a blend of antique and modern pieces.

Your hairstyle can range from a classic bun to loose curls, depending on your preference.

As for accessories, consider a clutch that matches the occasion and a pair of stylish heels to complete your chic chiffon saree look.
Different Styles Of Wearing Saree For Party This Diwali
Are you tired of the same old saree styles for Diwali parties? It's time to break the mould and make a lasting impression with these innovative and modern saree styles for your festive gatherings. Whether you're aiming for a retro look, a traditional Gujarati style, or a Bollywood-inspired ensemble, here we've covered different styles of wearing saree!
Time Travel In Fashion: Drape Your Diwali Party Wear Saree In Retro Style
Bringing a touch of nostalgia to your Diwali party, the retro saree style evokes the timeless beauty of yesteryears.
Begin by tucking the saree at the waist, and then, create wide pleats.

The key to the retro style is classically draping the pallu.

Instead of bringing it over your shoulder, pleat it neatly and pin it on the opposite side.
Embrace Traditional Elegance In Diwali Party: Gujarati Style Saree Drape
For a traditional yet contemporary vibe, consider wearing your Diwali party wear saree in Gujarati style.
Begin by tucking the plain end of the saree into the petticoat, bringing it around from right to left and creating pleats in the front.

The pallu, or the decorative end of the saree, is then neatly pleated and draped over the right shoulder, allowing it to fall gracefully down the back.

The final touch is securing the pallu in place with a key brooch or pin.
Draping Saree In Ghagra Style For Diwali Party
Inspired by the vibrant ghagra cholis, this saree style brings a burst of colour and energy to your Diwali celebration.
To achieve this unique look, start by tucking one end of the saree into your waistband and make one complete turn around your body, ensuring the saree's length is short enough to flaunt your ankles.

Next, create pleats and secure them with a waistband or a decorative belt, allowing the pallu to flow freely.
Embrace Bold Modernity: Dhoti Style Saree Draping
Steal the spotlight this Diwali with a bold and edgy dhoti-style saree drape.
To achieve this contemporary look, start by tucking the saree at the waist just like you would with a dhoti.

Then, create pleats at the front and secure them with a belt or a statement piece to give a structured, modern twist.

Let the pallu flow freely, or drape it over your shoulder for added flair.
Bollywood Elegance: Drape Your Diwali Saree Like Bollywood Star
If you've ever been captivated by Bollywood's fashion-forward leading ladies, now's your chance to emulate their style at this year's Diwali party.
Take a cue from the enchanting Deepika Padukone's 'Yeh Jawaani Hai Deewani' look, Priyanka Chopra's stylish avatar in 'Dostana,' or even the iconic Sridevi in 'Mr. India.'
To drape your saree in true Bollywood fashion, it's essential to recreate the signature style of these beloved actresses. Whether it's the 'desi girl' charm of Priyanka, the ethereal grace of Deepika, or the timeless elegance of Sridevi, each actress brings a unique essence to their saree draping style. Study their looks and discover the secrets to draping your saree like a true Bollywood star, ensuring all eyes are on you this Diwali.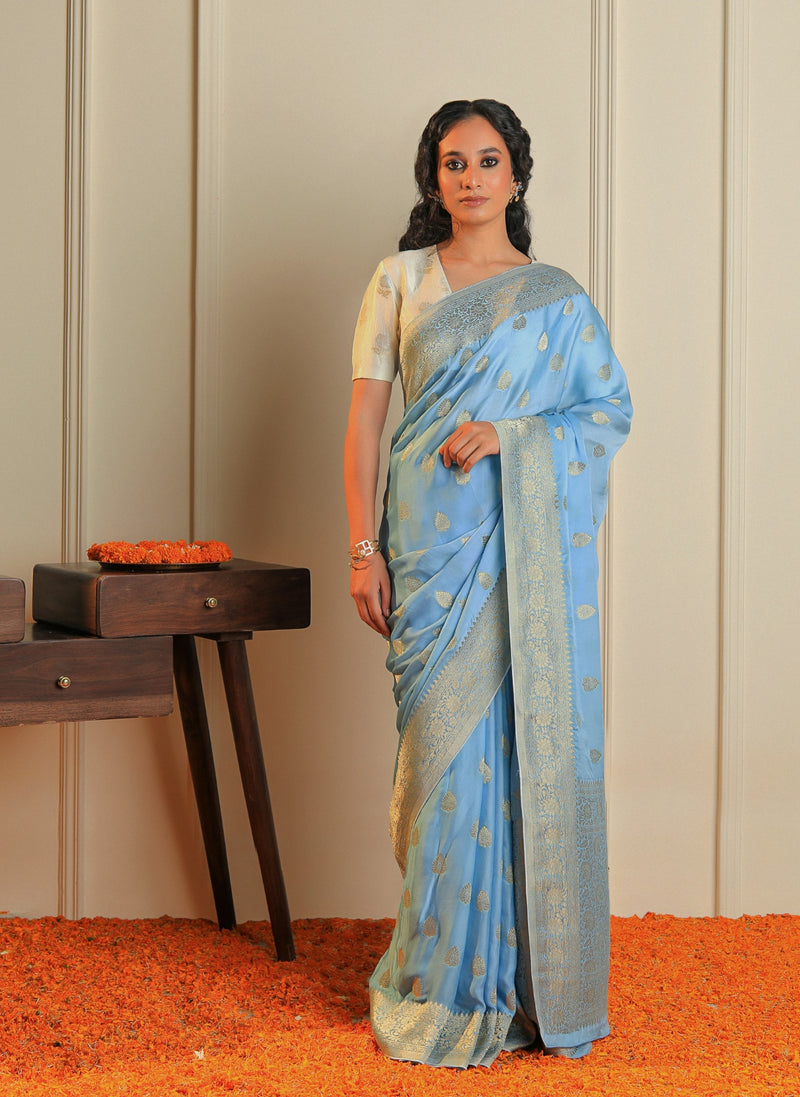 How To Drape Saree In Mermaid Style This Diwali
The mermaid saree drape is all about accentuating your curves and adding a touch of allure to your Diwali party look. Here's how to achieve this style:
Begin by tucking one end of the saree into the petticoat and make one complete wrap around, bringing it back to the front.

Make pleats at the front, securing them with safety pins. Ensure that the pleats are wide and well-defined.

Take the remaining fabric and drape it from the front to the back, keeping it low to the ground. This creates the "tail" of the mermaid look.

Adjust the length of the drape to your comfort, ensuring you can walk and manage the saree gracefully.

Finally, pin the pallu in place on your shoulder, letting it cascade down your back.
How To Drape Your Diwali Party Saree In Flowing Style?
For an effortlessly graceful look, opt for a flowing saree style.
Start by tucking one end of the saree into the petticoat, ensuring it's at a comfortable height and allowing a gentle flare.

Take the pallu (the loose end) of the saree and create neat, wide pleats. You can make as many pleats as you prefer, but around 5-7 pleats usually work well.

After pleating, drape the pallu over your left shoulder, allowing it to fall gracefully. You can pin it in place for added security or let it rest naturally.

Adjust the length of the saree as needed and ensure it flows elegantly. This style is all about letting the saree drape naturally and showcase its inherent beauty.
At last, it can be said that with these different saree draping styles, you can make a stunning entrance at your Diwali party, exuding charm and confidence. Whether you prefer traditional elegance or a modern twist, these saree styles allow you to express your personality and sense of fashion.
Summing Up!
Mastering the art of styling a saree for a Diwali party can transform your festive celebrations. From different draping styles to the choice of fabrics and accessories, there are endless possibilities to express your unique style and elegance.
So, embrace the festive spirit and let your inner diva shine this Diwali with Binal Patel!
Shine in style this Diwali!