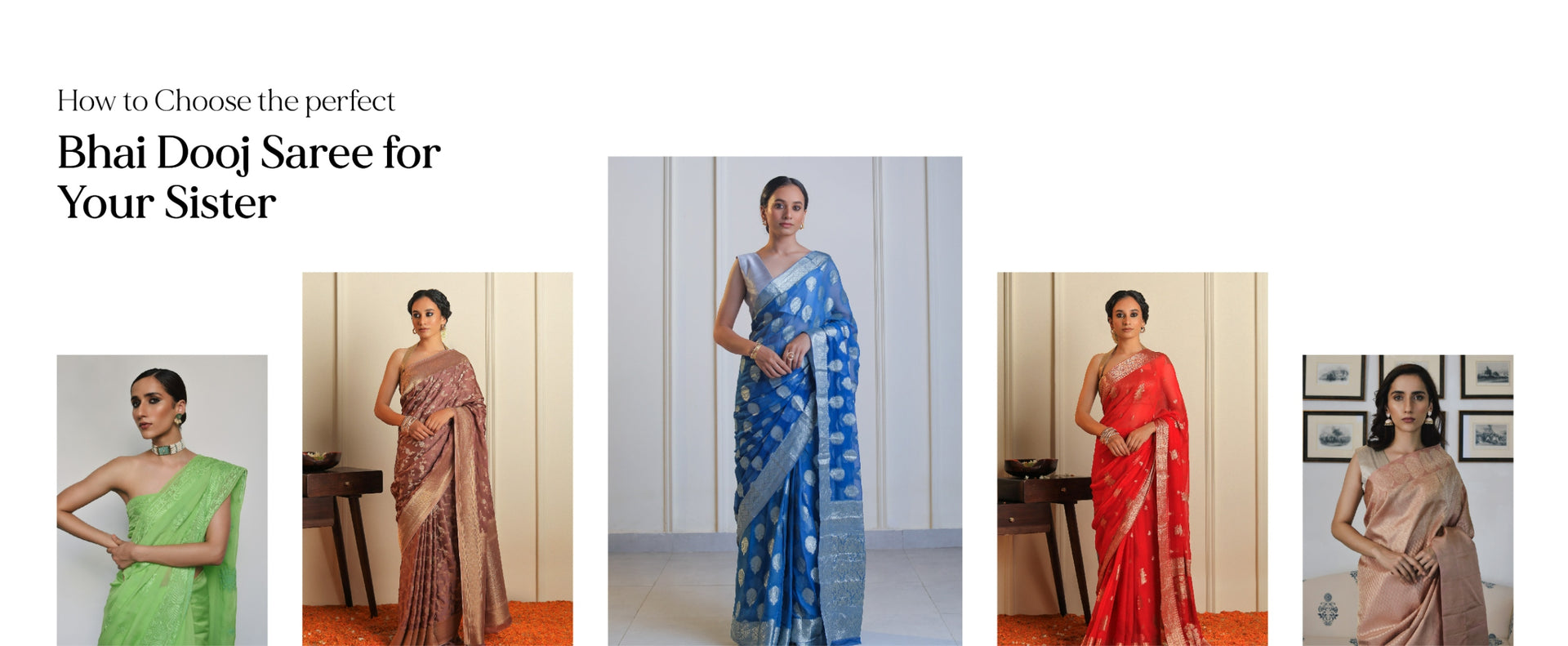 How To Choose The Perfect Bhai Dooj Saree For Your Sister?
Have you glanced at the calendar lately? Bhai Dooj is just around the corner, a mere handful of days away, and it's the perfect opportunity to celebrate the special bond you share with your beloved sister. Yet, as the calendar inches closer to the occasion, you find yourself, once again, lost in the maze of confusion about what makes the ideal Bhai Dooj gift for your sister. If you're seeking unique and thoughtful Bhai Dooj gift ideas that will leave her beaming with delight, then look no further!
This year, break free from the cycle of indecision and surprise your sister with the timeless elegance of a stunning saree. In this blog, we'll guide you through the art of choosing the perfect Bhai Dooj Sarees, with helpful tips and insights that will make your Bhai Dooj gift truly special.
Stylish & Trendy Sarees- A Perfect Bhai Dooj Gift Ideas For Sister
In the realm of perfect Bhai Dooj gift ideas for your sister, stylish and trendy sarees reign supreme. Sarees like the elegant Banarasi, the versatile Kanjivaram saree, or the contemporary Linen sarees, or pure chiffon sarees are not just pieces of clothing but expressions of grace and style. Their timeless allure and versatility make them ideal gifts, ensuring your sister shines on special occasions and everyday moments alike. So, consider gifting her one of these exquisite sarees to celebrate the timeless bond you share on this Bhai Dooj.
10 Tips To Consider While Choosing The Perfect Sarees For Sisters On Bhai Dooj
Choosing the perfect sarees for gifting to sister on Bhai Dooj can be a delightful endeavour, but it does require careful consideration to make sure you select the ideal saree for your sister. To help you on this quest for the perfect Bhai Dooj presents, we've compiled ten invaluable tips for selecting the best sarees for your sister:
1. Understand Her Style

Take note of your sister's style preferences, whether she loves traditional attire or leans towards contemporary fashion.

2. Consider The Occasion

Think about where and when she might wear the saree. Is it for festive occasions, daily wear, or special events?

3. Choose The Right Fabric

Opt for comfortable fabrics like silk, cotton, or chiffon, depending on her comfort and the climate in your region.

4. Favourite Colours

Pick colours that complement her complexion and are aligned with her personal favourites.

5. Embroidery And Design

Consider the embroidery, design, and embellishments that resonate with her taste, whether it's intricate zari work or minimalistic patterns.

6. Blouse Matching

Check if the saree comes with a matching blouse piece, as this can save her time and effort in finding a matching blouse.

7. Length And Pallu

Ensure the saree length and pallu are appropriate for her height and body type.

8. Budget

Set a budget range and explore options within that range to find the perfect Bhai Dooj saree.

9. Quality Matters

Invest in good quality sarees that will stand the test of time, making your gift a lasting memory.

10. Personal Touch

If you're uncertain about her preferences, involve her in the selection process or consider getting a gift card from a reputed saree store, allowing her to choose her perfect Bhai Dooj saree.
Traditional Sarees For Gifting To Sisters On Bhai Dooj
Embrace the timeless allure of tradition and celebrate the special bond with your sister by gifting her a splendid traditional saree on Bhai Dooj. Explore our exquisite collection of sarees designed to capture the essence of Indian heritage and grace, ensuring your sister shines in the elegance of traditional attire.
Kanjivaram Sarees
For the sister who embraces the timeless allure of tradition, the ivory Kanchipuram silk saree is an impeccable choice. If she's already tied the knot, surprise her with a resplendent red-bordered Kanchipuram silk saree, a symbol of marital bliss and tradition.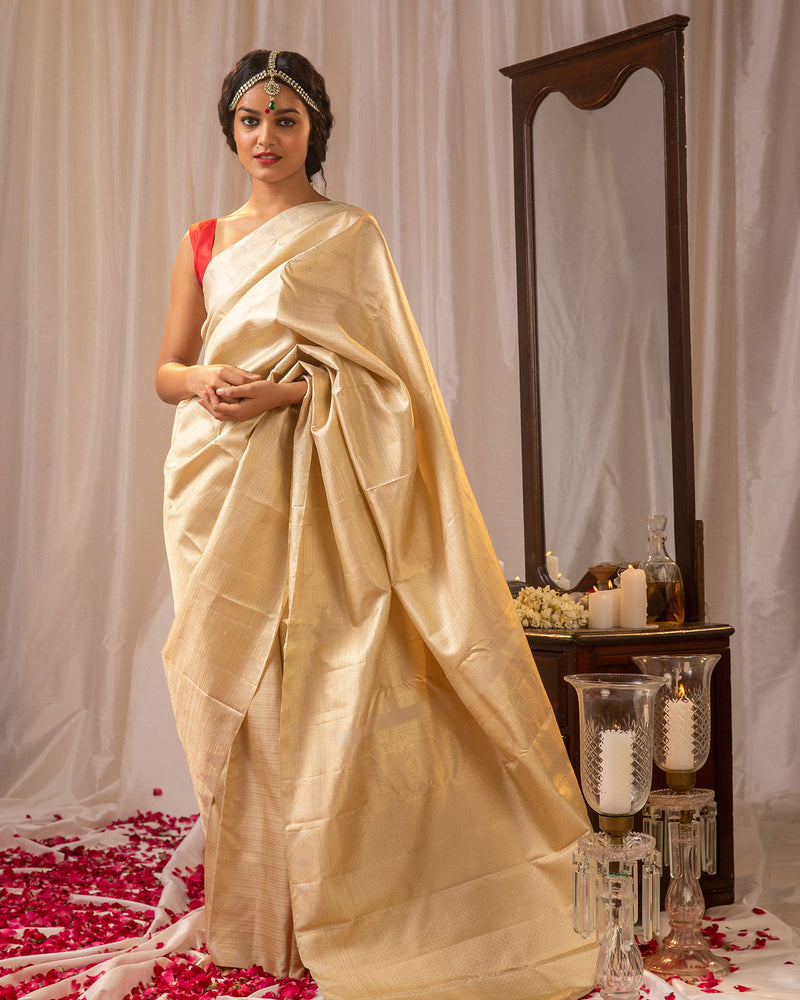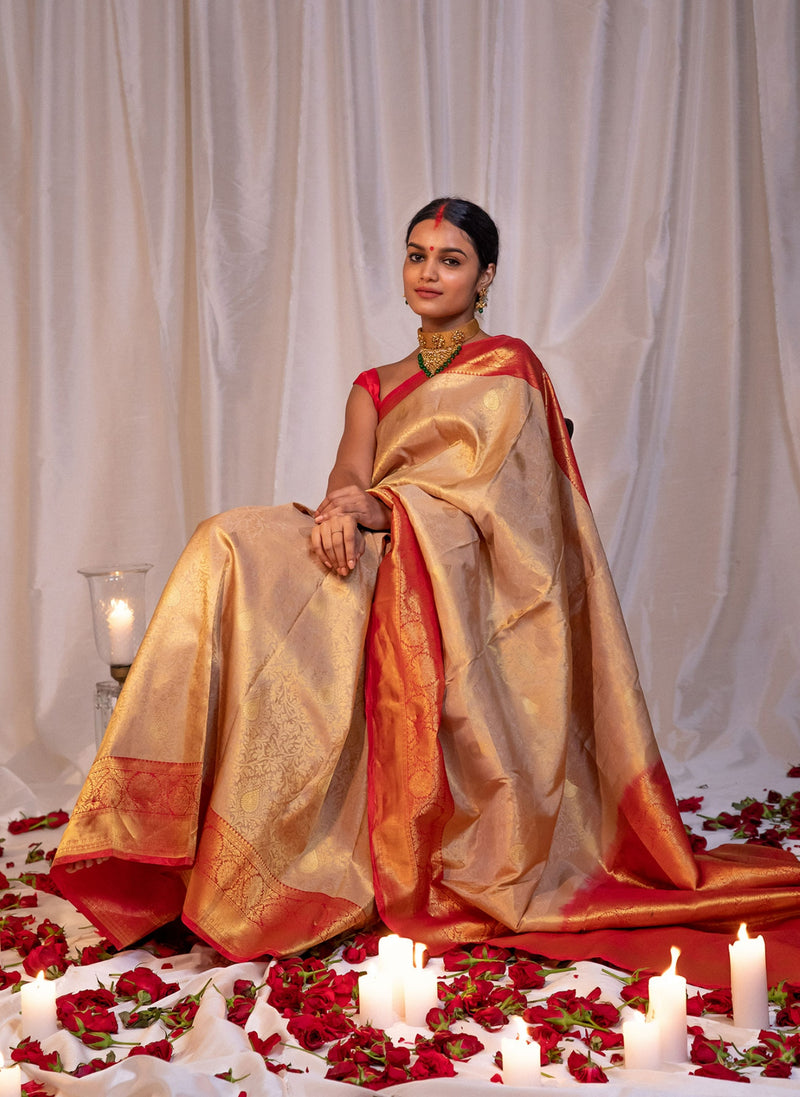 Tissue Silk Saree
The perfect blend of modernity and tradition, our silver tissue silk saree exudes elegance and grace. Alternatively, opt for a royal blue tissue silk saree, a contemporary masterpiece with a touch of regal sophistication.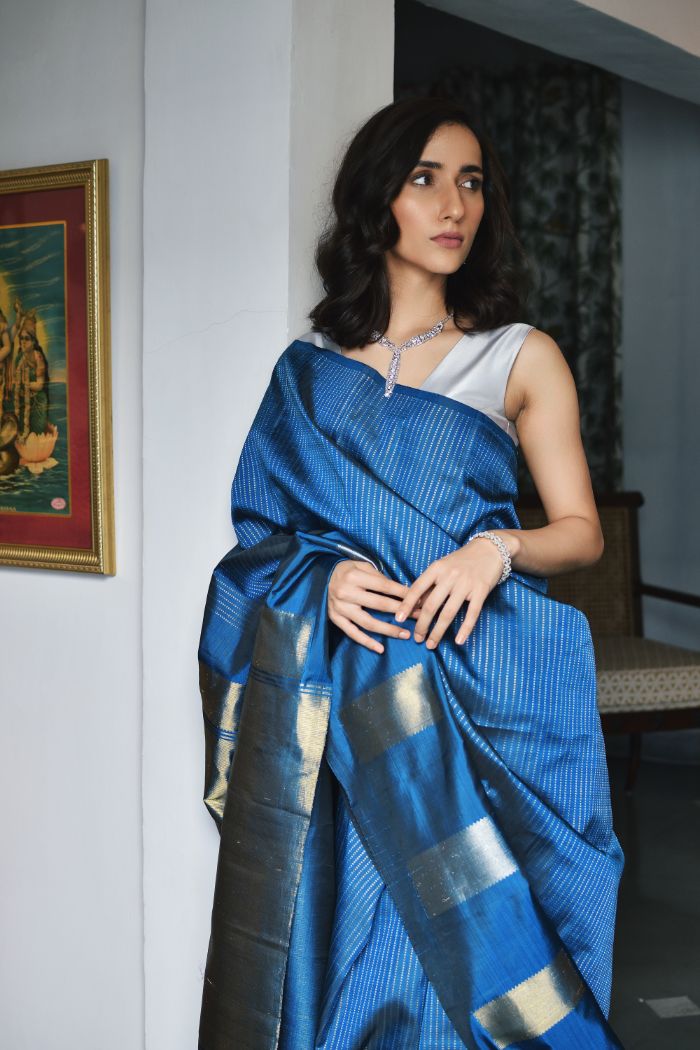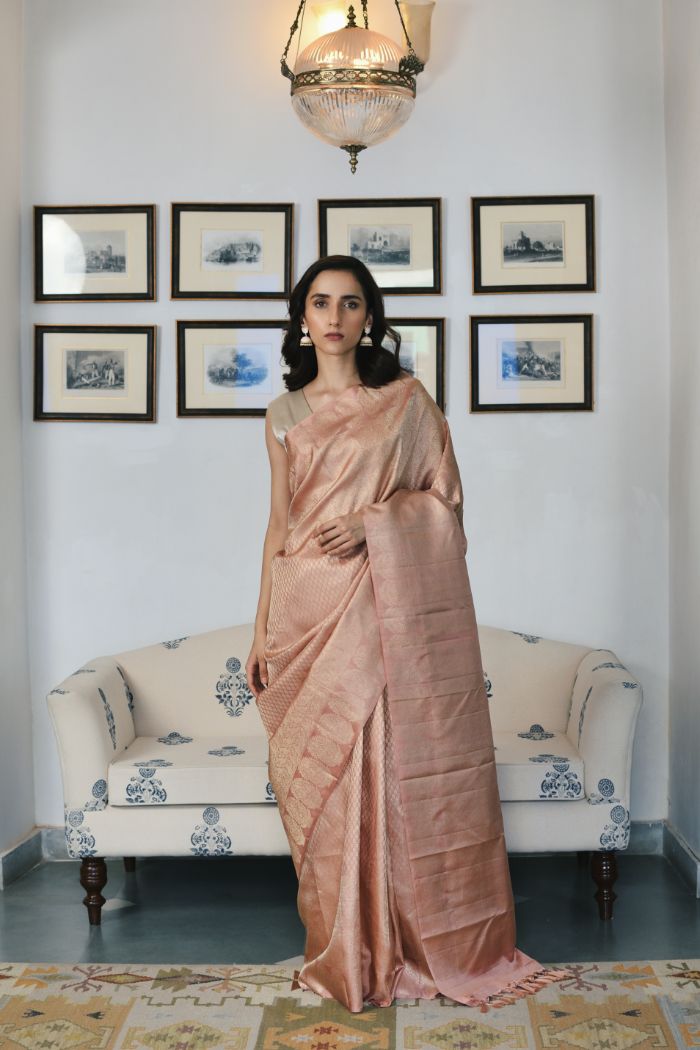 Georgette Brocade Saree
Delight your sister with the intricate beauty of the red Georgette brocade saree. Its floral pattern gracefully adorns the entire saree, while the geometric border adds a touch of uniqueness.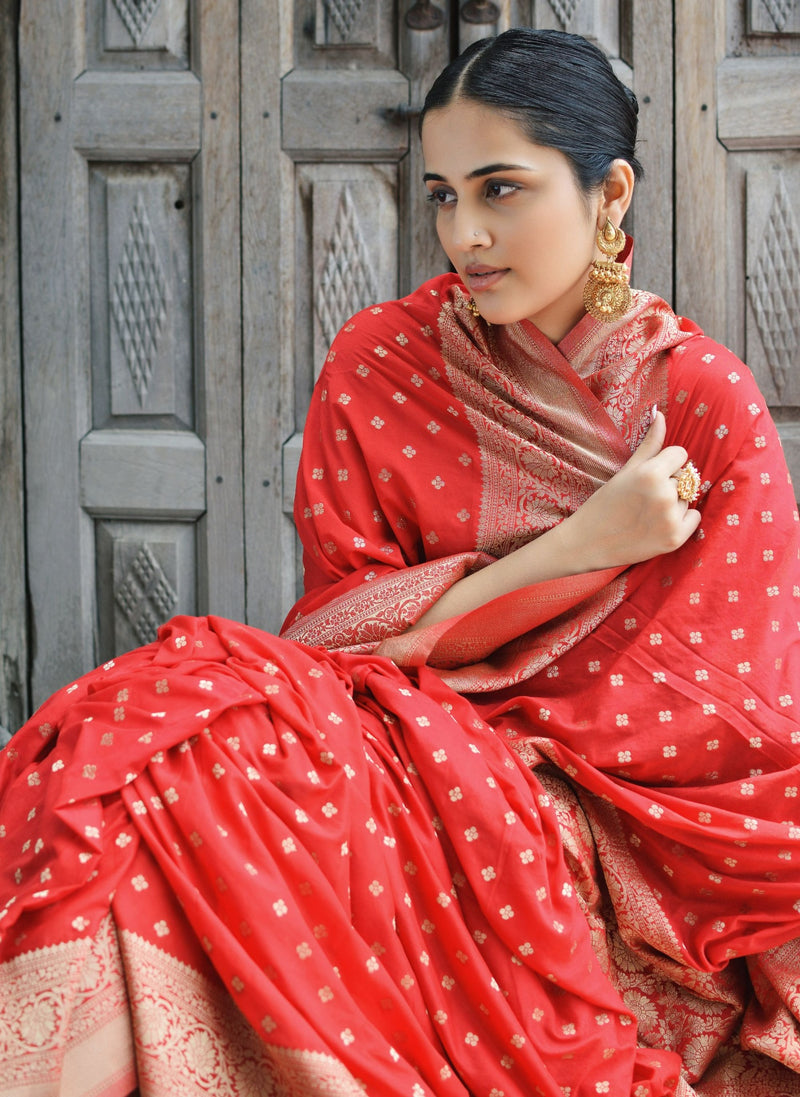 Alternatively, the pink Georgette saree boasts charm and elegance, making it an ideal choice for celebrating Bhai Dooj in style.
Stylish & Trendy Sarees For Gifting To Sisters On Bhai Dooj
Elevate the art of gifting this Bhai Dooj with a touch of contemporary flair. Our collection of stylish and trendy sarees is the epitome of elegance, making for the perfect gift to celebrate the bond you share with your sister. Discover these modern marvels that blend tradition with the latest fashion trends.
Chiffon Saree
For the fashion-forward sister, our red chiffon saree is an embodiment of elegance with butti motifs gracing the entire drape, along with a chic geometric border. The blue chiffon saree, adorned with the same motifs and border, is a versatile choice for a modern and trendy look.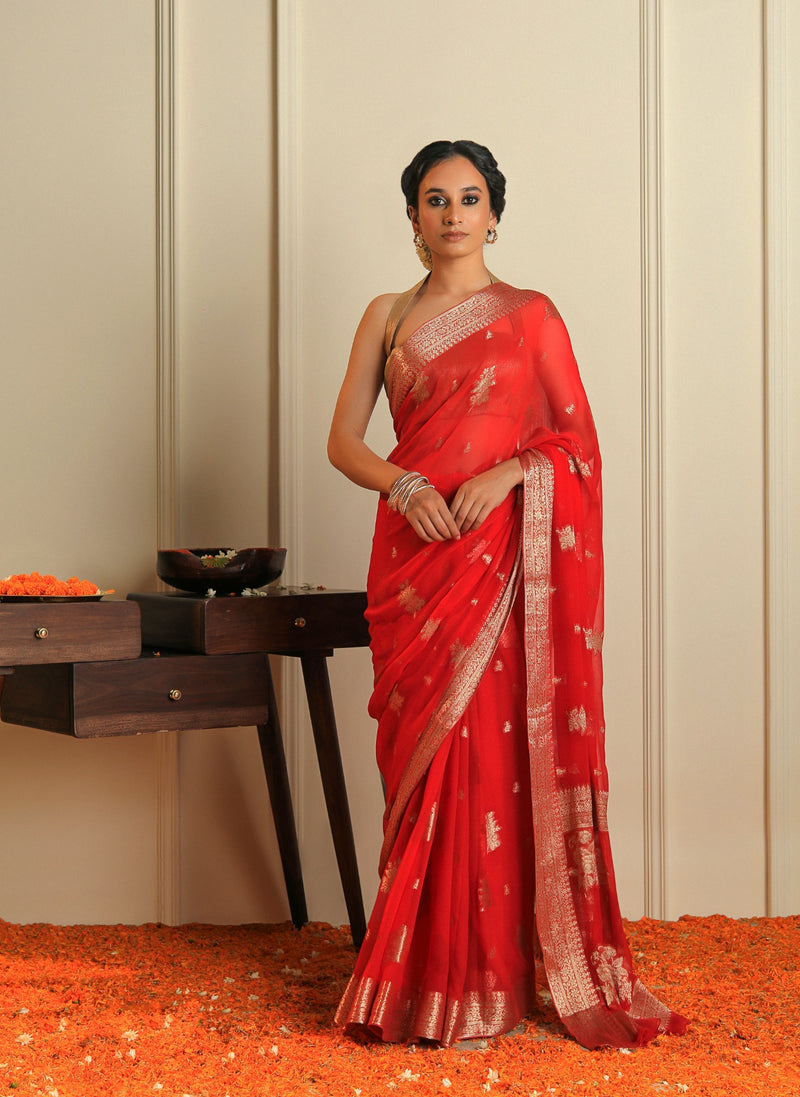 Organza Saree
A green organza embroidered saree is a splendid choice for those who appreciate the delicate intricacies of floral buti patterns, accentuating the entire drape. The leaf-veil patterned floral border adds a touch of sophistication and charm to this exquisite piece.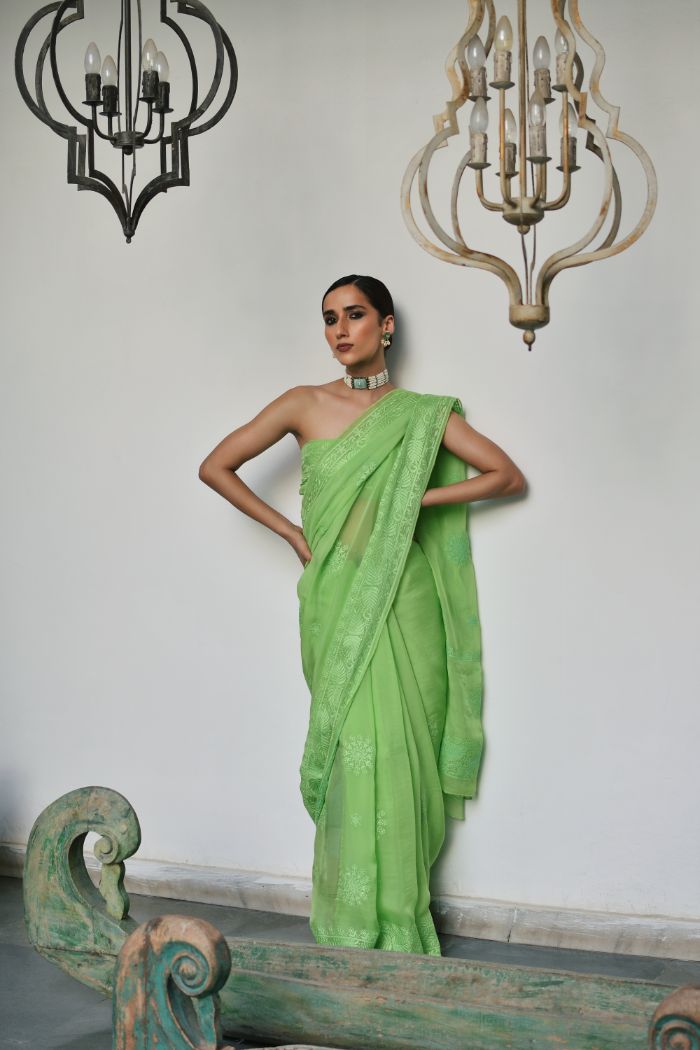 Satin Saree
Indulge your sister with the luxurious feel of viscose satin! Our brown satin saree featuring an all-over floral design that exudes contemporary elegance. The geometrical border adds a modern touch to this trendy and stylish saree, making it the perfect Bhai Dooj gift for a sister with a keen sense of fashion.
Summing Up!
So, we hope that these Bhai Dooj sarees have mesmerised you and provided valuable insights into selecting the perfect saree gift for your beloved sister. Whether you opt for the timeless elegance of traditional Kanjivaram or the chic allure of a contemporary chiffon saree, the love and thoughtfulness behind your gift will shine through. Make this Bhai Dooj truly special by celebrating your cherished bond with a gift that she will treasure.
For a curated collection of these exquisite sarees, keep your eyes at the space- Binal Patel, and bring a smile to your sister's face that will last a lifetime.
Make this Bhai Dooj unforgettable!