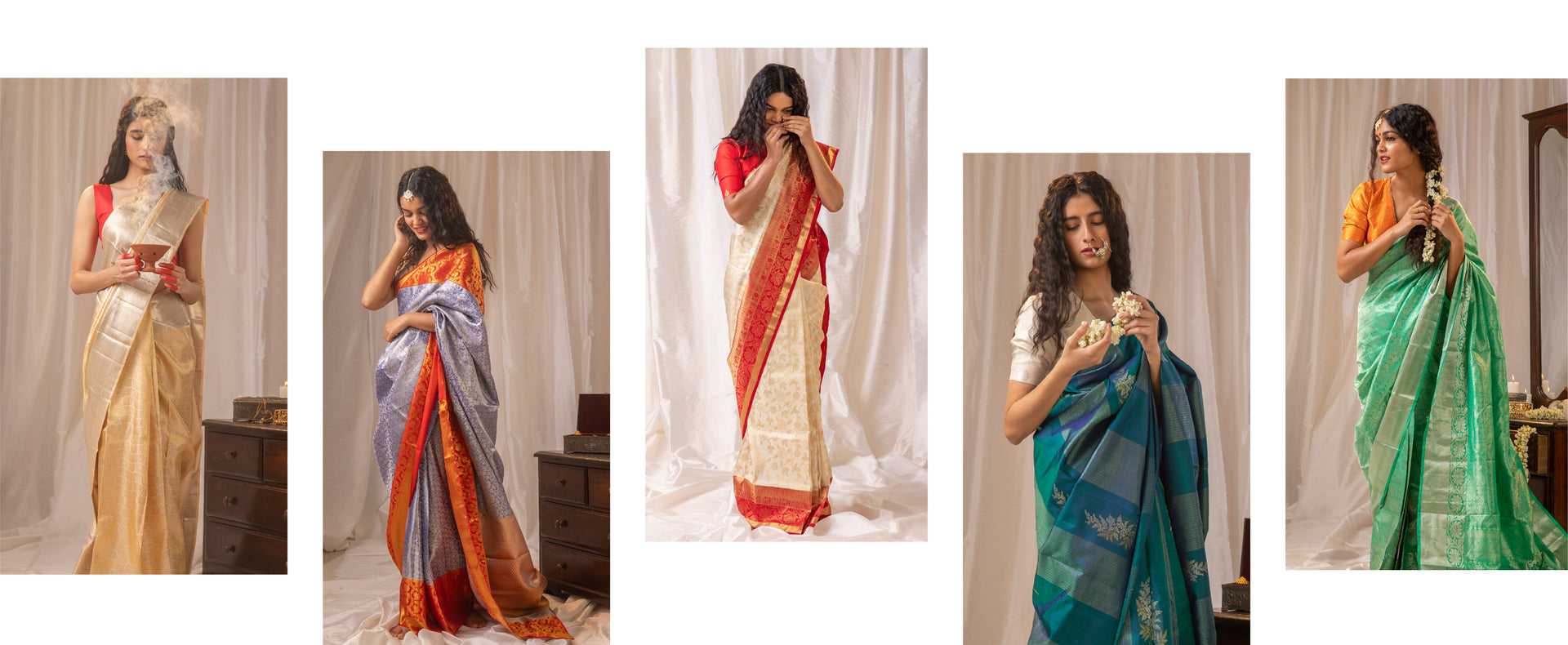 Silk Sarees: A Gift That She Will Cherish Forever
As Bhai Dooj, the day of fraternal love and affection, approaches, the quest for the perfect gift for your beloved sister begins. And when it comes to saree gift ideas for women, nothing beats the timeless elegance and allure of a silk saree. It's a symbol of grace, tradition, and femininity, qualities that resonate deeply with every woman.
Whether your sister is a fashion-forward trendsetter, a traditional soul embracing her heritage, or a stylish minimalist, a silk saree will undoubtedly mesmerise her. It's a versatile garment that can be transformed effortlessly from a classic drape for formal occasions to a modern fusion for casual outings.
In this blog, we'll delve into the world of silk sarees, exploring their enduring appeal, why they make the perfect gift for your sister, and the captivating varieties that await her.
The Timelessness Of Luxury Silk Sarees As Gifts
Silk sarees have been a treasured gift for women since the days of ancient India. Their timeless elegance and exquisite craftsmanship have made them a symbol of love, appreciation, and enduring beauty. From the intricate hand-woven Kanjeevarams to the opulent Banarasis, silk sarees have graced the wardrobes of queens and commoners alike.
The unique qualities of silk sarees make them a cherishable gift that will be treasured for generations to come. Their soft, lustrous fabric drapes gracefully over the body, creating a silhouette that is both elegant and sensual. The intricate designs and delicate embellishments add a touch of artistry and luxury, making each saree a unique work of art.
Silk sarees are more than just a piece of clothing; they are a symbol of tradition, heritage, and feminine beauty. They have been passed down from mother to daughter, carrying with them the stories and memories of generations. A silk saree is not just a gift; it is a legacy, a timeless expression of love and appreciation.
Explore The Variety Of Traditional Silk Sarees For Gifting
When selecting silk saree gift ideas for women, you'll encounter a plethora of options. Here we are sharing an insights on variety of traditional and elegant silk sarees for special occasions:
Tissue Silk Sarees: A Breathtaking Blend of Delicate Sheen and Elegance
Tissue silk sarees, renowned for their lightweight and breathable nature, are a perfect choice for warm weather occasions. Their delicate sheen and soft drape create an ethereal aura, while their intricate designs add a touch of sophistication.
1. Solid Tissue Silk Saree

For the sister who's a trendsetter, a fashion icon, a true arbiter of style, there could be no better gift than a light purple tissue silk saree. This exquisite drape is a testament to her impeccable taste and her penchant for all things chic. The soft, buttery texture of the fabric will caress her skin like a gentle breeze, while the vibrant hue of purple will add a touch of regality to her presence.

2. Floral Tissue Silk Saree

If your sister embraces the charm of prints and finds beauty in nature's artistry, a floral silk saree is the cherishable saree gift. Imagine her twirling in an emerald floral tissue silk saree! The intricate designs and vibrant colours will transform her into a walking garden, a vision of elegance and sophistication.

3. Tissue Silk Saree With Border

It's another great choice of traditional silk saree gifting if your sister seeks a blend of tradition and modern style! Gift her our silver silk tissue saree! The gorgeous reddish orange border will add a touch of vibrancy and elegance, making her the epitome of grace and sophistication.
Kanchipuram Silk Sarees: A Legacy of Royal Splendor
Kanchipuram silk sarees, originating from the temple town of Kanchipuram, are revered for their vibrant colours, intricate gold zari work, and rich history. These sarees, often passed down as heirlooms, embody the artistry and heritage of South India.
1. Original Kanjivaram Saree

When it comes to choosing a luxurious silk saree as a gift, the original Kanjivaram saree reigns supreme. Our bright red and gold Kanjivaram silk saree, a timeless masterpiece that exudes opulence and tradition. This saree is not just a piece of clothing; it's a work of art that reflects the rich heritage of Indian craftsmanship.

2. Checked Kanjivaram Saree

For a unique twist on tradition, consider the charm of a checked Kanjivaram saree. This design takes the classic elegance of Kanjivaram and adds a contemporary flair with chequered patterns. It's a perfect choice for the sister who appreciates tradition but loves a touch of modernity.

3. Without Border Kanjivaram Saree

The ivory Kanjivaram silk saree without a border is a testament to simplicity and grace. This saree's timeless beauty lies in its minimalistic design, allowing the rich silk and colour to take centre stage. It's a classic choice that emphasises the purity of tradition and showcases the essence of understated elegance.
Baluchari Silk Sarees: A Masterpiece of Storytelling
Baluchari silk sarees, hailing from West Bengal, are distinguished by their unique storytelling motifs depicting scenes from mythology or epics. These sarees, woven with meticulous attention to detail, are a testament to the region's rich artistic heritage.
Banarasi Silk Sarees: An Opulent Symphony of Gold And Silk
Banarasi silk sarees, the epitome of luxury and opulence, are renowned for their intricate gold zari work and vibrant colours. These sarees, often adorned with intricate designs and motifs, are a testament to the craftsmanship of Banaras, the ancient silk weaving capital of India.
Muga Silk Sarees: A Treasure of Golden Hues
Muga silk sarees, derived from the cocoons of golden silkworms, are prized for their unique natural golden hue and soft texture. These sarees, originating from Assam, are a symbol of elegance and tradition, passed down through generations.
Ikkat Silk Sarees: A Tapestry of Resist-Dyeing Magic
Ikkat silk sarees, a specialty of Odisha, are characterised by their mesmerising patterns created using the resist-dyeing technique. These sarees, often adorned with intricate tribal motifs, are a celebration of cultural heritage.
Bhagalpuri Silk Sarees: A Symphony of Lightweight Comfort and Elegance
Bhagalpuri silk sarees, originating from Bihar, are known for their lightweight and airy texture, making them ideal for warm weather conditions. These sarees, often adorned with delicate floral or geometric patterns, are a perfect blend of comfort and elegance.
Mysore Silk Sarees: A Canvas of Regal Charm and Tradition
Mysore silk sarees, hailing from the royal city of Mysore, are renowned for their rich colours, intricate zari work, and elegant designs. These sarees, often adorned with motifs inspired by Mysore's architectural heritage, are a symbol of regal charm and tradition.
5 Creative Presentation Ideas To Elevate Your Silk Saree Gift For Your Beloved Sister
The moment you've carefully chosen that exquisite silk saree for your sister, the next step is to make the presentation equally remarkable. Here are five creative ways to make the gift-giving experience even more memorable:
1. The Treasure Chest Surprise

Present the timeless silk saree in a beautifully decorated wooden chest, evoking the sense of opening a treasure trove. Wrap it with delicate tissue paper, and add a heartfelt note expressing your love and good wishes. It's a gift within a gift, creating an aura of anticipation and delight.

2. The Enchanted Garden Unveiling

Create a magical moment by gifting the silk saree amidst a garden of her favourite flowers. Place the saree at the centre, surrounded by blooming petals, and present it to her in the midst of nature's beauty. This enchanting setup will make the gift even more special.

3. The Timeless Scroll Reveal

Roll up the silk saree like an ancient scroll and tie it with a decorative ribbon. Place it in a vintage-style scroll holder or an elegant gift box. When she unrolls it, she'll unveil the saree like a timeless work of art, adding a touch of mystique to the presentation.

4. The Memory Lane Journey

Incorporate nostalgia by presenting the saree with a customised photo album. Include pictures of memorable moments you've shared and stories that reflect your bond. As she flips through the album, she'll reach the final page where the silk saree is beautifully placed, symbolising another cherished memory to create together.

5. The 'Countdown To Surprise' Box

Create a series of smaller boxes, each with a clue or a message leading to the final surprise. The final box contains the silk saree. This playful and suspenseful approach adds an element of fun to the gifting experience and builds excitement as she opens each box in anticipation.
Ending Note!
In the world of fashion, few garments can match the timeless appeal and cultural significance of the silk saree. As we've explored the various silk saree options, from traditional Kanjivarams to opulent Banarasis, one thing remains clear - these sarees are not just pieces of clothing; they are repositories of art, tradition, and heritage. Their enduring beauty has made them cherished gifts for generations, symbolic of love and appreciation.
So, whether you're choosing a silk saree for your sister, a friend, or a loved one, you're not merely giving a gift; you're presenting a piece of history, a symbol of grace, and a token of the enduring bond you share.
Make your gift of a silk saree truly special, a timeless treasure that will be cherished forever.