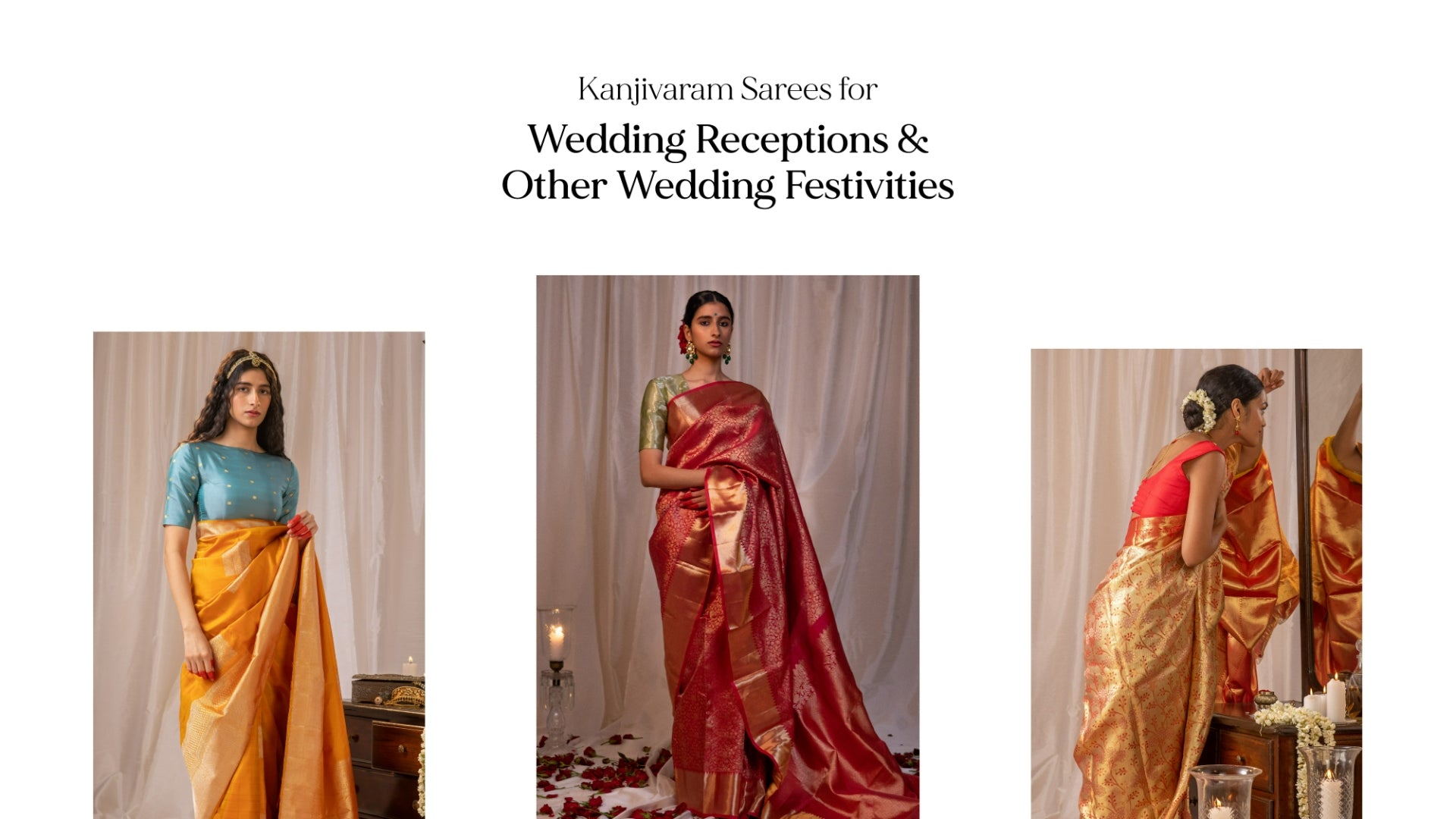 Kanjivaram Sarees For Wedding Reception And Other Wedding Activities
Hey! Are you a bride-to-be, eagerly searching for the perfect ensemble to grace your wedding activities and steal the spotlight at your grand reception? Or perhaps you're the lucky recipient of a wedding reception invitation, but you're perplexed about which saree will make you stand out in the crowd? Fret not!
Whether you're the radiant bride or the glamorous guest, the journey to finding the most exquisite reception Kanjivaram sarees for the bride and the finest Kanjivaram sarees for weddings has just become a whole lot easier. Binal Patel is here to guide you in selecting the ideal saree to make your moment unforgettable.
The Popularity Of Kanjivaram Sarees For Wedding
Silk sarees have been a treasured gift for women since the days of ancient India. Their timeless elegance and exquisite craftsmanship have made them a symbol of love, appreciation, and enduring beauty. From the intricate hand-woven Kanjeevarams to the opulent Banarasis, silk sarees have graced the wardrobes of queens and commoners alike.Kanjivaram sarees have reigned supreme in the realm of Indian weddings for generations, captivating not only the brides but also the guests who attend. These exquisite sarees are favored for their luxurious silk, vibrant hues, and intricate motifs, making them a perfect choice for wedding receptions and other ceremonies. Their timeless appeal and enduring charm have made them a symbol of tradition and opulence, ensuring that the popularity of Kanjivaram sarees for weddings remains unwavering year after year.
From Mehendi To Reception: Selecting The Ideal Kanjivaram Sarees For Bride And Guests
When it comes to selecting the perfect Kanjivaram silk saree for your wedding festivities, the treasure trove of choices at Binal Patel is a gateway to both tradition and modernity. Our collection of Kanjivaram silk sarees for wedding caters to brides and guests alike, offering an array of colours and designs that will leave you captivated. Let's embark on this delightful journey through the different wedding activities:
1. Kanjivaram Saree For Pre-Wedding Mehendi

For the bride-to-be, there's nothing quite like the purplish-red Kanchipuram silk saree. Its vibrant hues symbolise the excitement and anticipation of the upcoming nuptials.

As for the guests attending the Mehendi, the plain mulberry Kanchipuram silk saree brings a touch of elegance to the celebration, making you feel right at home in the festivities.

2. Kanjivaram Saree For Pre-Wedding Sangeet

The Sangeet night calls for celebration, and what better way for the bride-to-be to do it than in a resplendent maroon Kanchipuram silk saree, exuding grace and charm.

For the guests who wish to join in the revelry, a bright yellow and blue Kanchipuram saree will add a splash of colour and vivacity to the dance and music-filled evening.

3. Kanjivaram Saree For Wedding Day

The big day deserves nothing short of a masterpiece. Our multicolour Kanchipuram silk saree for wedding, adorned with hints of red, green, and gold, embodies the grandeur and significance of the wedding ceremony. It's a stunning choice for the bride who wants to make a lasting impression.

4. Reception Kanjivaram Sarees For Bride

The reception, often the grand finale of the wedding festivities, demands a look that's nothing short of spectacular. Our red and golden Kanchipuram silk saree is the epitome of bridal opulence and elegance. This classic combination is laden with symbolism, representing love, passion, and a radiant future with its deep, rich red tones.

The golden embellishments and intricate weaving evoke a sense of grandeur and luxury, making it one of the most ideal choices for reception kanjivaram sarees for bride who desires to steal the show on this special night. As the spotlight shifts to her, this reception silk saree for bride ensures that all eyes are firmly fixed on the bride, and it captures the essence of the bride's transition into a new chapter of life, marked by love, togetherness, and a radiant future.

For an elegant and traditional appearance on your special reception day, you can also drape yourself in our exclusive reception silk sarees for Indian brides!

Moreover, If you're seeking a trendier and more sophisticated appearance, there's no better option than embracing a stylish green Kanjivaram saree look for your reception!

5. Reception Kanjivaram Sarees For Guests

As a guest attending the wedding reception, the choice of attire is equally important. The peacock-blue kanjivaram saree for wedding reception is a representation of sheer elegance and sophistication. This kanjivaram silk saree for reception is a perfect choice to grace the grand celebration and leave a lasting impression.

The rich, peacock-blue hue exudes a sense of grace and poise, while the intricate silk weaving and ornate designs add an air of opulence. It's an attire that commands attention and respect, allowing you to stand out and be part of the festivities in style.
Choosing The Perfect Kanjivaram Sarees For Wedding With Price
Embarking on your wedding journey doesn't have to be a budget-busting affair when it comes to choosing the perfect Kanjivaram silk saree. The price range for these exquisite sarees typically falls between ₹20,000 to ₹3,00000, offering you a variety of options to fit your budget.
To make an informed decision without breaking the bank, here are some key pointers:
Set a budget in advance to narrow down your choices

Consider opting for lighter silk variants or blended silk sarees, which are more affordable

Explore handwoven options from trusted local weavers for authenticity and affordability

Look for sarees with minimal zari work or motifs for a cost-effective yet elegant choice
Lastly, don't forget to explore our comprehensive guide, "Choosing the Ideal Kanjivaram Sarees for Wedding on a Budget," for more details on how to find the perfect Kanjivaram silk saree that suits your price range without compromising on style and quality.
Summing Up!
We hope that this journey through the resplendent world of Kanjivaram sarees for wedding activities, including the grand reception and other festivities, has left you inspired and equipped with valuable insights.

Whether you're the bride, the bridesmaid, or a cherished guest, these sarees have the power to transform every moment into a timeless memory.
For an extensive collection of Kanjivaram silk sarees that will make you shine on your big day, visit Binal Patel. Discover the perfect reception Kanjivaram sarees for the bride and guests, and step into the world of elegance, tradition, and sophistication that only Kanjivaram sarees can offer. Your wedding experience deserves nothing less.
Frequently Asked Questions On Kanjivaram Sarees For Wedding Reception
1. Which Saree Is Best For Reception?

Ans: The choice of the best saree for a reception largely depends on personal preferences and the overall theme or style of the event. However, a red and golden Kanjivaram silk saree is often considered a classic and elegant choice for brides, symbolising love and passion.

2. Which Colour Saree Is Best For Reception?

Ans: The best colour for a reception saree can vary depending on individual taste and the colour palette of the event. While red, maroon, or deep shades symbolise bridal grandeur, colours like emerald green, royal blue, or even pastels can be splendid choices, adding a touch of contemporary sophistication to the reception look.

3. How To Choose A Saree For Reception?

Ans: To choose the perfect saree for a reception, consider factors such as the overall theme and colour scheme of the event, your personal style, body shape, and comfort. Opt for a saree that complements your complexion and highlights your best features. Additionally, pay attention to the fabric, embroidery, and embellishments to ensure they align with the formality of the occasion. Don't forget to set a budget to guide your selection and explore a variety of designs and draping styles before making your final choice.