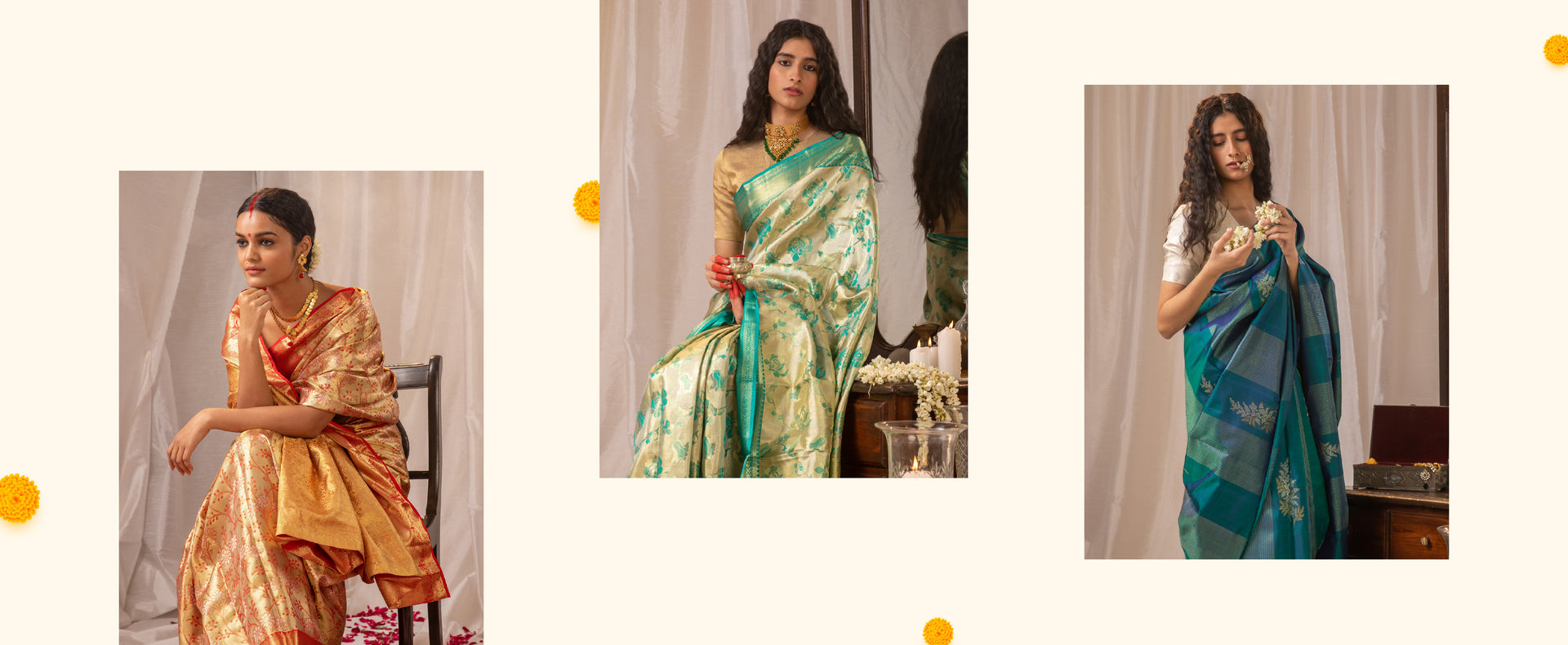 Your Ultimate Saree Shopping Guide for the Festive Season
Searching for "silk saree shop near me?" Well don't! We're here with some amazing saree shopping recommendations that will leave you mesmerized. The festive season is just around the corner, and it's calling for some online saree shopping!
Whether you're a saree aficionado or a newbie, online saree shopping has become the go-to choice for many. In this comprehensive guide, we'll explore the benefits of buying sarees online, saree material types, best online silk saree shopping sites and discuss the trendiest types of sarees for various occasions.
Plus, we'll provide essential factors to consider when shopping for sarees online to ensure you make the best choice. Let's dive in!
Benefits of Embracing Online Silk Saree Shopping
Online saree shopping offers a myriad of advantages, making it an ideal choice for the modern shopper. From the convenience of browsing through an extensive collection from the comfort of your home to easy price comparisons and doorstep delivery, the perks are undeniable. Additionally, online stores often have a broader selection, including rare finds and regional specialties, such as silk sarees from Bangalore or Kanchipuram. For instance, if you want to do silk saree shopping, you can explore the top 5 silk saree shops in Kanchipuram online.
1. Kanchipuram Silk Sarees
Kanchipuram silk sarees are renowned for their exquisite craftsmanship and intricate zari work. They are perfect for grand occasions like weddings and festivals. These sarees drape elegantly and feel luxurious against the skin. To style them, pair with traditional jewelry for a regal look. For a curated online saree shopping experience, Check out Binal Patel's saree collection.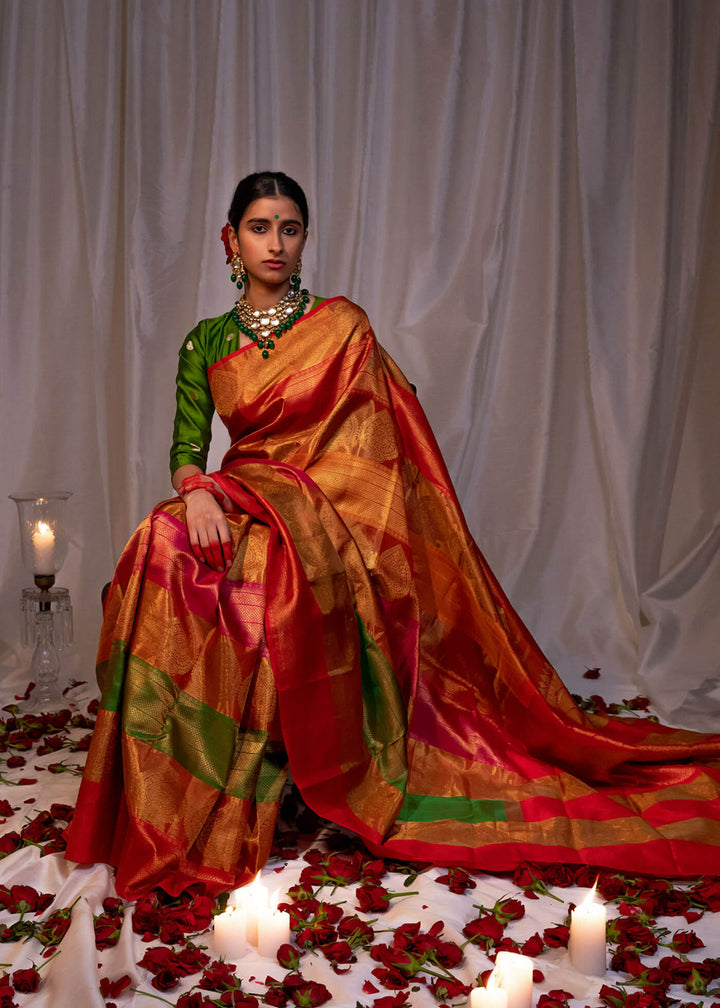 Indulge in Luxury with Kanchipuram Sarees
2. Silk Tissue Sarees
Silk tissue sarees are a lighter option that's perfect for evening events and parties. They have a delicate sheen and drape beautifully, offering a contemporary yet traditional look. Pair them with statement jewelry for a modern twist. Want to know one of the best online silk saree shopping sites for silk saree shopping? Here! Checkout Binal Patel's silk tissue saree.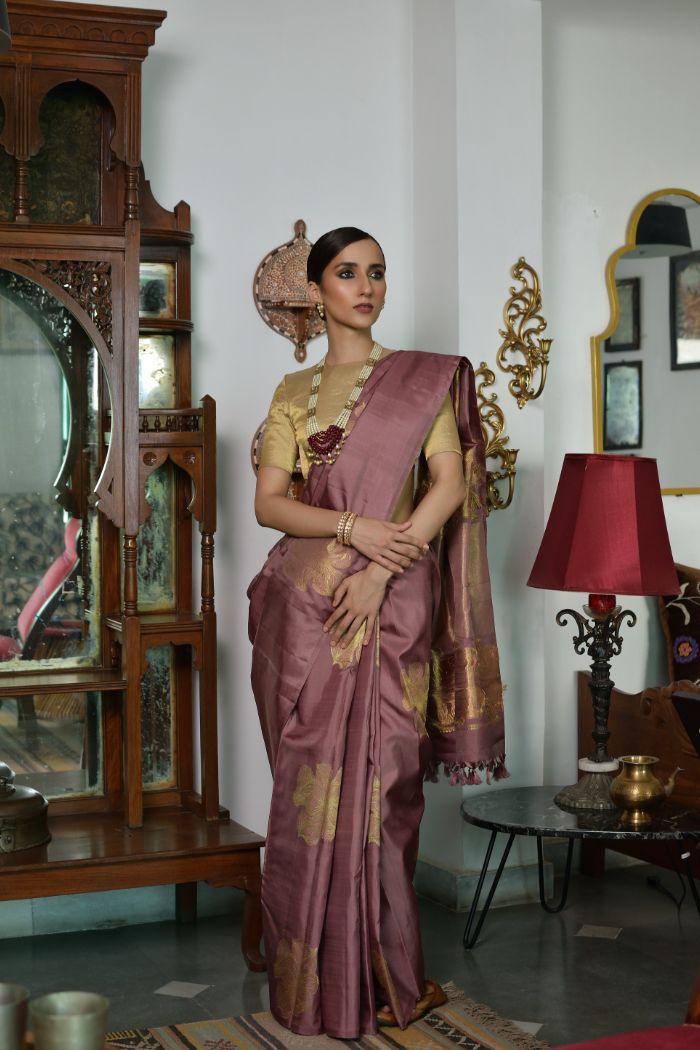 Experience Grace with Light Brown Silk Tissue Saree
3. Georgette Sarees
Georgette is a soft saree material known for their versatility. They are lightweight, making them suitable for casual gatherings or formal events. The flowy fabric drapes well and is easy to manage. Style them with minimalistic jewelry for an understated elegance. Checkout some amazing and mesmerizing georgette saree designs by Binal Patel.
Discover the Elegance of Georgette Sarees
4. Taffeta Silk Sarees
When it comes to silk saree shopping and exploring different saree material types, Taffeta Brocade sarees emerge as a luxurious and sought-after choice. These sarees boast a soft and gentle fabric that drapes gracefully, ensuring unparalleled comfort.
The defining feature of Taffeta Brocade sarees is the intricate brocade patterns woven into the fabric, which exude opulence and sophistication. These sarees are especially fitting for special occasions and grand festivities, where their rich look truly shines.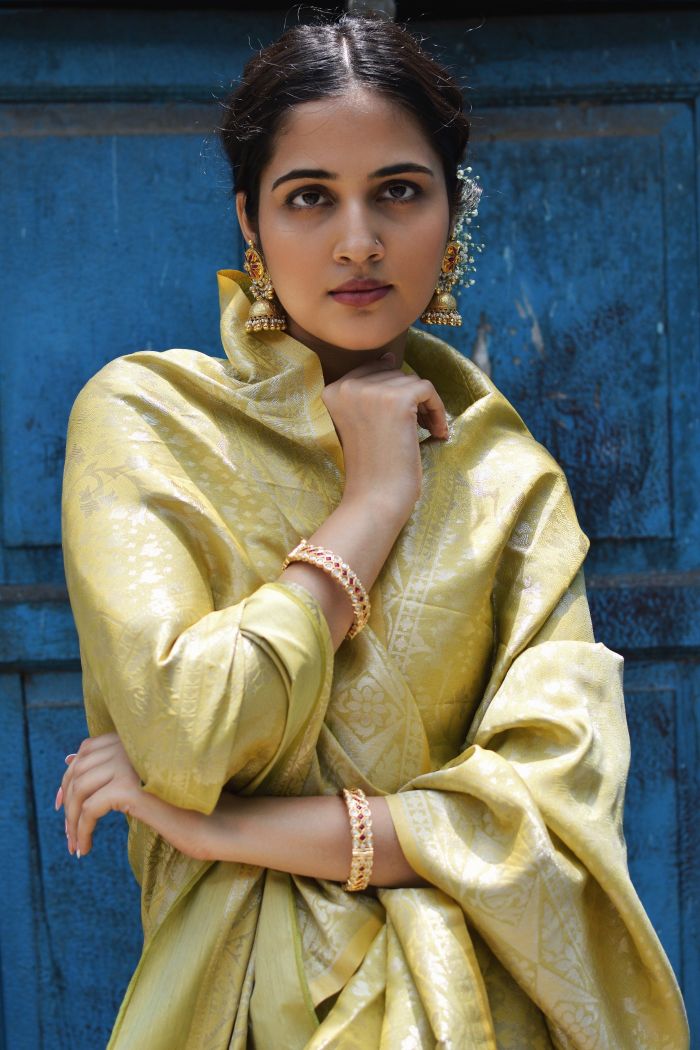 Experience Opulence with Taffeta Brocade Sarees!
What's more, the variety of colors and designs available in Taffeta Brocade sarees ensures there's a choice to suit every style and preference.
And the convenience of online saree shopping opens up a vast world of options, allowing you to explore, compare, and make informed decisions when selecting your perfect Taffeta Brocade saree.
Ready to dazzle in a Taffeta Brocade Saree? Browse Binal Patel's exquisite collection and find your favorite saree.
5. Chiffon Sarees
Chiffon soft saree material is the epitome of grace and sophistication. They are incredibly lightweight and flow gracefully. Ideal for cocktail parties and evening affairs, chiffon sarees pair well with contemporary jewelry for a chic look. Explore the elegance of chiffon sarees by Binal Patel.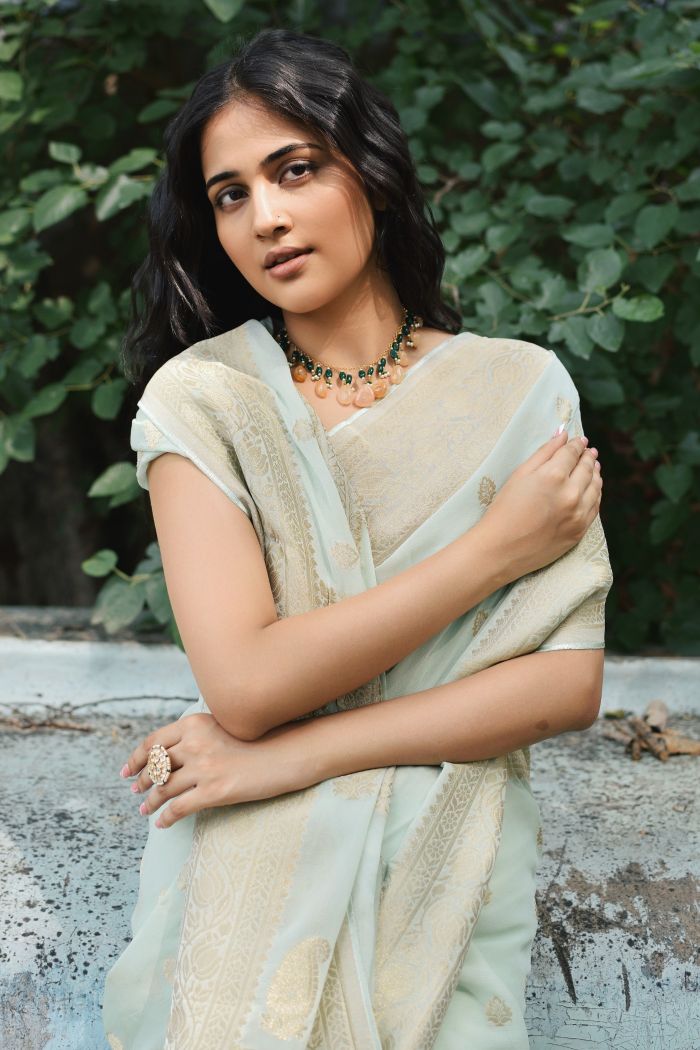 Drape in Elegance with Mint Chiffon Sarees!
Now that you're familiar with some trending saree types, let's delve into essential factors to consider when buying sarees online.
Factors to Consider When Buying Sarees Online
When it comes to online saree shopping, several critical factors must be considered to ensure you make a wise and satisfying purchase. Saree online shopping offers convenience and a wide array of options, but it's essential to be diligent in your choices. Let's delve deeper into each of these factors:
1. Authenticity:
Authenticity is paramount when you are considering online saree shopping. To ensure you receive genuine products, choose a reputable online store. Look for customer reviews and testimonials to gauge the store's credibility. Additionally, check if the store has any certifications or affiliations with recognized textile authorities.
2. Fabric Quality:
The quality of the saree material types plays a significant role in its overall appeal and comfort. Pay close attention to the types of saree fabric details provided on the product page. If you're considering silk sarees, examine the silk grade and thread count mentioned in the product description. For chiffon or georgette sarees, look for information regarding the quality of these specific types of saree materials.
3. Size and Fit:
Sizing is crucial to ensure your saree fits comfortably and drapes elegantly. Most online stores provide sizing charts that include measurements for different parts of the saree, such as length, width, and blouse size. While online saree shopping be sure to consult these charts and choose a size that suits your body type. Additionally, check if the saree comes with a blouse piece and whether it matches your size requirements.
4. Return Policy:
Even with careful consideration, there may be instances when a saree doesn't meet your expectations. In such cases, it's essential to understand the online store's return and exchange policies. Familiarize yourself with the terms and conditions, including the return window, return shipping costs, and whether they offer refunds or store credit.
5. Price and Budget:
Before you start your online saree shopping journey, it's advisable to set a budget. Sarees come in a wide price range, and having a budget in mind will help you narrow down your options. Compare prices across different websites to ensure you're getting the best deal without compromising on quality.
6. Care Instructions:
Each saree fabric may have specific care instructions. Always check the care label or product description for guidance on how to maintain your saree. Proper care ensures your saree retains its beauty and durability over time.
7. Customer Service:
Excellent customer service can make your online saree shopping experience smooth and hassle-free. If you have any questions or concerns, don't hesitate to reach out to the seller. Responsive and helpful customer service is a positive sign of a reliable online store.
8. Shipping and Delivery:
Be aware of the shipping costs associated with your purchase. Some online stores offer free shipping for orders above a certain amount, while others may charge based on your location. Additionally, check the estimated delivery time to ensure it aligns with your requirements, especially if you need the saree for a specific event or occasion.
9. Customization:
Some online saree stores offer customization options such as blouse stitching and fall-pico services. If you require these services to tailor your saree to your preferences, explore the options available and inquire about additional costs and turnaround times.
10. Payment Security:
Finally, ensure that the website you're purchasing from has secure payment options to protect your financial information. Look for trusted payment gateways and check for the padlock symbol or "https://" in the website's URL, indicating a secure connection.
Incorporating these considerations into your online saree shopping experience will help you make informed decisions and ensure that you receive a saree that meets your expectations in terms of authenticity, quality, fit, and value for your budget.
Best Online Silk Saree Shopping Sites
When it comes to the best online silk saree shopping sites, there are several reliable websites that offer a fantastic range of choices. Binal Patel is one such noteworthy option, a brand that stands out for its artistic hand-woven sarees that capture the grace and essence of Indian women.
Binal Patel's Luxury Designer Sarees are more than just clothing; they are wearable pieces of art. Each saree embodies the elegance and charm of the Indian woman. The brand's collection is a blend of traditional craftsmanship and contemporary designs, making it suitable for a wide range of occasions.
Binal Patel offers collections curated for special occasions as well as everyday use ranging in different types of saree materials from silk to georgette.
Whether you are planning on kerala saree online shopping or pink saree online shopping, Binal Patel's collections have got you covered!
Here you'll discover sarees that not only reflect your cultural heritage but also allow you to express your unique sense of fashion.
Conclusion
Online saree shopping has revolutionized the way we acquire these timeless pieces of clothing. With an array of options at your fingertips, you can now effortlessly find the perfect saree for any occasion. Whether you opt for the opulence of Kanchipuram silk or the contemporary allure of chiffon, online saree shopping offers a world of choices. Remember to consider factors like authenticity, fabric quality, and size when making your selection. With these tips in mind, you're all set to shop for the best sarees this festive season.
FAQs
Q1: How do I choose a good saree?
A1: To choose a good saree, consider factors such as fabric quality, occasion, and personal style. Online saree shopping allows you to explore a wide range of options to find the perfect one.
Q2: Which saree is best for first-time wearers?
A2: For first-time saree wearers, lightweight options like georgette or chiffon sarees are a good choice when it comes to online saree shopping. They are easy to manage and drape well.
Q3: Which is the lightest silk saree?
A3: Among silk sarees, taffeta silk sarees are relatively lighter compared to others like Kanchipuram silk. They offer a balance between elegance and comfort.
Q4: Which type of silk saree is in trend?
A4: Kanchipuram silk sarees continue to be in trend due to their timeless appeal and exquisite craftsmanship. They are perfect for weddings and festive occasions.