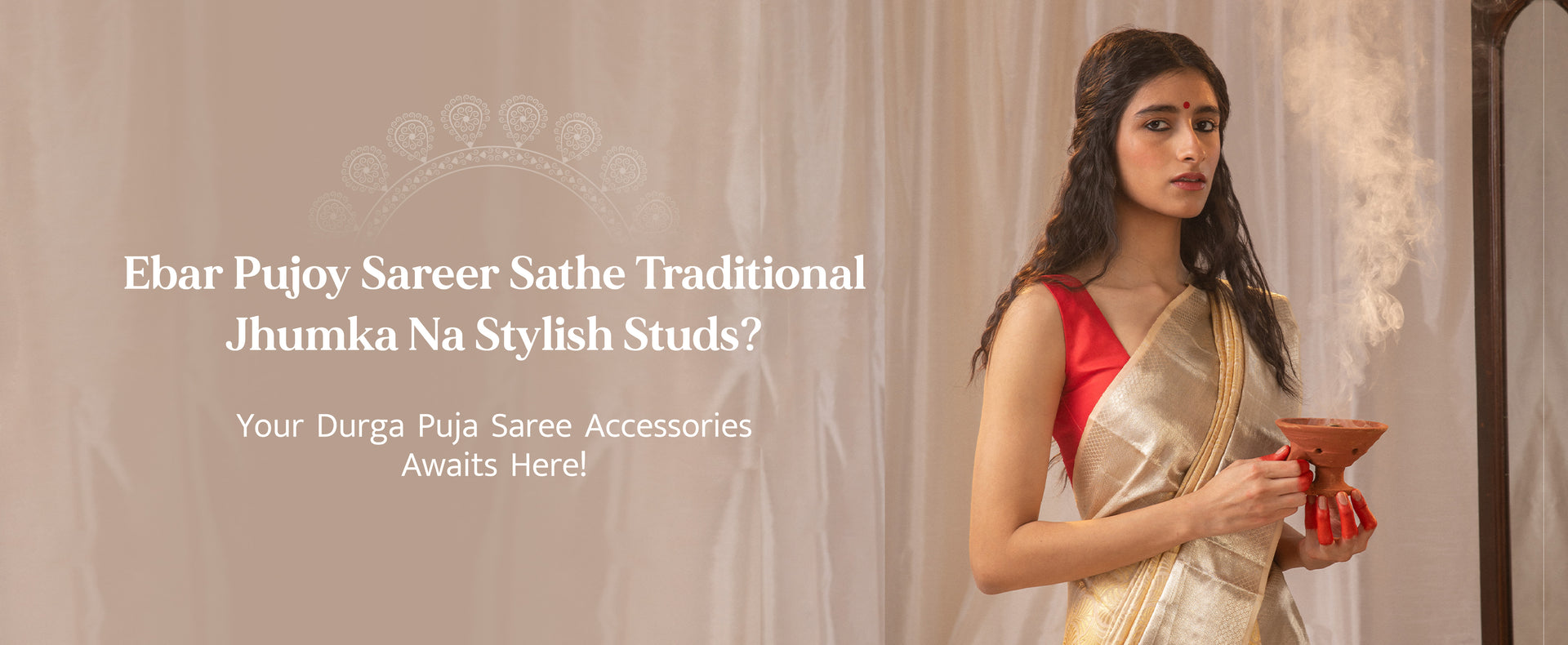 Tips For Choosing Right Accessories For Your Durga Puja Saree
Durga Puja, the most awaited and revered festival in Bengal, is a celebration of colors, joy, and the triumph of good over evil as we worship Goddess Durga. Amidst the myriad traditions and rituals that mark this grand occasion, one timeless tradition stands out—the joy of donning new outfits and sharing the festive spirit with loved ones.
And what could be more exquisite and fitting for this occasion than the perfect Durga Puja saree? A saree, more than just a piece of fabric, is a testament to tradition, a vessel for emotion, and a reflection of grace. And obviously as a true fashionista you find yourself wandering through an array of jewelry shops, seeking that perfect saree accessories to complement your Durga puja look.
Well, this blog is your guiding light, illuminating the path to accessorizing your traditional Bengali Durga Puja saree. Moreover, We are not merely here to elevate your Durga Puja saree look; we are here to prepare you for Durga Puja with a curated selection of traditional designer sarees that will leave you spellbound.
What Types Of Sarees Are Traditionally Worn During Durga Puja?
Amidst the vibrant grandeur of festivity, sarees for Durga Puja take center stage, weaving tales of tradition that are as old as Bengal itself.
Here are some Bengali traditional sarees for Durga Puja that have been cherished for generations:
1. Tant Saree:
These sarees are a nod to the timeless artistry of Bengal. With their comfortable texture and intricate designs, Tant sarees are the quintessential choice for Durga Puja. Wearing a tant saree exudes a sense of tradition and will help to complete a bengali Durga Puja saree look!
2. Pure Silk Saree:
Silk, the fabric of royalty, drapes you in elegance and grace. The Pure Silk Saree for Durga Puja holds a special place during this festival, adding a touch of opulence to your celebrations.
3. Kanjivaram Saree:
Kanjivaram is one of the most special traditional Bengali durga puja saree! Kanjivaram sarees from South India make a striking statement during Durga Puja. Their vibrant hues and intricate motifs evoke a sense of grandeur and opulence.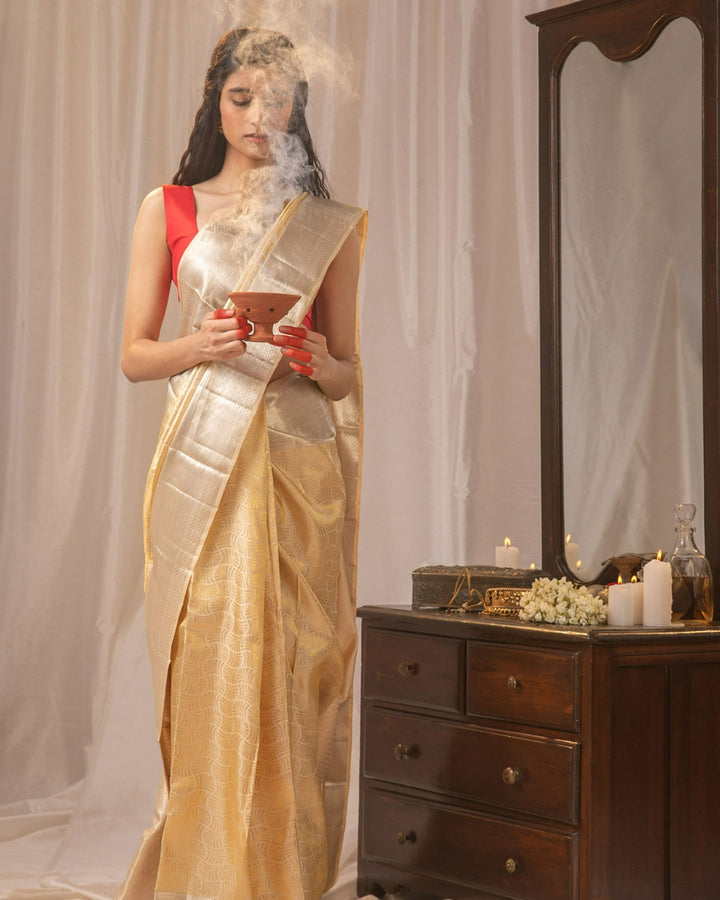 4. Baluchari Silk:
Known for their detailed depictions of mythological tales, Baluchari sarees are a fusion of art and tradition. Wearing one is like wearing a piece of Bengal's rich storytelling tradition.
Among these, the red and white saree for Durga Puja holds a special place in the hearts of Bengali women, especially on Maha Ashtami. Whether it's silk, kanjivaram, or tant, wearing this combination is more than just fashion; it's an emotion.
Discover More Styles of Kanchipuram Saree
To get a wider variety of Durga Puja special sarees, don't miss out on the opportunity to explore the Binal Patel Sarees Collection! Our sarees are a vibrant tapestry of Indian artistry, intricately weaving together the stories of our rich heritage and culture. It should be mentioned that our special Red saree for Durga Puja that is tailored exclusively for this auspicious occasion is a must-try!
Contemporary Style Durga Puja Sarees
While the Bengali traditional saree for Durga Puja holds a special place in the hearts of Bengali women, modernity has found its way into the Puja celebrations. Modern women and young girls are now exploring a blend of tradition and contemporary style with sarees like:
1. Organza Saree:
Light as a feather, these Organza sarees exude modern elegance with their sheer fabric and subtle sheen.
2. Chiffon Saree:
Known for their drapes and comfort, chiffon sarees offer a perfect blend of tradition and comfort for the modern Puja-goer. To create a stunning Durga Puja saree look with a sophisticated yet stylish designer chiffon saree, do check out our festive special Rubaroo Chiffon Saree Collection now!
Get Festive Ready With Binal Patel Red Chiffon Saree
3. Georgette Brocade Saree:
With intricate brocade work and a touch of shimmer, the Georgette Brocade sarees are ideal for those looking to make a statement that seamlessly combines tradition and modernity.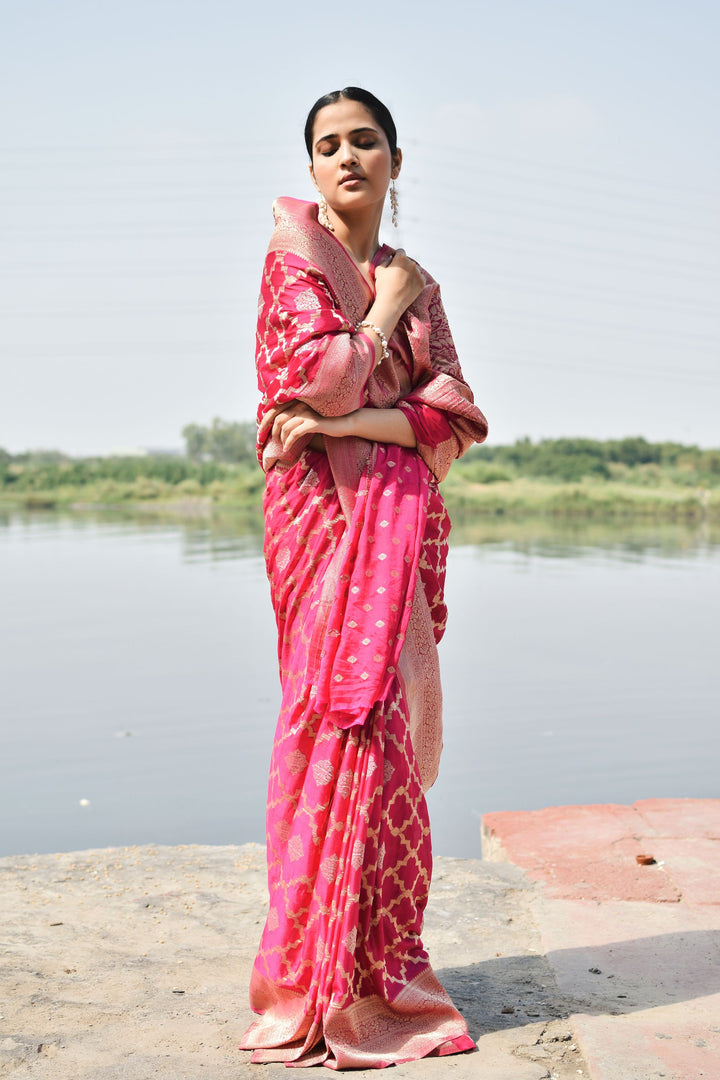 Gift this beautiful saree to you loved ones
Whether you opt for the timeless allure of tradition or the contemporary charm of modernity, your saree during Durga Puja will always be a reflection of your unique style and the spirit of this grand celebration.
Look Graceful At Durga Puja With Perfect Saree Accessories
Now, for the most anticipated part of your Durga Puja ensemble – the perfect saree accessories. Your Durga Puja saree is a canvas waiting to be adorned with the right pieces, and in this section, we will guide you through the art of enhancing your elegance with the ideal accessories.
Traditional Durga Puja Special Saree Accessories
In the heartland of tradition in Durga Puja, women find themselves drawn to the timeless allure of gold jewelry as one of their most cherished saree accessories.
When it comes to neck accessories for saree, the choker gold necklace reigns supreme, adorning the neck like a regal crown. Some opt for the intricate beauty of a gold designer necklace, while others choose a more understated elegance with a gold chain adorned by a bold pendant, adding a touch of sophistication to their saree ensemble.
As for bangles, it's the traditional classics that take center stage. The resplendent gold Chuur, the intricate Ratanchur, and the timeless Bala bangles, each a masterpiece in its own right, effortlessly elevate your Durga Puja saree look.
And what's a traditional ensemble without the perfect pair of earrings? Jhumkas, with their graceful sway and intricate craftsmanship, are the crowning glory of saree accessories, enhancing your overall look with their timeless charm.
Perfect Accessories For Different Coloured Durga Puja Sarees
Now, let's explore how the right accessories can transform your Bengali traditional durga puja saree, depending on its vibrant hue:
1. Accessories For Red Sarees:
For the iconic red saree, embrace the classic combination of gold jewelry and red and white bangles, exuding regal elegance that perfectly complements the festival's fervor.
2. Accessories for Blue Sarees:
Blue sarees find harmony with silver or white gold jewelry, adding a touch of modern sophistication to their traditional charm.
3. Accessories for Yellow Sarees:
The warm radiance of yellow sarees pairs beautifully with antique gold jewelry, casting a golden glow over your Durga Puja look.
4. Accessories For Purple Sarees:
Complement the regal allure of purple sarees with silver or amethyst jewelry, infusing an air of captivating grace into your ensemble.
5. Accessories For Maroon Sarees:
Maroon sarees speak of timeless sophistication. Enhance their allure with intricate gold jewelry and deep red bangles, creating a regal presence.
Perfect Saree Accessories For Different Types Of Fabrics
Each saree type carries its own unique charm, and your accessories should echo its personality:
Accessories For Silk Sarees:

Elevate the opulence of silk sarees with traditional gold jewelry or intricate temple jewelry, allowing you to step into the grandeur of tradition.

Accessories For Organza Sarees:

The sheer beauty of organza sarees pairs effortlessly with delicate, lightweight jewelry that complements their ethereal grace.

Accessories For Kanjivaram Sarees:

The rich zari work of Kanjivaram sarees deserves nothing less than traditional South Indian jewelry, adorned with intricate gold designs.

Accessories For Copper Zari Sarees:

Highlight the exquisite copper zari work in your saree with antique gold jewelry or pieces that incorporate copper accents, harmonizing with your saree's radiant elegance.
With the right saree accessories, your Bengali traditional saree for Durga Puja transforms into a canvas of elegance, allowing you to shine brightly during this auspicious celebration. Whether you choose to embrace tradition or infuse a touch of contemporary style, the perfect accessories will complete your look, ensuring you stand out amidst the festivities.
Ending Note!
In the enchanting world of sarees and accessories, your Durga Puja ensemble takes on a life of its own. With the right saree accessories, you can transcend tradition and embrace modernity while staying true to the spirit of this grand festival.
Now that you've explored the art of perfecting your Durga Puja saree look, it's time to bring it to life. Visit Binal Patel today, where a treasure trove of exquisite Durga Puja special sarees await you. Let your elegance radiate and your spirit soar during this Durga Puja. Make a statement, celebrate tradition, and embody grace with Binal Patel.
Happy Durga Puja!