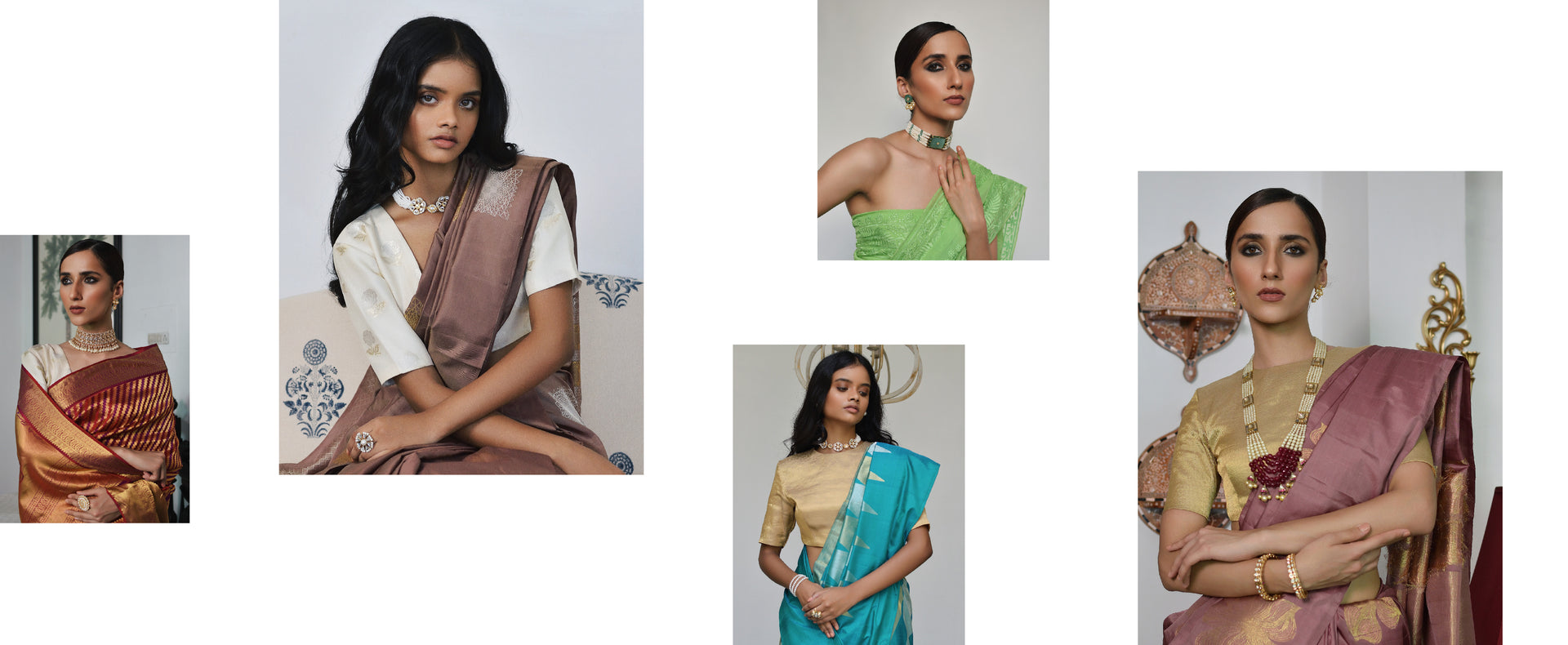 Accessorizing Your Festive Saree: Tips for Adding Sparkle and Elegance
When it comes to enhancing the beauty of a saree, every detail matters. From the fabric to the color, the blouse design to the draping style, each element contributes to the overall look. However, one aspect that often gets overlooked but can make or break your appearance is the choice of saree accessories.
Saree accessories have the power to enhance your festive look and add that much-needed sparkle and elegance. In this article, we will dive into the world of saree accessories and provide you with valuable tips on how to make your look truly enchanting with accessories for saree.
1. The Art of Saree Pins
Let's begin with saree pins, also known as saree dropings or brooches.
These small but essential saree accessories can have a significant impact on the way your saree drapes and falls.
Opt for saree dropings that match the color of your saree for a seamless look. If you want to add a touch of contrast, choose saree dropings with subtle embellishments. These tiny details can enhance the elegance of your saree without overpowering it.
2. The Perfect Juda for Saree
The hairstyle you choose can greatly influence the overall look of your saree. One timeless and versatile option is the juda on saree, also known as the bun.
A well-crafted juda with saree can add a touch of sophistication to your appearance. Consider using decorative hair pins or accessories with your juda to match the theme of your saree. This not only complements your outfit but also keeps your hair neatly in place throughout the festivities.
3. Coordinating Your Accessories
Matching your accessories with saree is key to achieving a cohesive and stylish look. Pay attention to the color palette of your saree and choose accessories to wear with saree.
For instance, if you're wearing a blue saree, the ideal accessories for blue saree would be silver or white gold jewelry that will create an elegant contrast. Coordinate your bangles, earrings, and necklace to complete the ensemble.
4. The Power of Hand Accessories
Accessorizing your hands can be a subtle yet impactful way to enhance your saree look. Instead of going for heavy hand jewelry, consider delicate bracelets or a statement watch.
These silk saree accessories can add a touch of modernity to your traditional attire. Remember, less is often more when it comes to hand accessories, allowing your saree to take center stage.
5. Adorning the Neckline
The neckline of your blouse provides the perfect canvas for neck accessories for saree. Choose a necklace that complements the neckline of your blouse.
For a classic look, opt for a delicate gold or silver jewellery to wear with saree. If your saree has a high neckline, consider skipping the necklace and focusing on statement earrings instead.
Striking the Right Jewellery Balance
Finding the right balance between jewellery and saree is essential. If your saree is heavily embellished, opt for simpler jewellery to wear with saree. On the other hand, if you're wearing a plain silk saree, you can go all out with intricate silk saree accessories to add opulence and grandeur.
Find the best saree accessories online
In today's digital age, shopping for saree accessories online has never been easier. Numerous online stores offer a wide range of options, allowing you to browse and choose accessories for saree from the comfort of your home. This convenience ensures that you find the perfect pieces to complement your festive saree. But before you order saree accessories online, be sure to research and go through the reviews of genuine customers. Another hack to get the best out of your saree accessories online shopping is to compare the prices on different sites and then make an informed purchase.
1. Elevate Your Style with Designer Accessories
For those looking to make a statement, designer saree accessories are the way to go. Accessories like Kundan Jewellery are crafted with precision and often feature exquisite designs. While they may come at a higher price point, investing in these designer saree accessories can take your look to a whole new level of allure and sophistication.
2. The Perfect Match for Each Saree Color
Each saree color demands a different approach when it comes to accessorizing. For accessories for blue saree, silver and white gold are a classic choice. For accessories for pink saree, consider rose gold or pearl jewelry for a soft and feminine look. Accessories for black saree can be styled with statement silver or diamond for a bold and elegant appearance.
Discover the Timeless Beauty of the Periwinkle Coloured Silk Tissue Saree
The Periwinkle Silk Tissue Saree, featured on binalpatel.in, is an exquisite blend of elegance and luxury. Crafted with intricate detailing, this saree showcases a delicate periwinkle hue on rich silk tissue fabric. Its timeless design makes it perfect for special occasions, adding a touch of sophistication to your attire. Elevate your style with this graceful saree that embodies traditional charm with a modern twist.
Radiant Elegance: Alankara Taffeta Two-Toned Saree with Floral Jaal
The "Alankara Taffeta Two-Toned Saree with Floral Jaal" from the Kavyanjali collection at binalpatel.in is a stunning blend of traditional and contemporary design. The two-toned taffeta fabric creates a mesmerizing visual contrast, while the intricate floral jaal work adds a touch of opulence. Perfect for weddings and special occasions, this saree is a true masterpiece that combines grace and style, making you the center of attention wherever you go. Elevate your fashion game with this exquisite creation.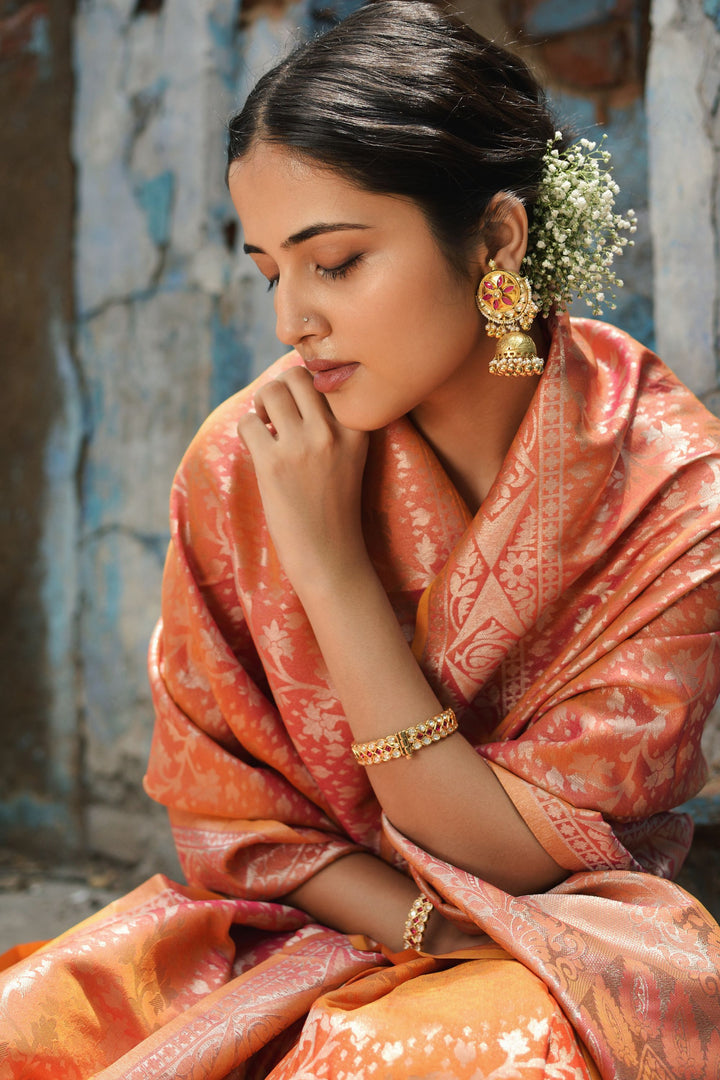 Discover Regal Elegance: The "Rajanya" Collection
Explore the Rajanya" collection at binalpatel.in, a captivating fusion of royal elegance and modern grace. This collection showcases a curated selection of exquisite Indian ethnic wear, including sarees, suits, and lehengas, designed to elevate your style quotient. From rich traditional motifs to contemporary silhouettes, "Rajanya'' offers a range of fashion choices for every occasion. Discover timeless beauty and sophistication with this collection that celebrates the essence of Indian craftsmanship and culture.
Grace and Simplicity for Farewell Sarees
Accessories with saree for farewell often call for a more understated and graceful look. Opt for simple accessories for saree that enhance your elegance without overshadowing the sentimental value of the occasion. Delicate pearls, small stud earrings, and a dainty bracelet can be the perfect choice for this special day.
Accessorizing your festive saree is an art that can transform your look from ordinary to extraordinary. By paying attention to details such as saree droppings, juda for saree, hand accessories, neck accessories, and the simple accessories for saree you can create a truly enchanting appearance. Remember to choose accessories that complement the color of your saree, and for your farewell saree, opt for simplicity and grace. So, step into the world of saree accessories and unleash the elegance within you.
Don't forget to check out the exquisite sarees by Binal Patel to complete your perfect saree ensemble. Elevate your style and embrace the beauty of Indian tradition with Binal Patel's collection.
Also Read : Art of draping a saree from a pro | How to care for silk sarees? | How to select the right pattu saree?