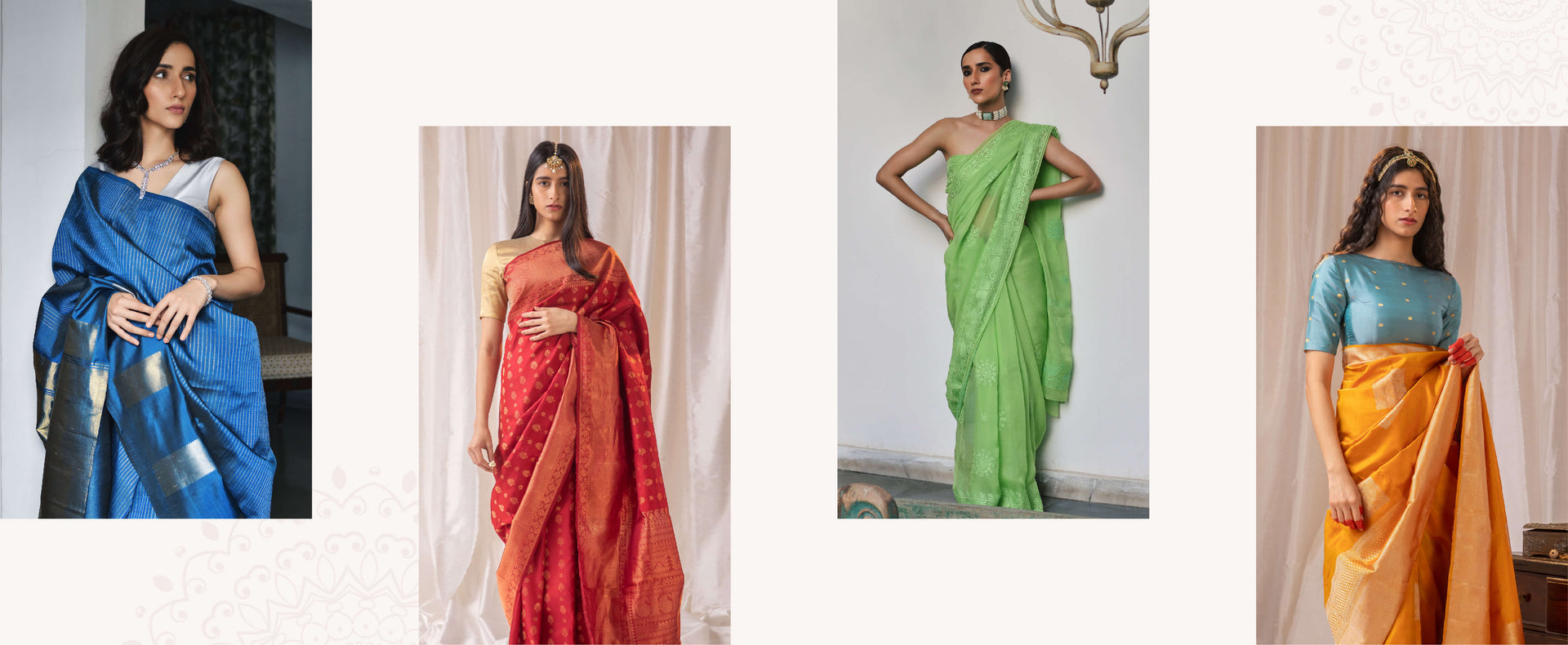 The Significance Of Navratri Colors
As the enchanting season of Navratri approaches, you find yourself immersed in preparations – adorning your home with festive decor, crafting vibrant rangolis to usher in the charm, and of course, selecting that special Navratri attire! Amidst all these delightful arrangements, one element holds a special place – the nine sacred Navratri colors.
Choosing the ideal Navratri colors for decorations and the appropriate Navratri color for rangoli on each day carries profound symbolism and significance. Particularly when it comes to selecting your Navratri attire, your choice of colors holds profound significance, reflecting your devotion to tradition and aligning with the essence of each sacred day.
In this blog, we embark on a journey to explore the significance of the nine traditional Navratri colors, best colors for Navratri, unveil the Navratri color trends for 2023, and offer inspiration for traditional Navratri attire and makeup ideas. So, without further ado, let's dive into the vibrant world of Navratri colors and festivities!
What Are The 9 Days Traditional Navratri Colors?
In the grand celebration of Navratri, each of the nine days is dedicated to a specific color, symbolizing the different forms of Goddess Durga. Here's a quick rundown of the traditional and best colors for Navratri for your understanding:
Navratri Day 1- Royal Blue

Navratri Day 2- Yellow

Navratri Day 3- Green

Navratri Day 4- Grey

Navratri Day 5- Orange

Navratri Day 6- White

Navratri Day 7- Red

Navratri Day 8- Sky Blue

Navratri Day 9- Pink
9 Traditional Navratri Color Symbolism
Using different Navratri colors for decoration, creating Navratri-themed rangoli, and embracing the Navratri color dress code all hold specific significance. Here are the meanings associated with each traditional Navratri color:
Navratri Day 1 - Royal Blue
On the first day of Navratri, we celebrate Shailaputri, the daughter of the mountains. She is a symbol of strength and purity, just like the royal blue sky that stretches over the towering peaks.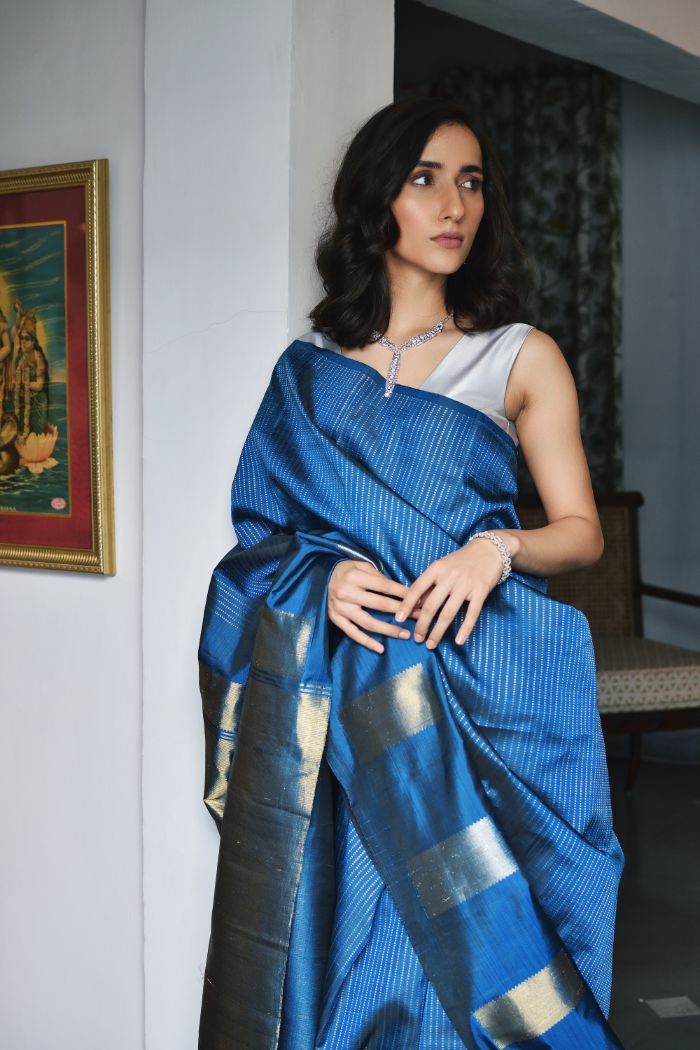 Shop Royal Blue Tissue Silk Saree
Navratri Day 2 - Yellow
Yellow is the color of the second day, representing the radiant Brahmacharini. As we embrace this hue, we honor the goddess of wisdom, learning, and artistry, illuminating our lives with knowledge.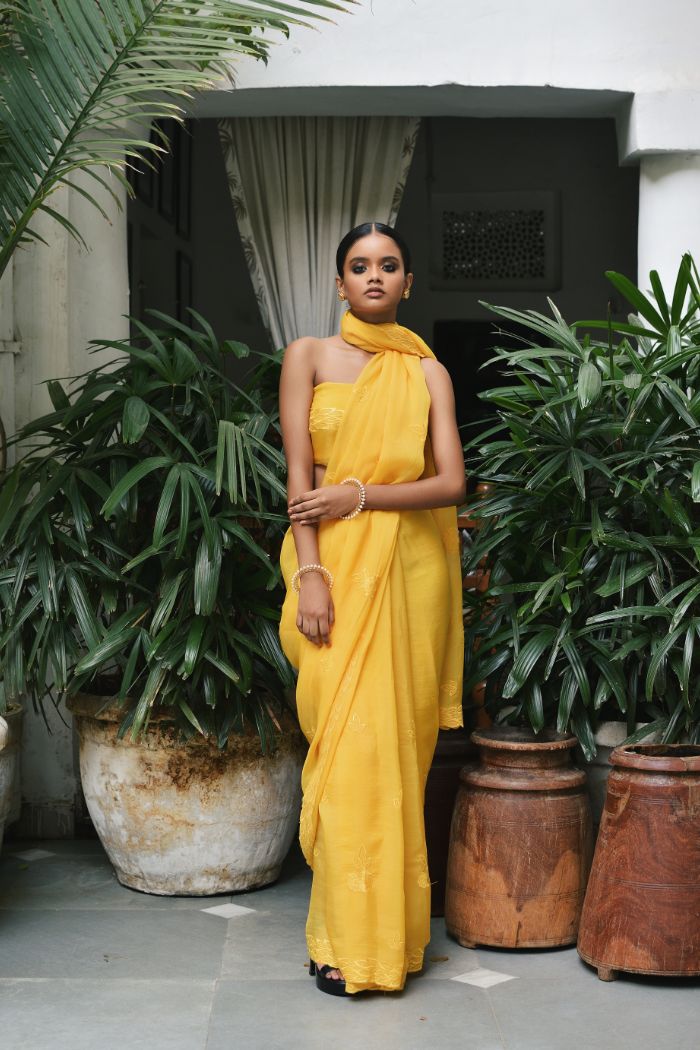 Try Yellow Organza Saree Online
Navratri Day 3 - Green
The third day of Navratri pays homage to Chandraghanta, the goddess who wears a green attire, symbolizing growth and renewal, much like the lush greenery that surrounds us.
Find the ideal saree for Day 3 of Navratri
Navratri Day 4 - Grey
On this day, we worship Kushmanda, who is adorned in gray. This color signifies the strength of motherhood and the nurturing energy that envelops us.
Complete your Navratri look with this one
Navratri Day 5 - Orange
Orange takes center stage on the fifth day, representing Skandamata, the mother of Lord Kartikeya. It symbolizes enthusiasm and the vibrant energy of creation.
Shop silk sarees that blend tradition and style for this Pujo season
Navratri Day 6 - White
White is the color of purity and peace, much like the serene aura of Mahagauri, the goddess of the sixth day. Her grace and charm are reflected in this pristine hue.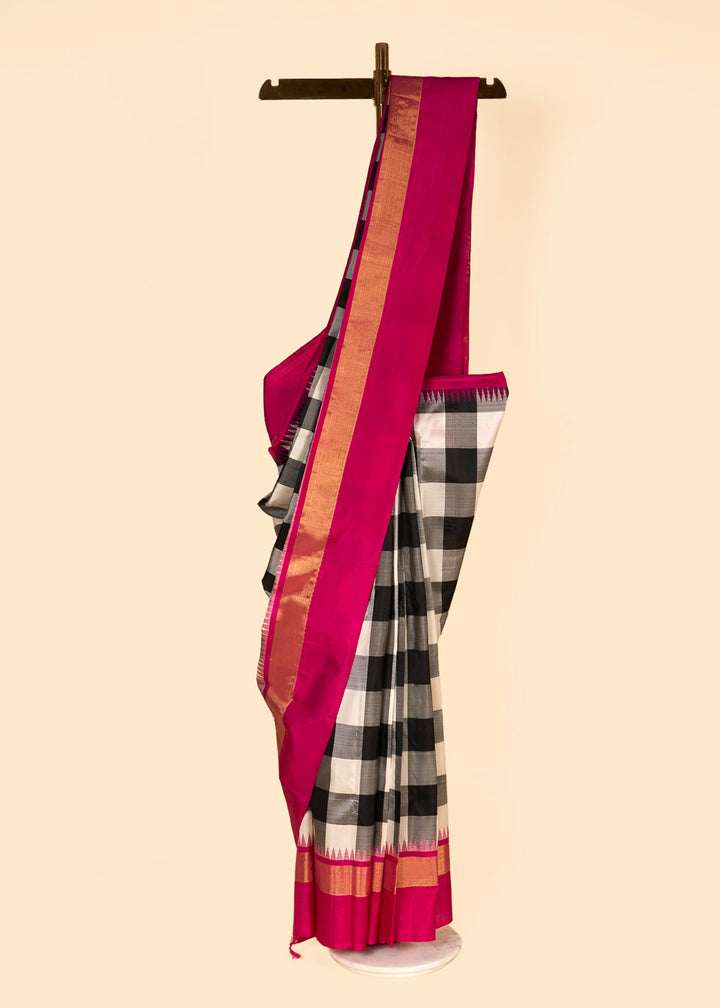 Explore our exquisite collection of silk sarees for a stunning Durga Puja look
Navratri Day 7 - Red
As we welcome the seventh day, we honor Katyayani, the fierce warrior goddess draped in red. This color represents strength, determination, and the courage to overcome challenges.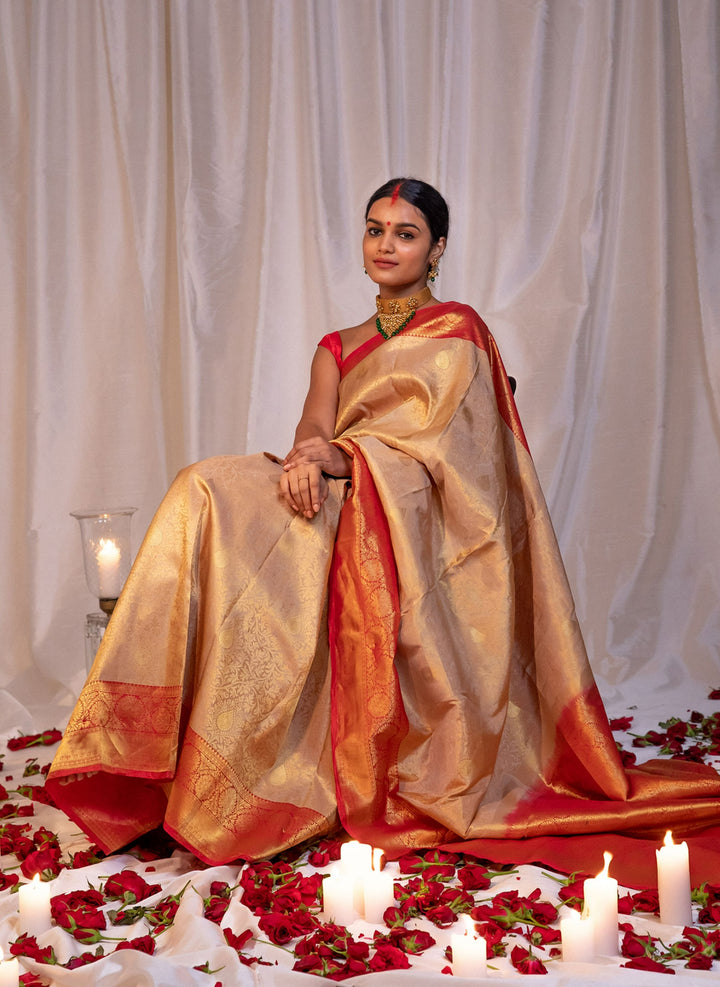 Don't wait - Shop our Durga Puja silk sarees before they're gone
Navratri Day 8 - Sky Blue
The eighth day of Navratri is dedicated to Kalratri, the dark and fearsome form of Durga. Sky blue signifies calmness amidst the storm and the hope that light will soon follow the darkest of nights.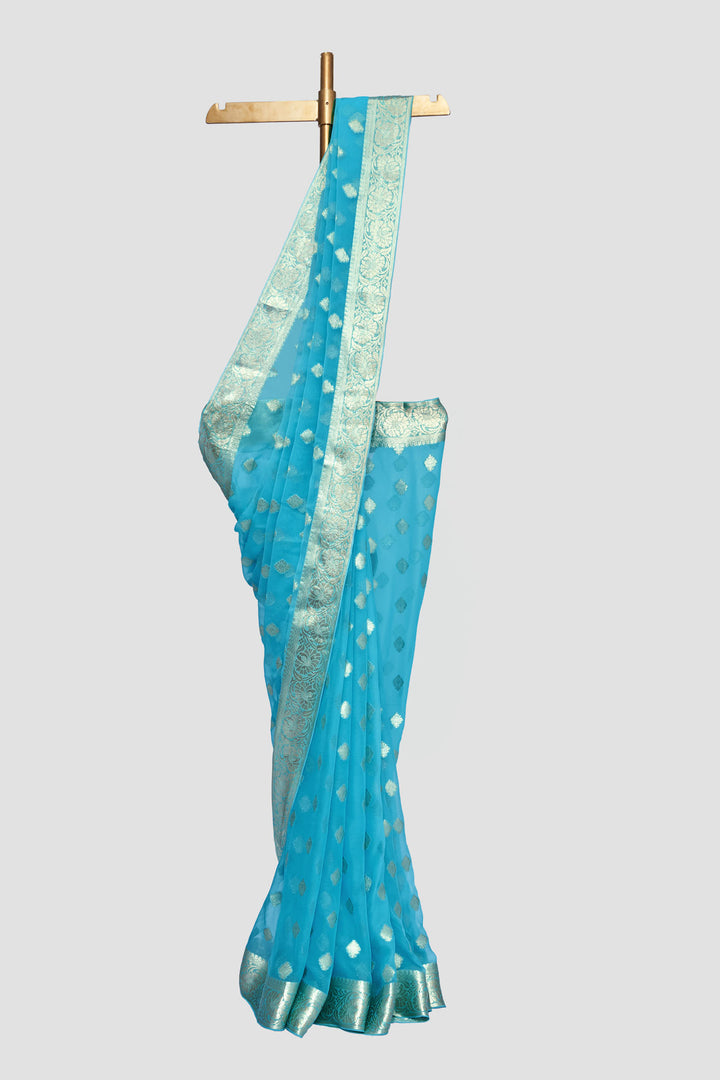 Get ready to shine in our sarees for Durga Puja
Navratri Day 9 - Pink
Finally, on the ninth day, we celebrate Siddhidhatri, the goddess who bestows accomplishments. Pink embodies love, hope, and the fulfillment of desires. It should be mentioned that pink is considered as one of the best Navratri outfit colors!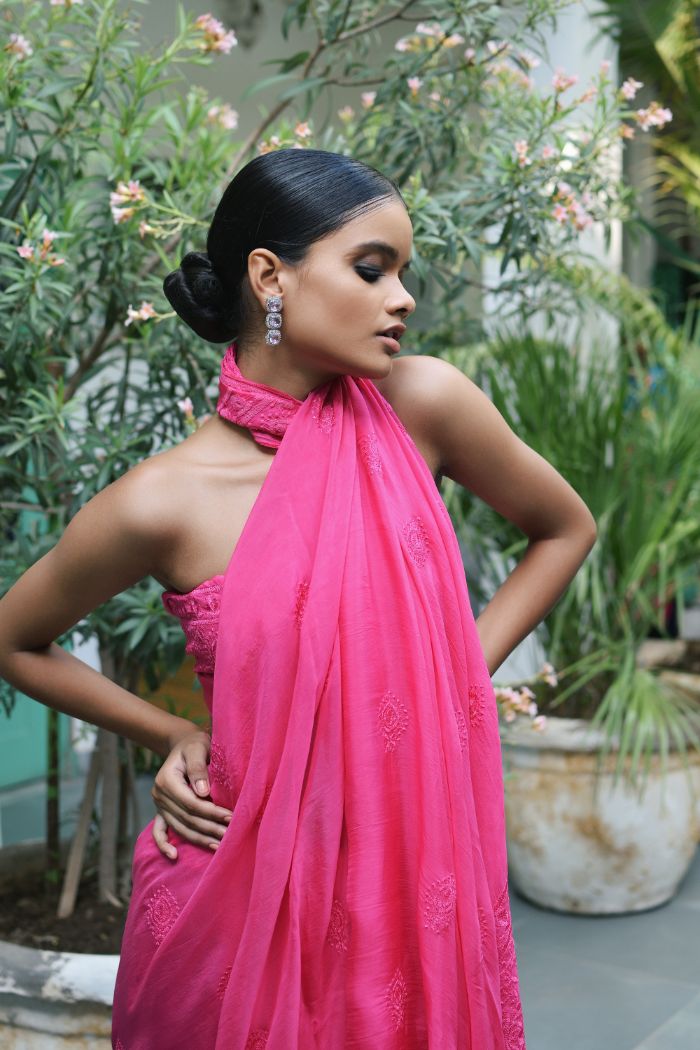 Experience the magic of silk at Durga Puja - Shop with us
The Significance Of Embracing Navratri Colors For Dance
Navratri colors for dance bring a lively and rhythmic dimension to the celebration. Each night of this festival is adorned with a specific color that holds deep symbolism. Dancers often choose costumes and accessories that match the Navratri color of the day, enhancing the vibrant spirit of their performances. From the grace of white to the energy of red, these colors amplify the beauty and enthusiasm of Navratri dances, creating a visual and cultural spectacle that's truly captivating.
Are There Any Specific Navratri Color Trends 2023?
In 2023, there are no specific changes in Navratri color trends, allowing you to continue embracing the timeless charm of traditional Navratri colors. The Navratri color dress code, including Navratri Chaniya choli colors, Navratri lehenga colors, and Navratri saree colors, remains consistent. However, the exciting news lies in the evolving styles and fashion that enhance your Navratri experience, infusing tradition with a touch of contemporary flair. So, while the colors stay true to tradition, the fashion scene continues to evolve for a delightful celebration.
Navratri Color Dress Code: 9 Sarees That Steal The Spotlight
While Chaniya cholis and lehenga cholis undoubtedly reign supreme when it comes to Navratri color dress code, the allure of sarees remains undeniable, especially for women hailing from diverse Indian states. For those modern women planning family gatherings or outings during the festive season, sarees can be the epitome of elegance and charm. Here, we present the top selections from Binal Patel's exquisite collection , each carefully curated to harmonize with the traditional Navratri festival colors and inspire your Navratri outfit colors:
Day 1 With Royal Blue Georgette Saree
This ethereal royal blue georgette brocade saree adorned with buti motifs and a delightful floral bel border captures the regal essence of Day 1, celebrating the royal blue of Goddess Shailputri.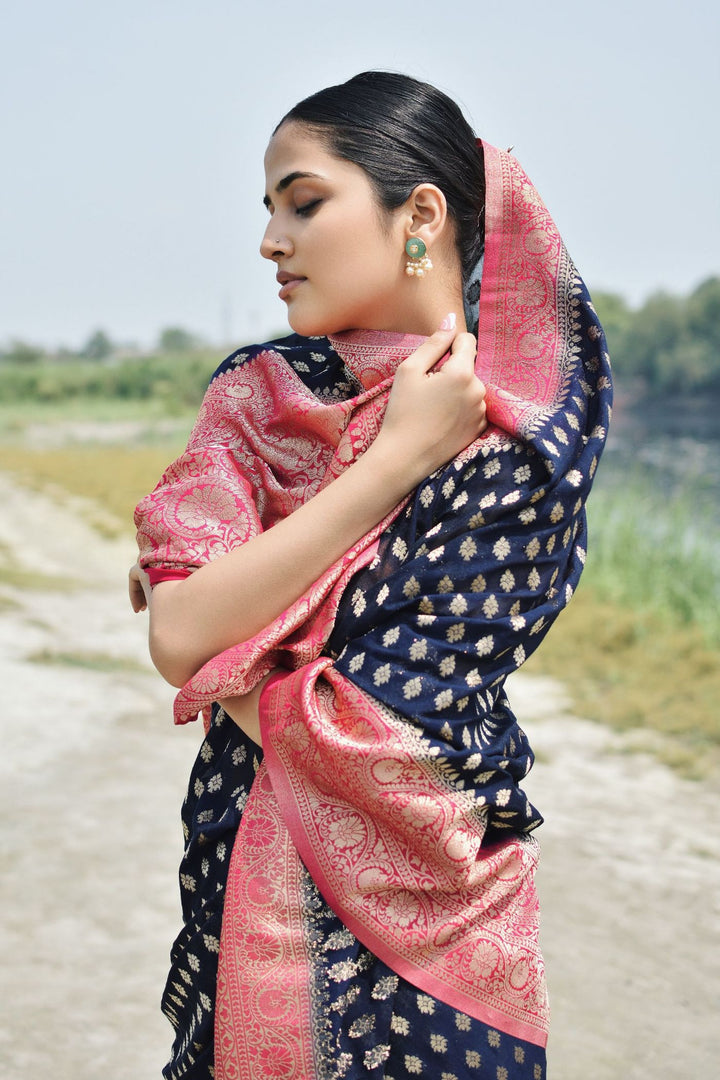 Day 2 With Yellow Georgette Brocade Saree
Radiate joy on Day 2 with this yellow georgette brocade saree, graced with floral buti motifs throughout and a mesmerizing bel-patterned border, echoing the brilliance of Brahmacharini's yellow aura.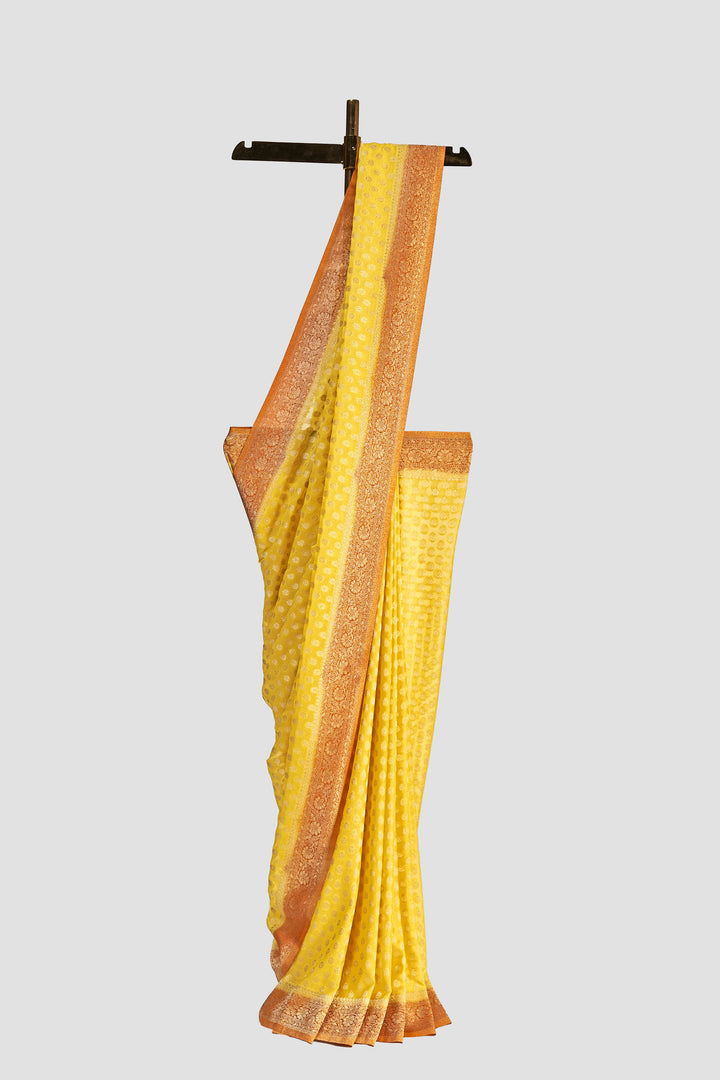 Day 3 Dark Green Kanchipuram Silk Saree
Embrace the rich tradition on Day 3 with this Green Kanchipuram silk saree, featuring a dark green canvas and a striking red border, crafted entirely from 100% pure silk, reminiscent of Chandraghanta's divine elegance.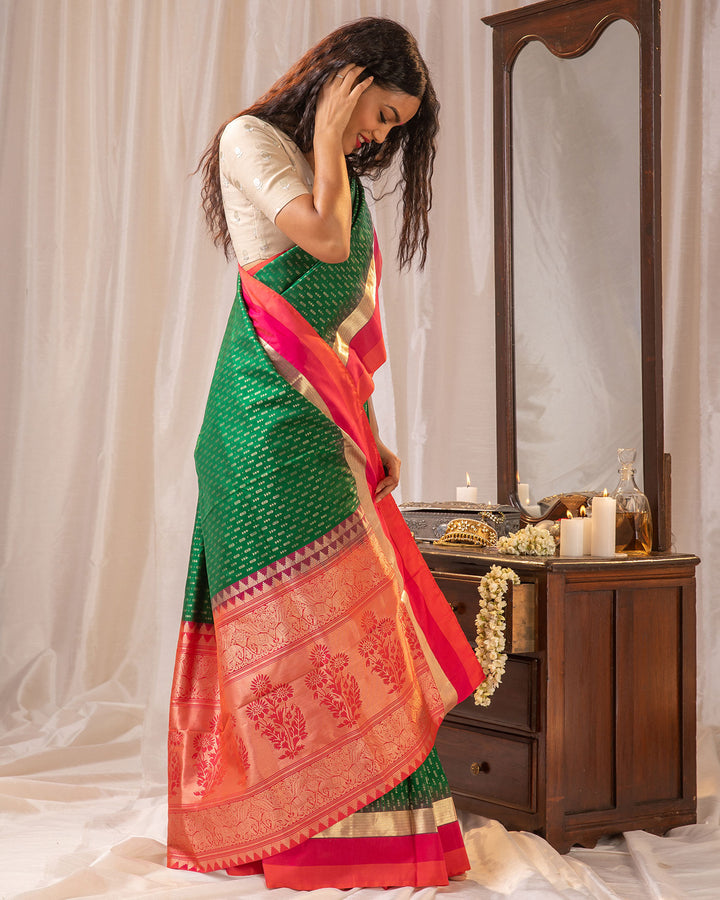 Day 4 With Grey Kanchipuram Silk Saree
Day 4 calls for sophistication, and this printed Kanchipuram silk saree fits the bill perfectly, elevating your style quotient with its subtle gray allure and luxurious 100% pure silk fabric.
Day 5 With Orange Floral Chiffon Saree
As the vibrant hues of orange symbolize Day 5, this orange chiffon brocade saree with a bel-patterned border and delicate floral motifs creates a delightful and graceful ensemble for the occasion.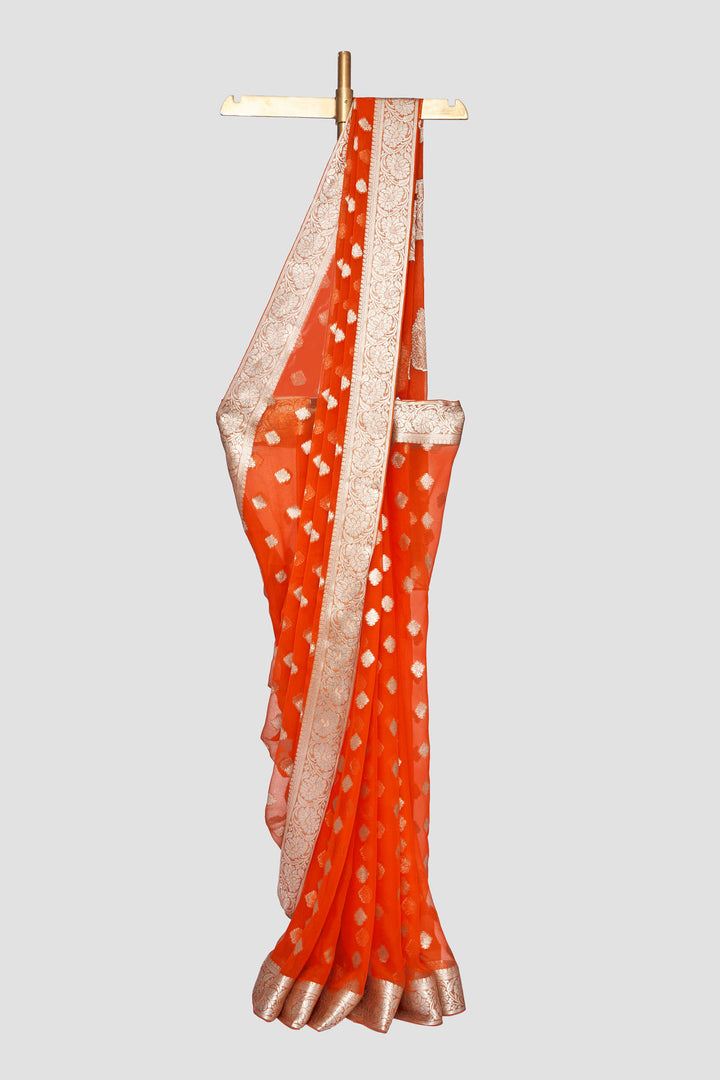 Day 6 With White And Red Kanjivaram Saree
The purity of white combined with the passion of red in this 100% pure silk Kanjivaram saree embodies the essence of Mahagauri on Day 6, ensuring you stand out with grace and charm.
Day 7 With Red Silk Tissue Saree
Red, the color of strength and determination, finds its perfect expression in this stunning Red silk tissue saree, exuding an aura of power that pays homage to Katyayani on Day 7.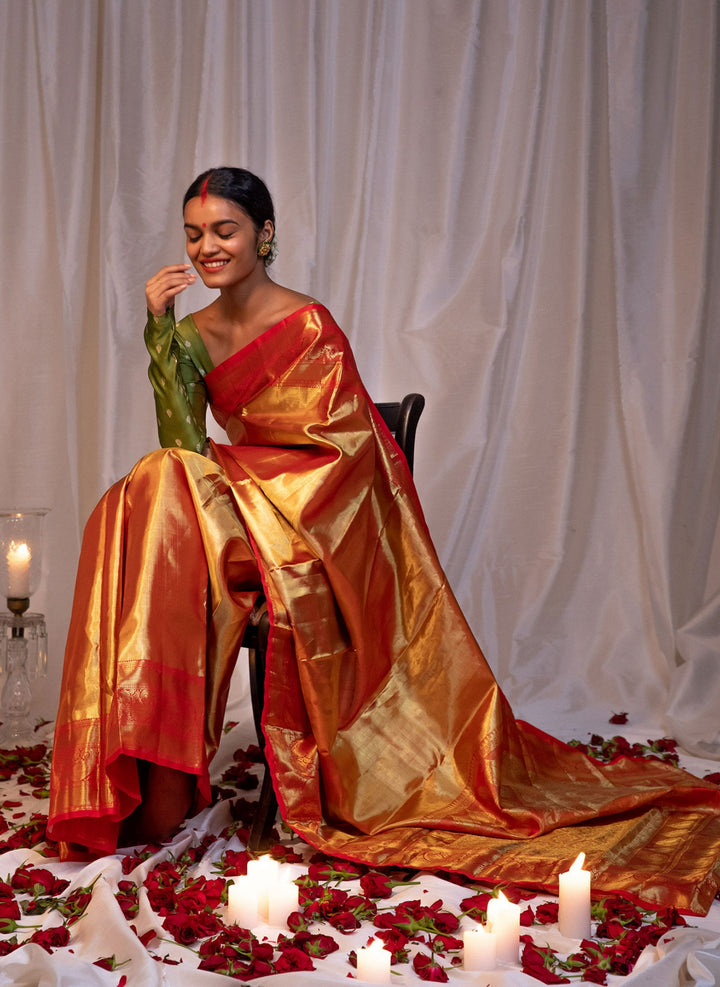 Day 8 With Sky Blue Chiffon Saree
As you embrace the serenity of sky blue on Day 8, this Sky blue chiffon brocade saree featuring leaf pattern motifs and a bel-patterned border effortlessly captures the essence of tranquility in your attire.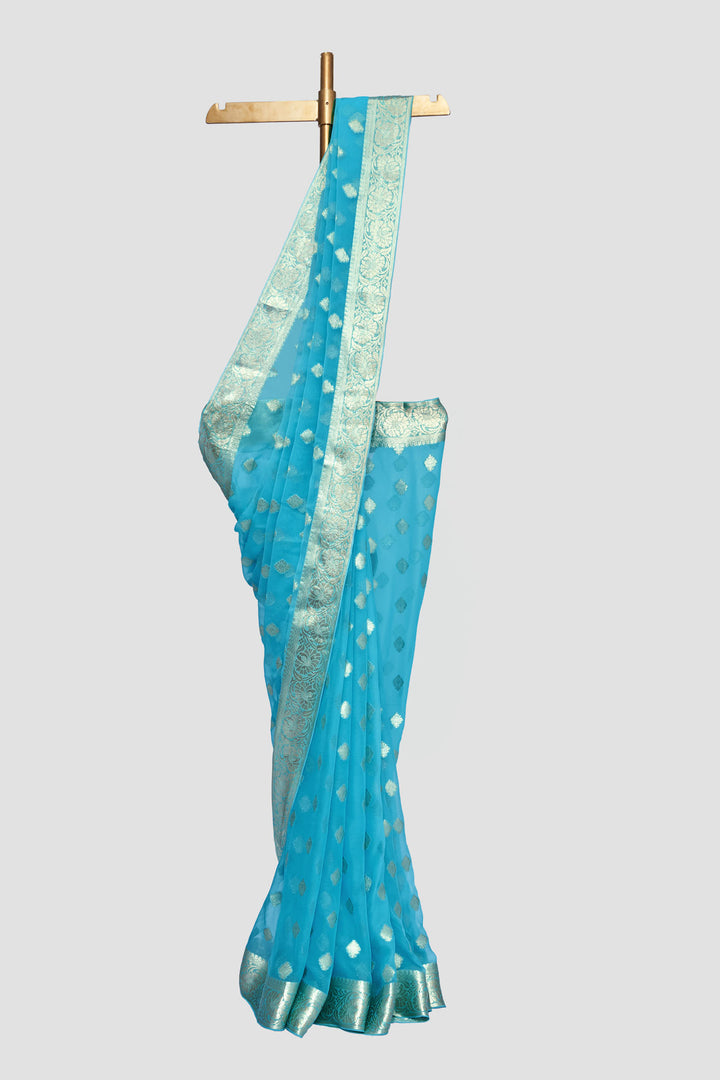 Elevate Your Puja Fashion With Our premium Chiffon Saree
Day 9 With Pink Georgette Brocade Saree
Concluding the festivities with this pink georgette brocade saree adorned with small buti motifs and a geometric diamond-shaped jaal with a floral border is the epitome of elegance and desire fulfillment, echoing the spirit of Siddhidhatri.
In these handpicked sarees, you can embody the significance of each Navratri color while embracing the grandeur of tradition and fashion. Let your saree choice become a reflection of your devotion and style this Navratri season.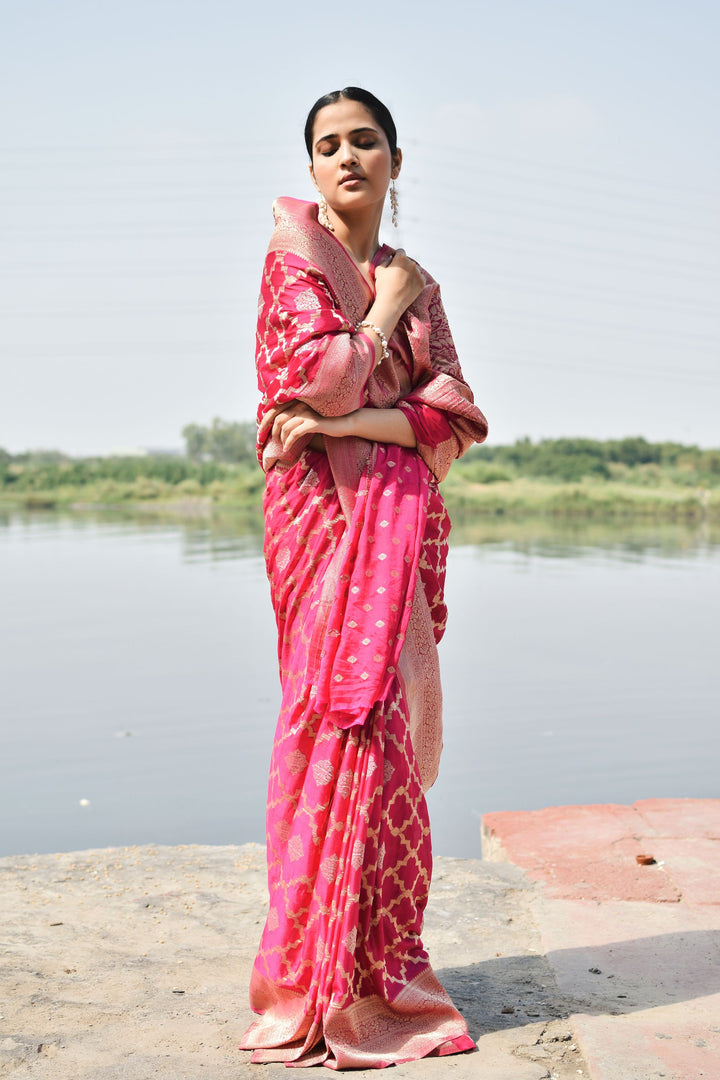 Get the Perfect Silk Saree For Your Puja Celebrations Today!
For those who are interested in learning different silk saree draping styles, simply check out our step-by-step guide on how to drape a saree!
Navratri Color Ideas For Makeup To Enhance Your Traditional Saree Look
Elevate your Navratri style with these makeup tips and ideas that beautifully complement your traditional saree ensemble for 2023:
Day 1:

Opt for shimmery blue eyeshadow or a subtle blue liner, and pair it with nude lips to create a balanced look.

Day 2:

Embrace a pop of golden eyeshadow or yellow eyeliner to match the vibrant theme, balanced with pink or coral lips.

Day 3:

Go for earthy green eyeshadow shades and nude lips for a natural and harmonious appearance.

Day 4:

Create a smokey eye look with gray and silver eyeshadows, paired with bold red or plum lips for contrast.

Day 5:

Complement the warmth of orange with bronze eyeshadow and peachy lips for a glowing look.

Day 6:

Opt for a classic winged eyeliner and red lips to exude timeless elegance.

Day 7:

Enhance your red saree with matching bold red lips and subtle golden eyeshadow.

Day 8:

Embrace soft blue eyeshadow shades and nude lips for a serene and dreamy appearance.

Day 9:

Choose pink-toned eyeshadows and match them with soft pink or berry lips for a charming finish.
These Navratri color makeup ideas will add a touch of allure and festivity to your traditional saree look, making you shine throughout the nine days of celebration.
Ending Note!
So, how do you feel now? Do you feel enriched with our comprehensive Navratri color significance guide? We certainly hope so! As you prepare to immerse yourself in the vibrant festivities of Navratri, remember that the significance of Navratri colors goes beyond fashion; it's a beautiful way to connect with tradition and spirituality.
And if you're still seeking that perfect Navratri outfit or saree to complement your celebration, don't forget to explore the exquisite collection at Binal Patel's. Your Navratri journey awaits! Visit Binal Patel today for a stunning array of Navratri color traditional attire that will make your Navratri even more enchanting.