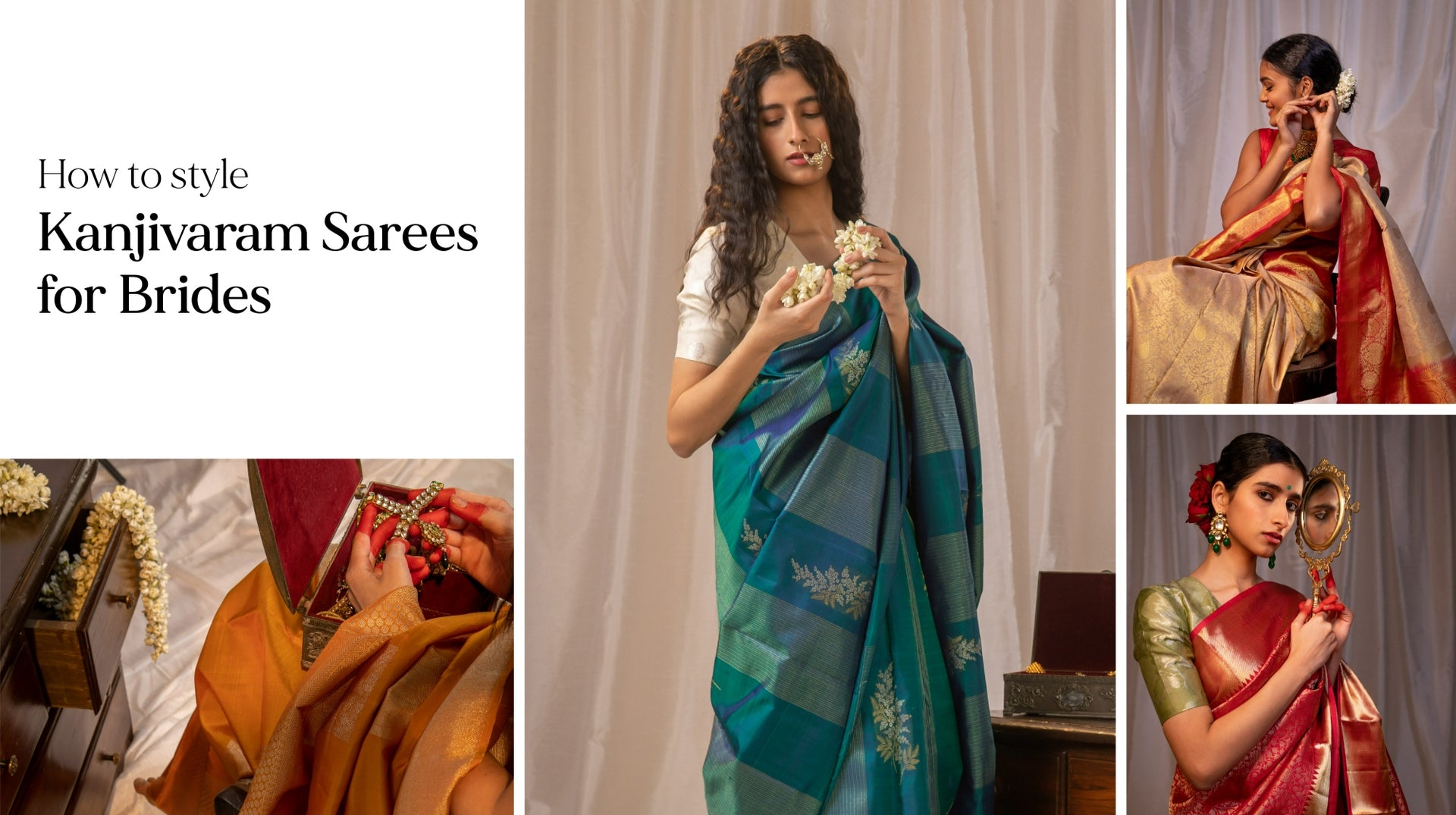 How To Style Kanjivaram Sarees For Brides?
Are you a bride-to-be, eagerly embarking on the journey of planning your dream wedding, from pre-wedding celebrations to the grand post-wedding soiree? Amidst the whirlwind of bridal preparations, there's one aspect that has the power to transform you into an ethereal vision of elegance and tradition – the timeless Kanjivaram saree.
Whether you're envisioning a captivating wedding kanjivaram saree for brides, a stunning reception Kanjivaram saree for bride, or simply seeking to perfect your Kanjivaram saree bridal look, fret not.
Binal Patel is here to guide you through the art of styling these iconic drapes for the most important moments of your life. So, let's delve into the enchanting world of Kanjivaram sarees and unveil the secrets to becoming a radiant, resplendent bride.
The Art Of Achieving Ideal Kanjivaram Saree Bridal Look
Creating the perfect Kanjivaram saree bridal look is akin to crafting a masterpiece, and every masterpiece starts with a vision. Here, we will unravel a tapestry of tips to guide you towards your vision of bridal perfection.
1. Colour Harmony
Begin with the heart of your ensemble – the saree's colour. Embrace the traditional red and golds or pure red kanjivaram saree for bride or explore contemporary pastels and jewel tones. The key is to harmonise the saree colour with your skin tone and the overall theme of your wedding.
2. Embrace The Intricate Weaves
Kanjivaram sarees are celebrated for their rich, intricate weaving patterns. Select a wedding Kanjivaram saree with motifs and designs that resonate with your personal style and the theme of your wedding. Traditional motifs like peacocks, temple borders, and rudrakshas often symbolises blessings and well-wishes for the bride.
3. Blouse Bling
Your blouse can make or break the Kanjivaram saree bridal look. Opt for a blouse design that complements the saree's intricacies. Experiment with unique necklines, sleeve styles, and embroidery, but remember that the blouse should enhance the saree, not overpower it.
4. Accessorize Thoughtfully
The right accessories can elevate your bridal look. Consider temple jewellery, jhumkas, and maang tikka to add an air of regal charm. Balance your jewellery selection, ensuring it doesn't overwhelm your overall appearance.
5. Makeup Mastery
Opt for a makeup style that enhances your natural beauty. Soft, dewy makeup with a bold lip is a timeless choice. Consult with a makeup artist who specialises in bridal makeup for the perfect look that stays fresh throughout the celebrations.
6. Hair Harmony
Your hairstyle should complement the saree and your face shape. Classic bun styles, adorned with fresh flowers or hairpins, often work wonders with Kanjivaram sarees.
7. Footwear Finesse
The right pair of shoes is crucial for comfort and style. Choose footwear that matches the saree's colour and complements your wedding Kanjivaram silk saree. Wedges or low heels are great options for long hours of standing and dancing.
8. The Final Fitting
Always ensure your saree and blouse are perfectly tailored to your measurements. A well-fitted outfit enhances your confidence and comfort.
Traditional And Trendy Kanjivaram Saree Draping Styles For Brides
When it comes to the quintessential bridal Kanjivaram saree, the art of draping plays a pivotal role in your overall look. Let's explore the perfect draping styles for three significant occasions in your bridal journey.
Classic Indian Draping Style Of Kanjivaram Saree For Engagement
Engagement marks the beginning of your wedding festivities, and you'll want a style that's both elegant and comfortable. For this special day, consider the Red and White Kanjivaram Saree for engagement or the vibrant Yellow Kanjivaram Saree.
The best way to drape kanjivaram saree for engagement is classic Indian drape. Here are the easy steps to drape a Kanjivaram saree in classic Indian style.
Start with a well-fitted blouse and a petticoat that matches your saree's colour.

Tuck one end of the saree into the petticoat at your navel and make one complete wrap around your body.

Create neat, firm pleats along the length of the saree, adjusting the width to your preference.

Make sure the pleats face to the left and secure them with safety pins, allowing the pallu (the loose end) to fall gracefully over your left shoulder.

Adjust the length of the saree to your desired height and complete the look with traditional jewellery and accessories.

Ensure the saree is draped comfortably and securely, allowing you to move with grace and confidence.
Nivi Draping Or Double Style Draping Of Wedding Kanjivaram Silk Saree
Your wedding day deserves a draping style that exudes grandeur. The traditional Red Kanjivaram Saree for brides is an evergreen choice.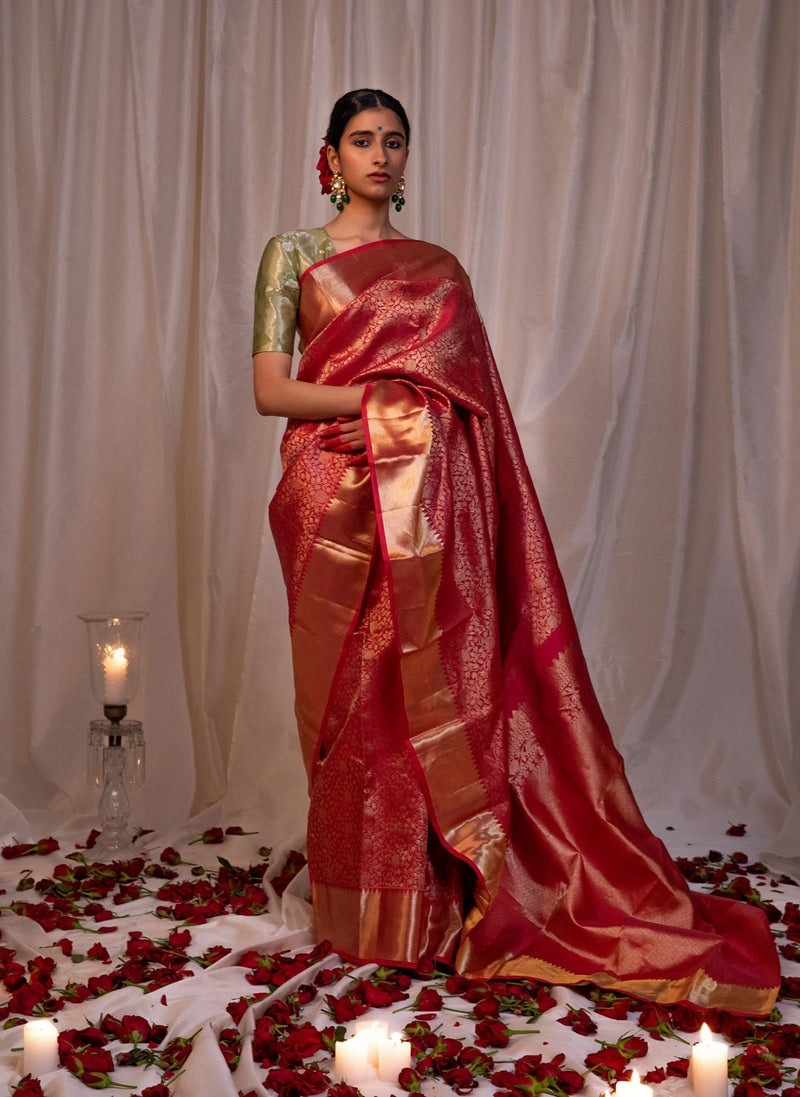 To amplify regal aura, opt for the nivi style draping or the double style draping- known for their distinctive pleating and pallu positioning.
Here are some steps to drape your wedding kanjivaram saree in Nivi style:
Begin with a well-fitted blouse and a matching petticoat.

Tuck the starting end of the saree into the petticoat at your navel, creating a few pleats.

Make a complete wrap around your body from right to left, ensuring the saree's border remains on the outer side.

Drape the remaining fabric over your left shoulder, allowing it to fall gracefully as the pallu.

Secure the pleats with safety pins, and adjust the pallu's length and fall for an elegant look.
Drape Reception Kanjivaram Saree For Bride In Butterfly Style
For your reception, where you celebrate your new journey with style and panache, the Green Red Border Kanjivaram silk saree is a striking option.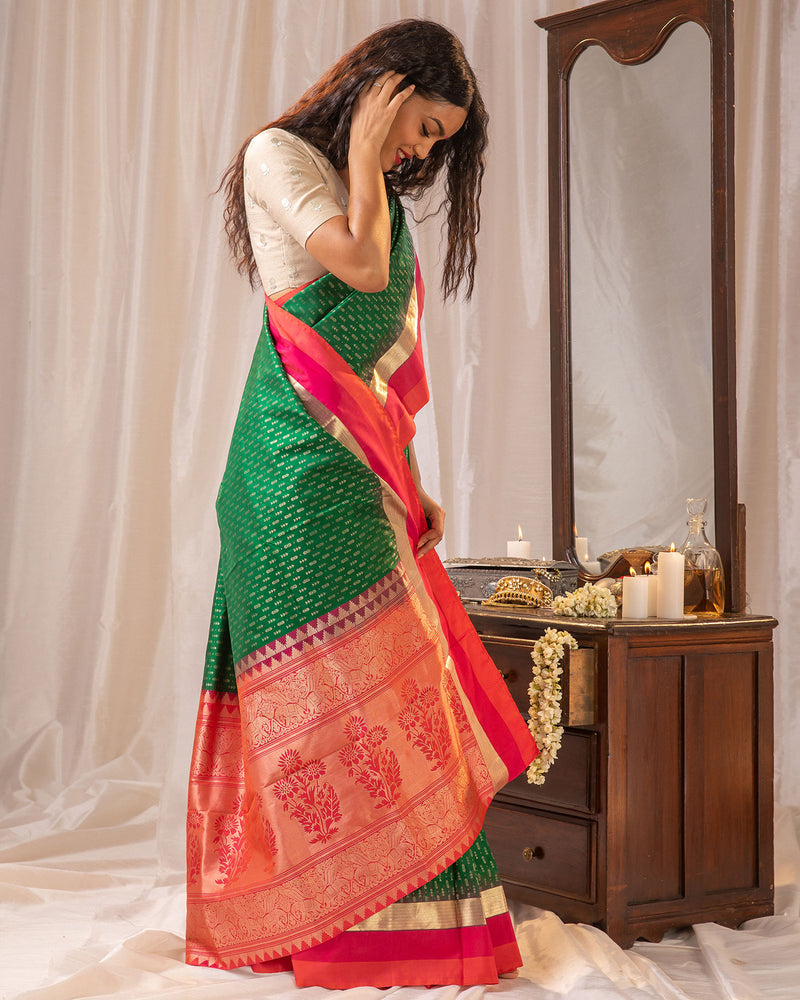 Draping it in a modern, easy-to-manage style like the butterfly drape. Here are some steps to drape your reception kanjivaram saree in butterfly style:
Begin with a well-fitted blouse and a matching petticoat.

Tuck the saree's plain end into the petticoat at your navel and wrap it around your body once.

Create neat pleats along the length of the saree and drape them towards your right side, allowing the pallu to hang over your left shoulder.

Secure the pleats with safety pins to ensure they stay in place.

Adjust the length of the saree to your desired height and style, whether it's a classic look or a contemporary twist.
Enhancing Your Kanjivaram Saree Bridal Look With Exquisite Jewellery
When it comes to perfecting your Kanjivaram saree bridal look, the right choice of jewellery can make all the difference. Let's delve into the world of accessorising and uncover how to pair your wedding Kanjivaram silk saree with the most exquisite jewellery.
1. Kundan Brilliance
For a traditional touch, Kundan jewellery is a match made in heaven with Kanjivaram sarees. The intricate craftsmanship and colourful gemstones in Kundan pieces beautifully complement the rich colours and motifs of the saree. Consider a Kundan choker necklace and matching earrings to exude timeless elegance.
2. Gold Grandeur
Gold jewellery and Kanjivaram sarees are like a classic love story that never goes out of style. Opt for elaborate gold necklaces, bangles, and intricate waistbands to enhance the opulence of your bridal look. The warm glow of gold perfectly harmonises with the rich silk.
3. Diamond Dazzle
If you're inclined towards modern glamour, diamond jewellery can add a touch of contemporary luxury to your Kanjivaram saree bridal look. A diamond-studded necklace and matching earrings will provide a subtle yet dazzling contrast to the traditional saree.
4. Polki Elegance
For those who appreciate vintage charm, Polki jewellery offers a delightful choice. Its uncut diamonds and unique settings bring an antique allure that pairs beautifully with the traditional aesthetics of Kanjivaram sarees. Consider a Polki necklace and earrings for a touch of timeless elegance.
Lastly, it can be said that balance is key. While choosing your jewellery, ensure it complements the wedding Kanjivaram saree's colour, style, and motifs. Keep the overall aesthetic in mind to create a harmonious blend of tradition and personal style.
Ending Note!
In the enchanting world of bridal fashion, the timeless allure of Kanjivaram sarees reigns supreme. As you embark on your journey to create the perfect bridal look, remember that these opulent drapes offer a canvas of tradition, elegance, and grace. With a harmonious blend of colours, styles, and accessories, you can transform into the epitome of bridal radiance. And for those seeking the finest Kanchipuram silk sarees for their wedding, finding the perfect piece with the right price is just a click away. So, let Binal Patel be your guiding star in curating a bridal ensemble that reflects your unique personality and heritage, as you prepare to embark on a journey of a lifetime.
Explore the mesmerising world of Kanchipuram silk sarees for wedding with price online, and let your bridal dreams come true.