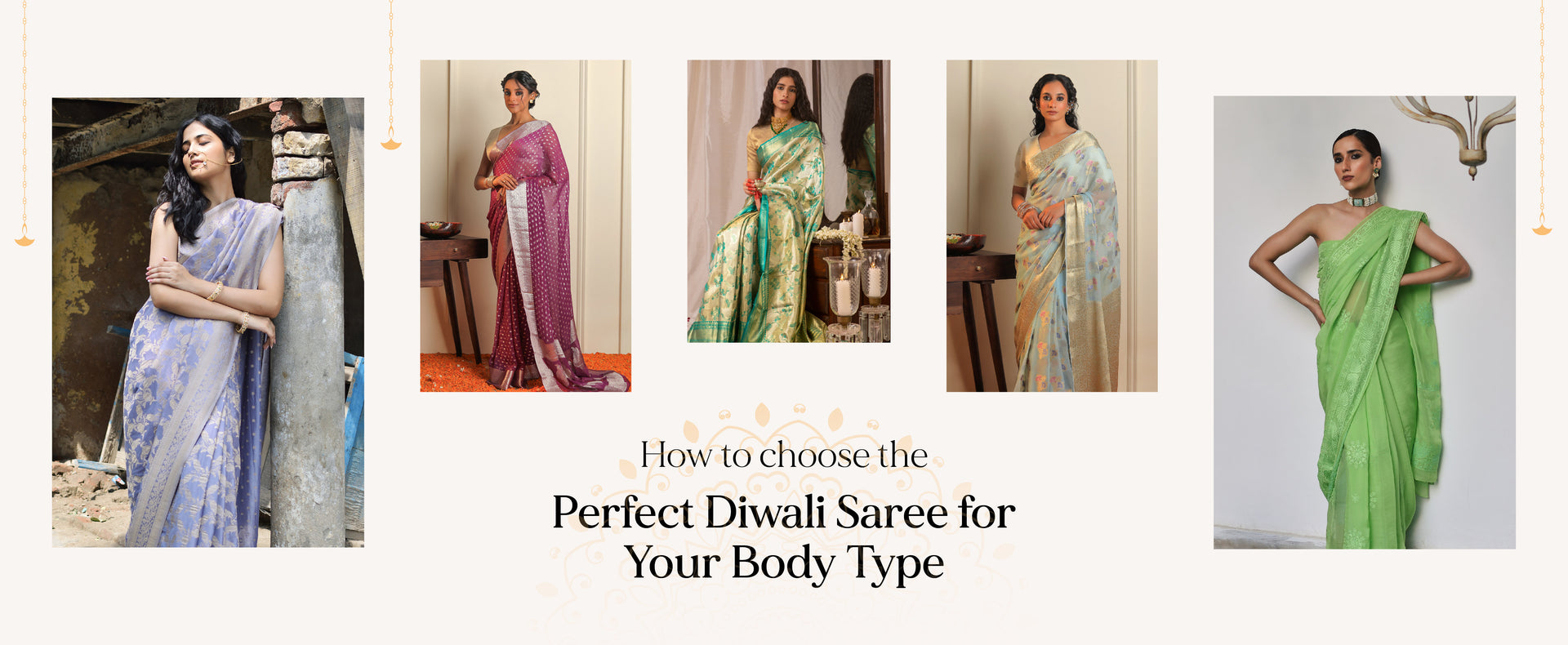 How To Choose The Perfect Diwali Saree For Your Body Type?
As the festival of lights approaches, it's time to embrace the enchanting allure of Diwali by adorning the quintessential Diwali traditional dress - the saree. Diwali isn't just a celebration of light; it's a time for radiating your inner glow and basking in the joy of traditions. And what better way to do that than by draping the perfect saree that complements your unique body type, allowing you to channel your inner diva and create a mesmerising Diwali look in saree.
In this blog, we'll be your guide, to find out the perfect saree for Diwali festival for your body shape! So, keep reading to unravel the secrets of finding the Diwali special saree that will make you the showstopper of this year's Diwali festivities.
Diwali Sarees- A Perfect Touch In Diwali Traditional Dress
When it comes to creating a timeless, traditional look for Diwali, sarees take the centre stage. These elegant ensembles have been cherished for generations, and for a good reason.
Diwali special sarees effortlessly embody the spirit of the festival, symbolising grace, culture, and an enduring sense of tradition.

What makes them the go-to choice for Diwali dress ideas is their unparalleled versatility, suiting every body type with their timeless drapes and rich fabrics.

Whether you're celebrating in a grand family gathering or an intimate soirée, a saree allows you to express your unique style while embracing the cultural richness of the festival.
So, as you prepare for your Diwali saree look, remember that this traditional dress for Diwali is your ticket to exuding both elegance and authenticity.
Why Body Shape Matters To Choose The Saree For Diwali Festival?
When it comes to selecting the perfect saree for your Diwali look, understanding your body shape is paramount. Diwali special sarees are not just garments; they are a reflection of your individuality, and the right choice can enhance your natural grace.
Your body shape determines how a saree will drape, flatter, and accentuate your features, making it an indispensable factor in your quest for the ideal Diwali look in saree.
Whether you're curvaceous, petite, or somewhere in between, knowing your body shape empowers you to select a saree that accentuates your best features and makes you feel like a radiant star during the Diwali festival.
6 Tips To Choose The Perfect Diwali Saree For Your Body Shape
Selecting the perfect saree for Diwali isn't just about embracing the Diwali traditional dress; it's an art that requires finesse, especially when considering your unique body type. To ensure you achieve that flawless Diwali saree look, here are seven essential tips to guide you in finding the ideal saree for the festival:
1. Understanding Your Body Shape

As the foundation of your Diwali look in saree, start by understanding your body shape. Whether you have an apple, pear, rectangle, hourglass, round, petite, or plus-size body, recognizing your silhouette is key.

2. Saree Fabrics Matter

Different fabrics drape differently and can either enhance or detract from your body type. Opt for fabrics that compliment your figure. For instance, georgette and chiffon work well for some, while silk and kanjivaram are ideal for others.

3. Embroidery and Embellishments

The amount of embroidery and embellishments on your saree can impact your overall look. For a delicate and sophisticated appearance, go for minimalistic designs. Heavily embellished sarees can add bulk to your frame.

4. Saree Length and Draping Style

The length of your saree and how you drape it can make a world of difference. Longer sarees may overwhelm petite frames, so choose shorter lengths to avoid this. Experiment with various draping styles to find what suits you best.

5. Blouse Selection

Your choice of blouse is just as important as the saree itself. Select a blouse that complements your body shape and highlights your strengths. Neckline styles can create the illusion of a balanced figure.

6. Colours And Patterns

Pay attention to the colours and patterns of your saree. Darker colours and vertical patterns can have a slimming effect, while bold, horizontal designs might add volume.
Know Your Body Shape Before Creating A Perfect Diwali Look In Saree
If your shoulders and bust are broader than your hips, you have an apple or inverted triangle shape.
1. Pear/Triangle:

If you are someone with a smaller upper body and wider hips, you are a pear shaped body person.

2. Rectangle:

Rectangular body shapes have a balanced bust and hip width with little waist definition.

3. Hourglass:

An hourglass figure boasts a well-proportioned bust and hips with a defined waist.

4. Round:

If your midsection is your widest part, you have a round body shape.
Which Type Of Traditional Diwali Saree Suit Your Body Shape? Find It Now!
Now that you've gained insight into your unique body shape, it's time to discover the perfect saree that complements your silhouette and helps you achieve that impeccable Diwali look in saree.
Binal Patel is here to assist you with a diverse selection of Diwali special sarees that not only cater to various body types but also celebrate the rich Indian heritage with a touch of modernity.
Let's explore the saree types that best suit your body shape!
Diwali Special Saree For Pear/Triangle Body Shape
If you have a pear-shaped body with a smaller upper body and a larger lower body, selecting sarees that balance out your proportions is key. Opt for sarees with heavy zari borders on the pallu to add volume to the upper body, creating a harmonious balance. Embrace embellished blouse designs and layered blouses to enhance the appearance of your upper torso.
For your body shape choose georgette sarees and chiffon saree for Diwali festival for their flattering drape. We recommend you to avoid organza, tissue silk, and tussar sarees, as they tend to be stiff fabrics that may not complement your body shape.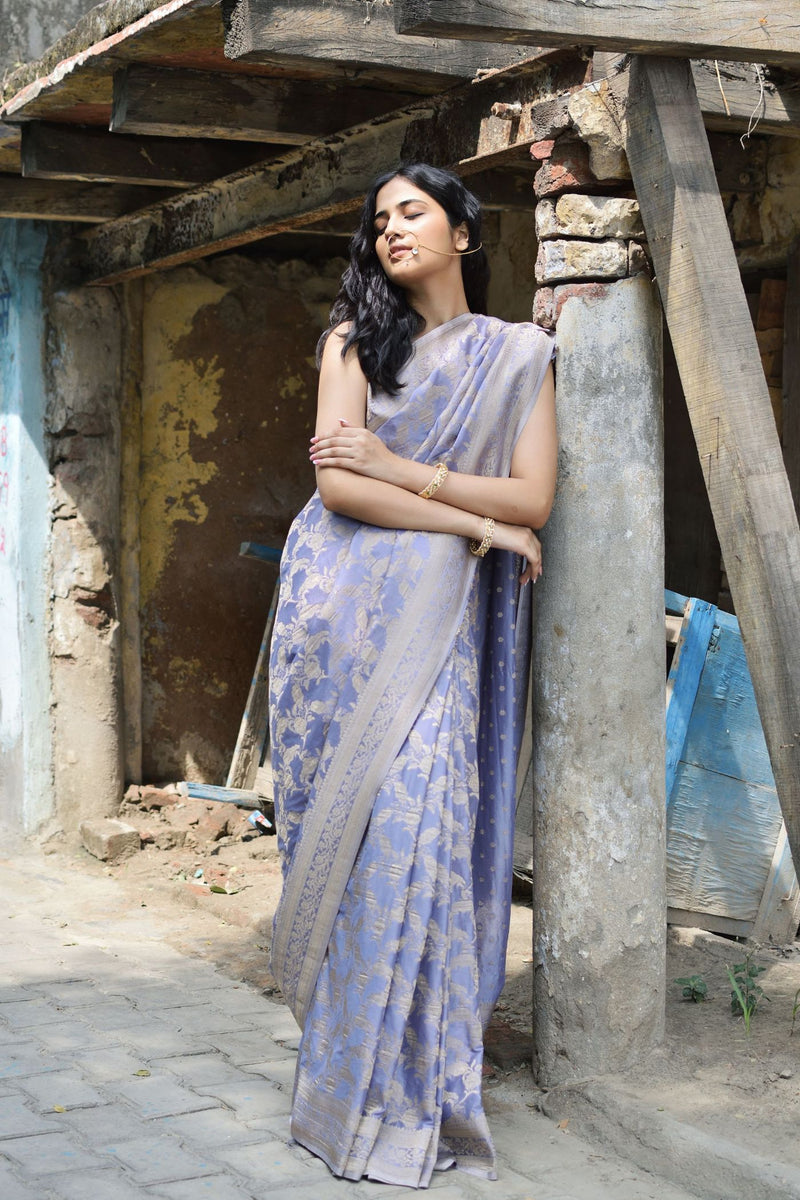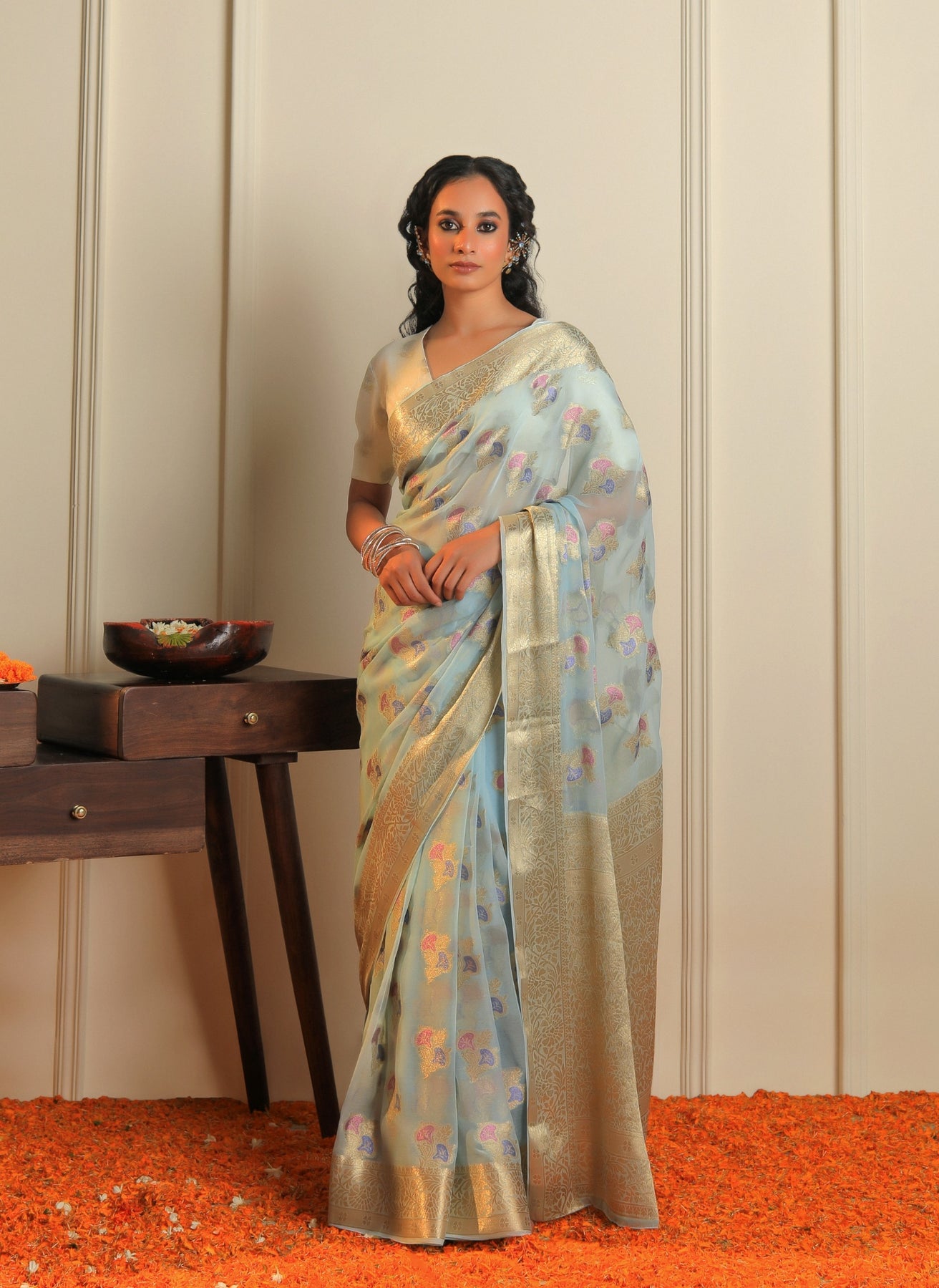 Diwali Special Saree For Apple/Inverted Triangle Body Shape
For those with an inverted triangle-shaped body characterised by broad shoulders, a larger bust, and smaller hips, it's essential to choose sarees that define your lower body. Opt for sarees like pattu or silk varieties such as kanjivaram silk saree, gadwal, tussar silk, silk cotton, printed raw silk saree, and woven raw silk. These sarees can create a flattering silhouette, and wearing belts can help accentuate your waist, enhancing your overall look.
Avoid net sarees that may not drape well around your upper body, potentially making it appear even larger. Opt for draping the saree in the classic Gujarati style to achieve a balanced upper and lower body appearance.
Diwali Special Saree For Rectangle Body Shape
Rectangle body shapes are characterised by a lack of well-defined curves, with the bust, waist, and hips being approximately the same size. To enhance your proportions, choose sarees like cotton, linen, and organza sarees, as they add volume to your structure. Traditional kanjivaram sarees with significant borders are also excellent choices for a perfect Diwali saree look. Avoid body-hugging fabrics like chiffon and georgette, as they can make your body look flat.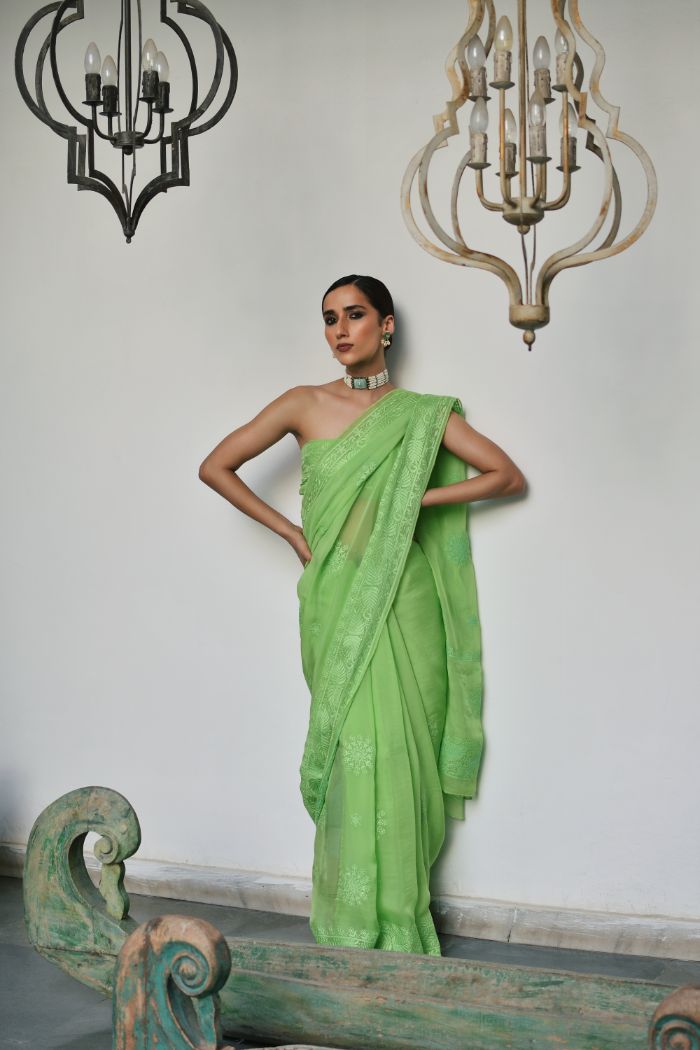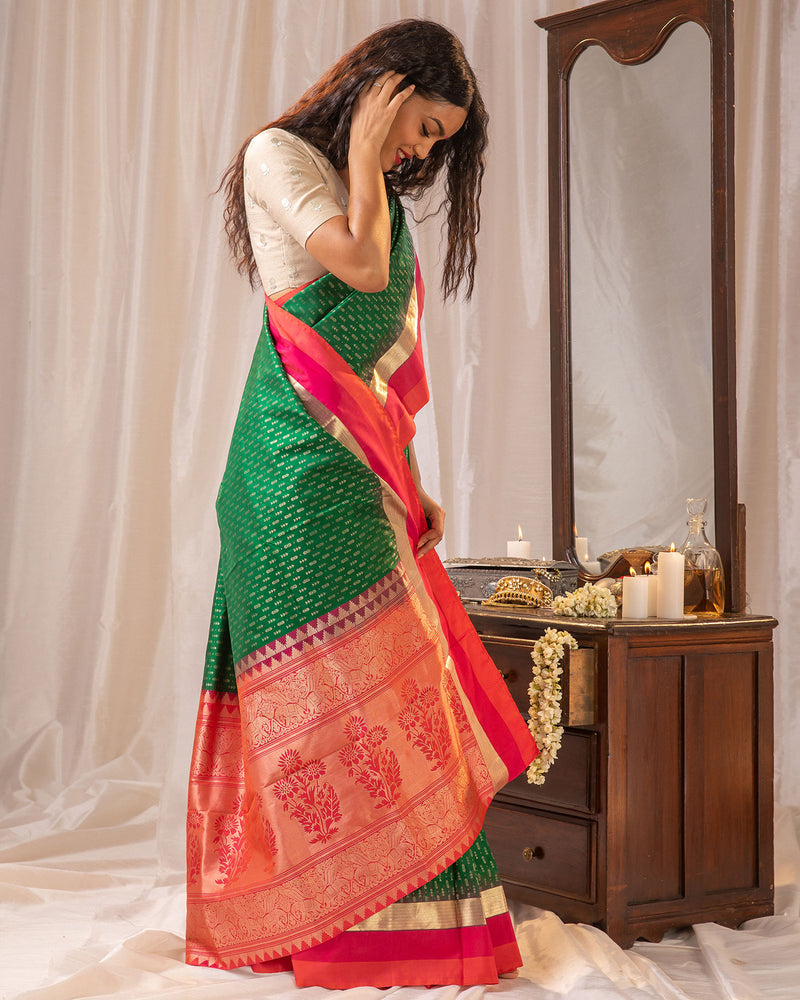 Diwali Special Saree For Hourglass Body Shape
People with hourglass-shaped bodies have busts and hips of the same size with a well-defined waist, making sarees the perfect attire. Lightweight sarees like chiffon sarees, georgette, satin sarees, and crepe complement your body shape, accentuating your curves. Avoid sarees for Diwali festival with heavy embellishments and embroidery, as they can make your body appear bulkier and less attractive.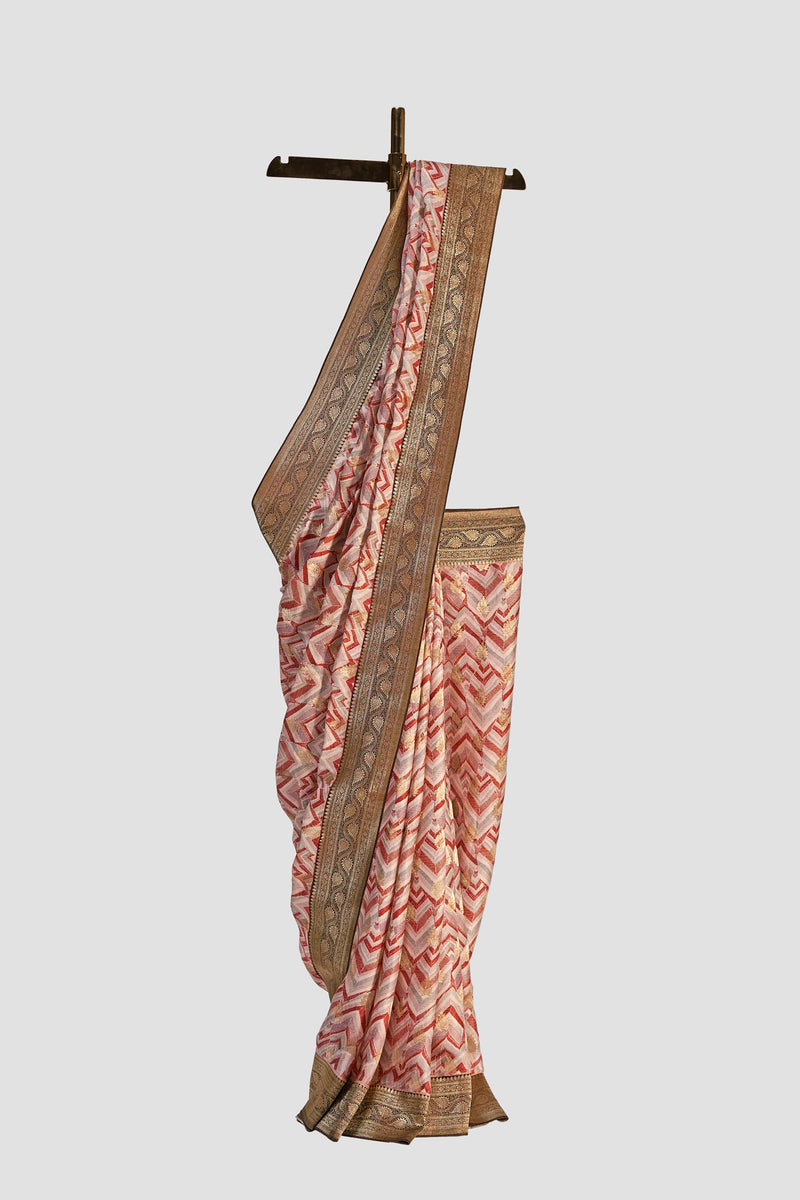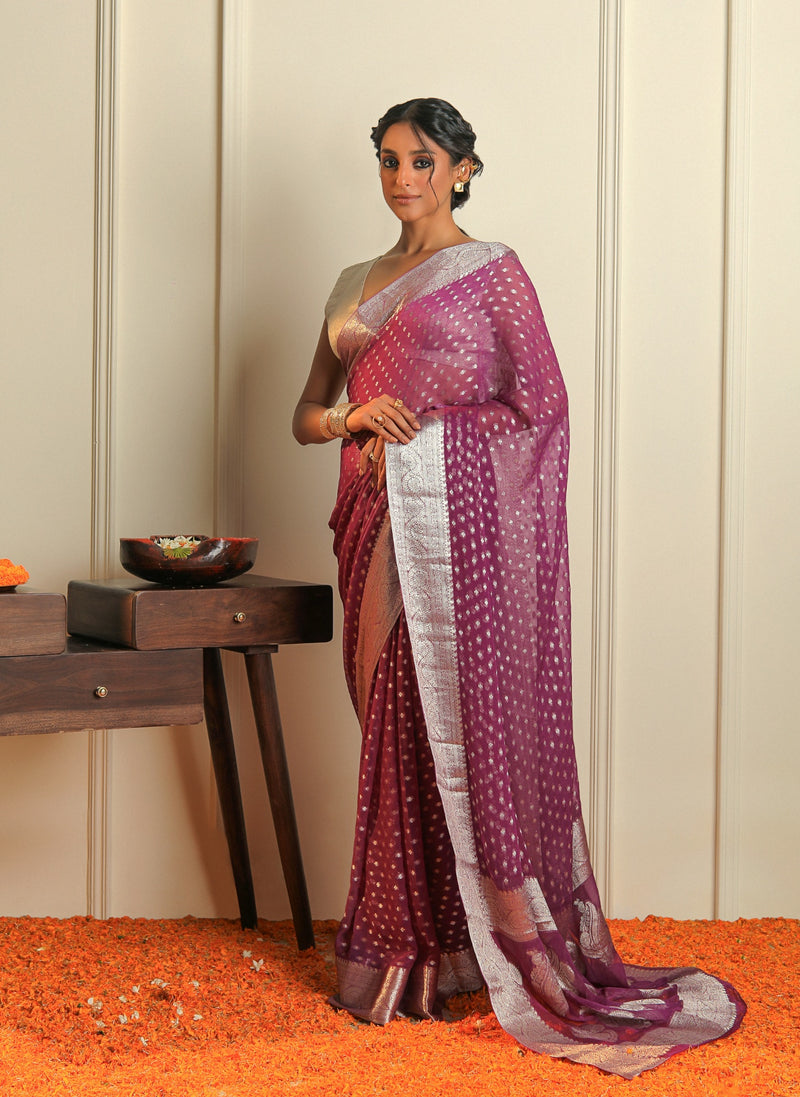 Diwali Special Saree For Round Body Shape
If you have a round-shaped body with a bigger bust and a fuller midsection, lightweight silk and printed cotton sarees are your best companions. Avoid sarees with large prints and opt for sarees like Mysore silk and Banarasi silk. Steer clear of thick and heavy saree fabrics, as they may not complement your body type. Fabrics like net can make your upper body appear even bigger, so choose sarees with slim borders and minimal designs and embroidery to achieve a more flattering look.
Discover The Perfect Saree For Diwali Party For Your Body Shape
If you're in search of a stunning yet traditional Diwali party outfit beyond the classic silk and kanjivaram sarees, then you won't want to miss the opportunity to prepare for your Diwali party with the exquisite range of sarees designed by Binal Patel. Whether you have a rectangle body shape or boast a pear or hourglass figure, our collection of Diwali party sarees offers something for everyone. For those with a rectangle body shape, explore our party wear organza sarees, while individuals with a pear or hourglass body shape will find our Diwali special chiffon saree party wear to be the perfect choice for a memorable celebration.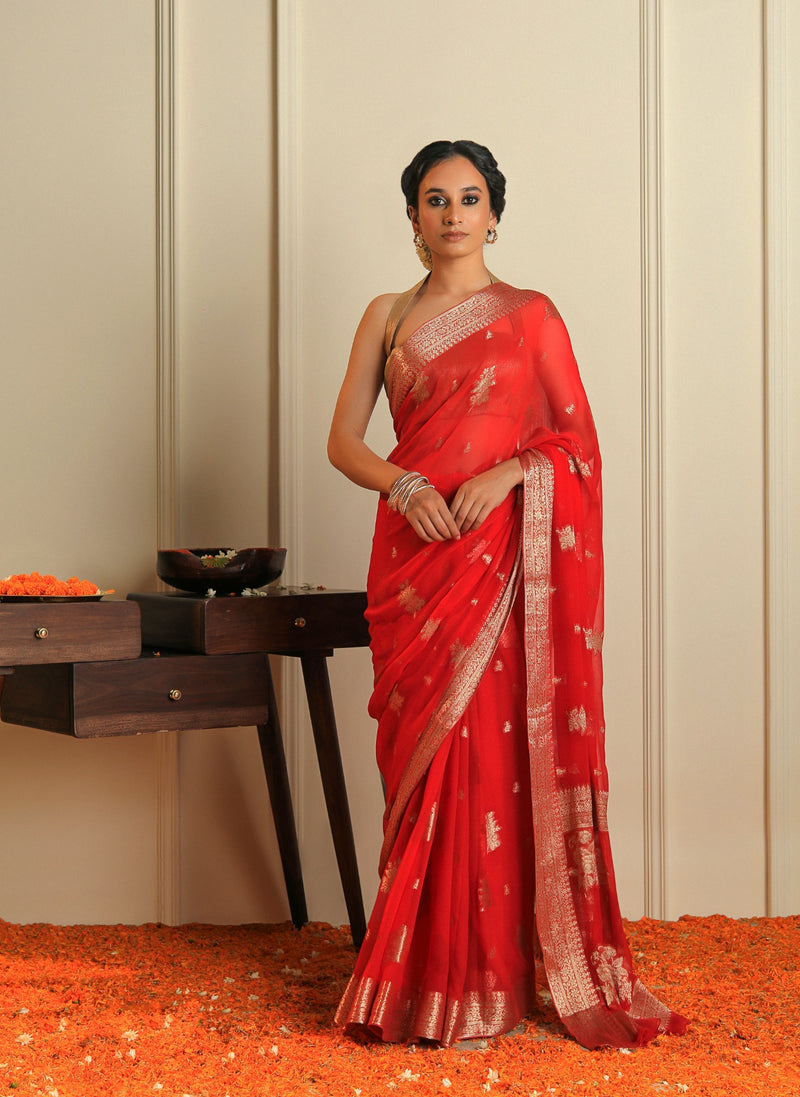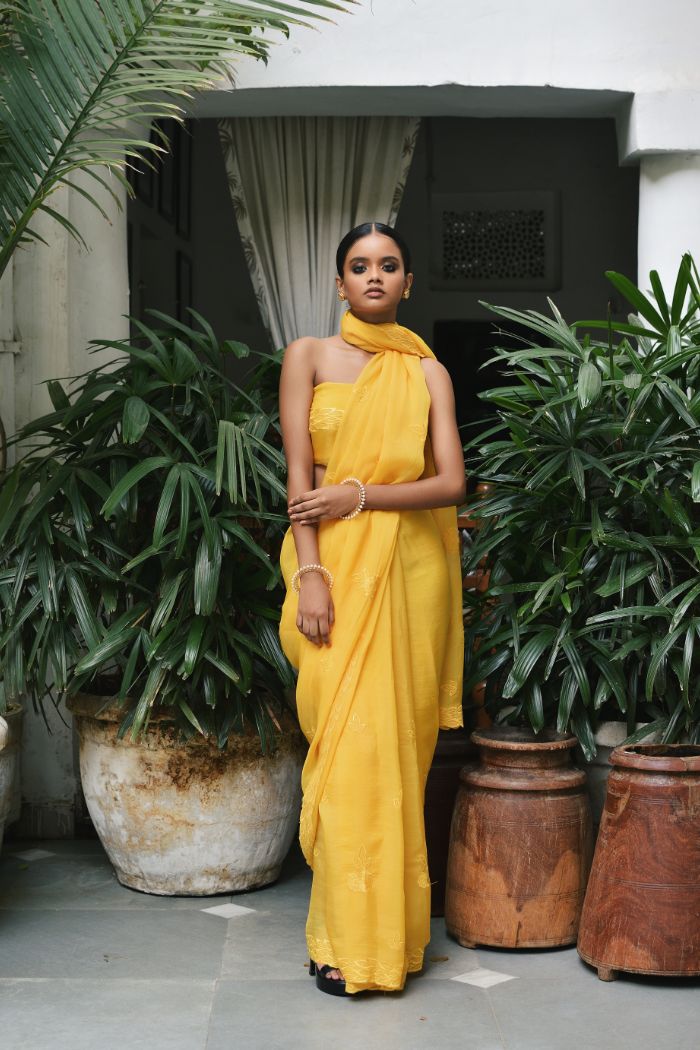 Ending Note!
So, what do you think now? We hope that you are surely able to pick the best saree for your unique body shape! Diwali is all about celebrating tradition and elegance, and with Binal Patel's exquisite collection, you're just a click away from finding your perfect Diwali special saree.
So, why wait? Embrace the festivities with style and grace and start the finest Diwali best saree online shopping today and discover the saree that will make your celebration truly special.
Shine in style this Diwali!