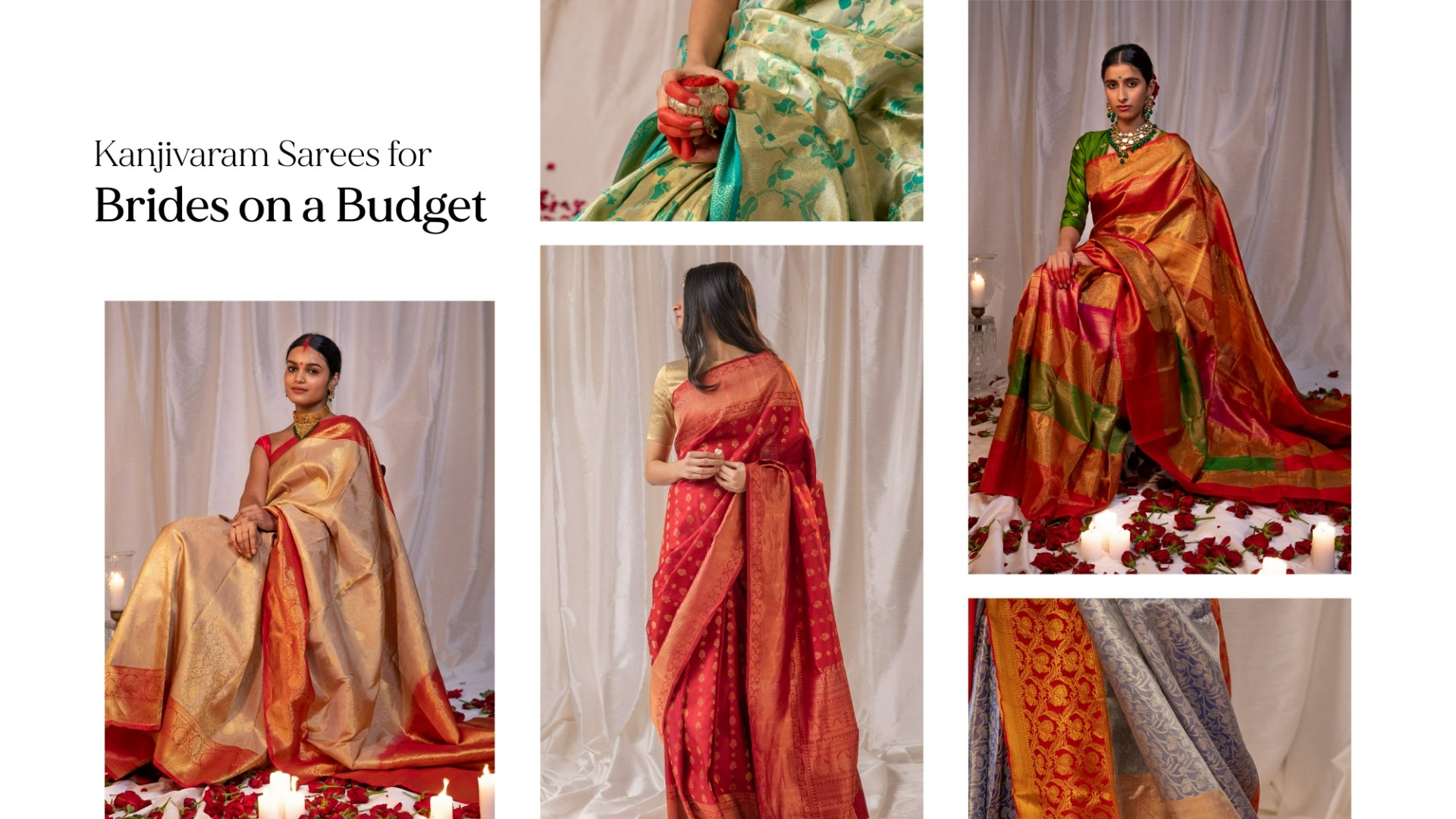 Kanjivaram Sarees For Bride On Budget
Hey! Are you a bride-to-be, eagerly anticipating the most magical day of your life? Have you already embarked on your quest for the perfect wedding day attire, or perhaps you're a cherished member of the bride's inner circle, on the hunt for that exquisite saree to make her glow with bridal radiance?
Whether you're a bride-to-be searching for that dream bridal saree, or a loved one on a mission to enhance the bride's beauty, look no further than the realm of Kanjivaram sarees. When it comes to the wedding attire of choice, the bridal Kanjivaram saree or pattu saree reigns supreme, offering timeless elegance and a touch of tradition that is simply unparalleled.
But here's the kicker – you can do it all on a budget. Binal Patel is here to guide you through this enchanting journey, not only providing expert advice but also presenting a captivating array of Kanjivaram sarees for bride that won't break the bank.
So, let's embark on this exciting expedition together and find the perfect Kanjivaram sarees for bride, whether it's for the wedding day or the grand reception!
The Elegance Of Kanjivaram Sarees
Kanjivaram sarees, also known as Kanjivaram silk sarees or Pattu sarees, are the epitome of elegance and craftsmanship. These sarees hail from the illustrious town of Kanchipuram in Tamil Nadu, India, and are celebrated for their rich heritage and exquisite artistry. Crafted with the utmost precision, original Kanjivaram sarees are a testament to the impeccable skill of the weavers. What sets them apart is their unique fabric – pure silk and pure gold zari, resulting in a lustrous, opulent drape that shimmers with a timeless charm. The intricate motifs and designs on these sarees often narrate tales of tradition and culture, making each piece a work of art.
Binal Patel's collection of Kanjivaram sarees for bride upholds this time-honoured tradition, ensuring that every piece is crafted with 100% pure material, marrying the richness of tradition with a modern twist, making it a splendid choice for brides and saree connoisseurs alike.
Why A Traditional Kanjivaram Silk Saree Has Always Been A Bride's Choice?
For generations, brides have unwaveringly chosen the traditional and exquisite Kanjivaram silk saree for their special day, and the reasons are as enchanting as the sarees themselves.
First, the bridal Kanjivaram silk saree exudes an air of unparalleled grandeur and opulence, making the bride look and feel like royalty.

Second, these sarees are renowned for their intricate craftsmanship, with every weave and motif telling a story of artistry and tradition.

Third, the rich and vibrant colours available in Kanjivaram silk sarees make it easy to find the perfect match for any bridal theme or personal style.

Fourth, the durability of the Kanjivaram silk ensures that the saree can be cherished as a family heirloom, passed down through generations.

Finally, whether it's the wedding ceremony or the reception, these sarees seamlessly transition from one grand event to another, making them a versatile choice for any bride.
Bridal Kanjivaram Sarees Price Range- How Much Does It Cost?
Now, let us take a moment to unveil the price ranges of bridal Kanjivaram sarees, empowering you to make well-informed decisions!
1. Luxurious Splurge (₹50,000 and above)

For brides with a generous budget, this range offers the epitome of opulence. You can expect Kanjivaram silk sarees with intricate zari work, exquisite motifs, and the finest silk. These sarees are a true investment in craftsmanship and artistry.

2. Kanjivaram Saree For Pre-Wedding Sangeet

Brides with a moderate budget can still find stunning options in this price bracket. These sarees often feature beautiful designs, good-quality silk, and traditional craftsmanship without breaking the bank.

3. Affordable Elegance (₹10,000 to ₹20,000)

If you're looking for a beautiful Kanjivaram saree without overspending, this range offers a plethora of options. While you may not get the most intricate zari work, you can still find sarees with elegant designs and pure silk.

4. Budget-Friendly Beauty (Under ₹10,000)

Brides on a tighter budget need not worry; there are budget-friendly Kanjivaram sarees available. These sarees may have simpler designs, but they still maintain the essence and tradition of the Kanjivaram style.
The Kaleidoscope Of Kanjivaram Sarees For Bride- Discover Your Ideal Match Based On Colour And Budget!
Binal Patel is your ultimate destination for the enchanting world of bridal Kanjivaram silk sarees, where an array of colours and budget options await your discovery. Let's embark on this journey of elegance and splendour.
1. Red Kanjivaram Saree For Bride (Price Range: ₹45,000 - ₹55,000)

Red, the quintessential bridal colour, finds its purest expression in this stunning red Kanjivaram saree for bride. This classic choice embodies tradition and elegance, making it a timeless favourite for brides. This red Kanjivaram bridal saree price ranges between Rs.45,000 to 50,000.

2. Red And Gold Bridal Kanjivaram Saree (Price Range: ₹50,000 - ₹60,000)

For brides seeking a touch of opulence, our Red and gold bridal kanjivaram silk saree offers a regal aura. The intricate zari work adds a layer of grandeur, making this saree perfect for a majestic bridal look.

3. Yellow Kanjivaram Saree for Bride (Price Range: ₹60,000 - ₹70,000)

Radiant and full of life, our yellow Kanjivaram saree for bride exudes a sunny disposition. It's an ideal choice for brides who want to stand out and embrace vibrant colours on their special day.

4. Blue Kanjivaram Silk Saree for Bride (Price Range: ₹55,000 - ₹70,000)

The deep blue Kanjivaram saree for bride evokes a sense of tranquillity and poise. Its rich colour and intricate patterns make it a symbol of serenity and sophistication. It is one of the best choices for reception kanjivaram sarees for brides.

5. Emerald Green Kanjivaram Saree (Price Range: ₹23,000 - ₹30,000)

If you're looking for an elegant yet budget-friendly option, our emerald green Kanjivaram saree is a wonderful choice. This serene shade beautifully complements the Kanjivaram silk's natural lustre, creating a look that's both timeless and affordable.

Why wait any longer? Explore our exquisite collection of Kanjivaram sarees for brides online, and discover the perfect one that aligns with your budget and preferences today!
Tips To Choose The Right Bridal Kanjivaram Saree On Budget
Here are five valuable tips to help you choose the perfect bridal Kanjivaram saree while staying within your budget:
1. Set A Realistic Budget

Determine how much you're willing to spend on your bridal Kanjivaram saree. Having a clear budget in mind will guide your choices and prevent overspending.

2. Prioritise Design Over Extravagance

Instead of focusing solely on elaborate zari work or heavy embellishments, consider a simpler design with rich silk. A well-crafted silk base can exude elegance and charm without the need for excessive ornamentation.

3. Opt For Classic Colours

Traditional bridal colours like red, maroon, or gold are timeless choices and often come at a more affordable price point compared to trendy or rare shades. Classic colours also hold their value over time.

4. Shop Seasonal Sales And Discounts

Keep an eye out for seasonal sales, bridal expos, and discounts at Binal Patel. We offer discounts during specific times of the year, making it a great opportunity to find a beautiful Kanjivaram saree on a budget.

5. Consider Pre-Owned Sarees

Explore the option of pre-owned or vintage Kanjivaram sarees. These can be more budget-friendly while still maintaining the saree's quality and charm. You might even find a unique and well-preserved piece with a story to tell.
By following these tips, you can gracefully navigate the world of bridal Kanjivaram sarees and find the one that complements your style and budget, making your wedding day even more special.
Ending Note!
In the enchanting world of bridal fashion, Kanjivaram sarees stand as timeless treasures that every bride desires. And the best part? You can own one on a budget, thanks to these smart tips. Remember, it's not about the price tag; it's about the elegance and tradition woven into every Kanjivaram masterpiece.
So, whether you're a bride-to-be or someone seeking the perfect gift, explore the mesmerising collection of Kanjivaram sarees at Binal Patel, where affordability meets artistry. Your dream bridal Kanjivaram saree awaits – take the first step towards it today!
Frequently Asked Questions On Kanjivaram Sarees For Bride
1. Kanjivaram Saree Belong To Which State?

Ans: Kanjivaram sarees belong to the state of Tamil Nadu, India.

2. How To Identify Original Kanjivaram Silk Saree?

Ans: To identify an original Kanjivaram silk saree, look for the Kanjivaram Silk Mark tag, check the purity of the silk, examine the zari work for its intricacy, and confirm the handwoven craftsmanship.

3. What Is The Difference Between Kanjivaram And Kanchipuram Sarees?

Ans: You can buy the best Kanjivaram sarees from Binal Patel, a trusted seller who specialise in these sarees.

4. Where To Buy Best Kanjivaram Saree?

Ans: Kanjivaram and Kanchipuram sarees are essentially the same; both terms are used interchangeably to refer to the silk sarees woven in Kanchipuram, Tamil Nadu.

5. How To Store Kanjivaram Saree?

Ans: To store Kanjivaram sarees, fold them carefully with a soft cloth in between to prevent zari from tarnishing, and store them in a cool, dry place away from direct sunlight.